Boomer weddings: Older brides with fancy gowns, garter belts, DJs
There is a growing trend among couples over age 55 who no longer want to tie the knot in subtle ways.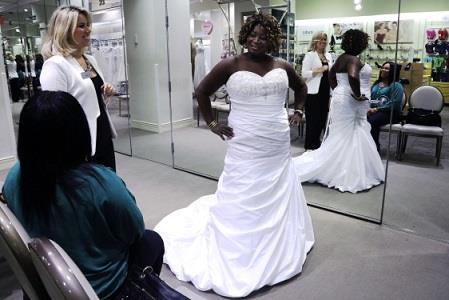 Older brides are looking to celebrate the same way their younger counterparts do, with a poofy dress, sparkly accessories and flashy bridesmaid dresses. (Aug. 22)
(Text continues following video)
NEW YORK (AP) — SherryLynne Heller-Wells always wanted a fairytale wedding.

So when she tied the knot last year, she spared no detail. She walked down the aisle in a flowing ivory gown with a long veil and lacey bolero jacket. Ten flower-toting bridesmaids and seven groomsmen were in the wedding party. And after the ceremony, 100 guests dined on beef tenderloin, clams casino and a three-tier vanilla cake.
The cost, including a fireworks show during the reception, was $45,000.
Heller-Wells wasn't some blushing first-time bride, though. When the retired registered nurse, 64, wed her husband, Clyde, a small-business owner who is 65, it was her second time at the altar.
"I met my Prince Charming. He swept me off my feet," says the Clearwater, Fla., widow whose first husband died in 2003. "We're hoping this will be the last marriage. Why not celebrate?"
Only a few years ago, it was considered in poor taste for a bride over age 55, particularly if she had been previously married, to do things like wear a fancy wedding gown, rock out to a DJ at the reception or have the groom slip a lacy garter belt off of her leg. But those days are gone: Older couples are no longer limited to tying the knot in subtle ways.
Living wedding style:
The flawless wedding beauty look any bride can create
The trend is being driven, in part, by a desire to emulate the lavish weddings of celebrities of all ages. But it's also one of the results of a new "everything goes" approach that does away with long-held traditions and cookie-cutter ceremonies in favor of doing things like replacing the first husband-and-wife dance with a group re-enactment of Michael Jackson's "Thriller" video. That's left older couples feeling less self-conscious about shelling out serious cash to party like their younger peers.
"The rules are out the window ... whether it's what you're wearing or the cake you're serving," says Darcy Miller, the editorial director of Martha Stewart Weddings, a wedding magazine. "Sixty is the new 40 and that is reflected in the wedding."
Couples age 55 and older made up just 8 percent of last year's $53 billion wedding business. But that number has doubled since 2002, according to Shane McMurray, CEO of The Wedding Report, which tracks spending trends in the wedding industry.
It's in part because more couples are marrying in their golden years.

Living wedding style: Wedding hair: Which updo is right for you

In 2011, women ages 55 and over accounted for 5.2 percent and men in that age range made up 7.9 percent of the more than 2.1 million marriages performed in that year in the United States, according to Bowling Green State University's National Center for Family and Marriage Research, based on analysis of census figures. That's up from 2001 when 2.6 percent of new marriages performed were among women in that age group; for men, it was 6.6 percent.

And those older couples spend more. That's because they're usually empty nesters who don't have the same worries as their younger counterparts: They aren't saving for their first home, for instance, and they aren't burdened by huge student loan debts they must worry about paying off.

Living wedding style: Wedding dresses take inspiration from your favorite celebs

As a result, older couples dish out about 10 percent to 15 percent more than the cost of the average wedding, which was $25,656 last year, down from the prerecession peak in 2007 of $28,732, according to The Wedding Report.

That's meant big business for companies that cater to brides and grooms-to-be. Zaven Ghanimian, CEO of Simon G. Jewelry, which sells engagement rings and other jewelry to about 900 small stores across the country, says men in their late 50s and older have been investing more on engagement rings. A few years ago, they were spending $1,500 to $2,000; now, they're shelling out $4,000 to $8,000.

And at David's Bridal, the nation's largest bridal chain with 300 locations across the United States, business from older couples has doubled in the past two years, compared with modest growth for the younger age group, says Brian Beitler, the chain's chief marketing officer. And while older customers represent only 2 percent to 3 percent of overall sales, the company expects that figure to keep growing.

And they're a lucrative bunch. David's Bridal, which is based in Consohocken, Pa., says older brides spend about $700 to $800 on gowns, including accessories like necklaces. That's higher than the $500 to $600 that customers in their 20s and early 30s typically spend.

But older brides aren't just spending more, they're spending differently. For instance, in the past, older brides tended to stick with special-occasion dresses, but now they want more traditional wedding gowns.

"She's our dream bride," says Catalina Maddox, fashion director at David's Bridal.

"She wants everything that the 25-year-old bride wants, but more."

The trend is so prevalent that David's Bridal is looking at ways to better connect with the older wedding crowd. In fact, its store in Danbury, Conn., recently held a bridal fashion show at a nearby nursing and rehabilitation facility; the event was a hit with the residents, the store says.

"It really sparked something," said Jenna McNamara, the assistant store manager at David's Bridal in Danbury, which has noticed residents in nearby retirement homes as customers for either weddings or commitment ceremonies. "We realized this was something huge."

Terry Hall, fashion director at Kleinfeld's, the New York City bridal salon that has the nation's biggest selection of designer bridal wear under one roof with more than 1,000 designs, also has seen a change in attitude in the last year or so among the older set. He said business from that group has doubled.

Hall says Kleinfeld's older clients are spending $4,000 to $7,000 for a gown. That compares with the average purchase of $3,500 for the under-30 set.

"They used to be subtle," Hall says. "Now, they're saying, 'Who cares? It's my day.' They want the dress."

That's especially true for older first-time brides.

At 64, Yolanda Royal, who lives in Irvington, N.J., is preparing for her first wedding next July. After living with her partner for 20 years, he popped the question in May. The couple plans to spend about $11,000 on the reception for about 100 people, but for Royal, it's all about the dress. After that's secured, the other details will fall in place, she says.

Royal, a nursing attendant, was at David's Bridal in New York City with her 41-year-old niece on a recent Friday, trying on white wedding gowns that had small trains. Royal, who says she wants something "sexy," tried everything from off-the-shoulder to strapless designs.

"For my wedding, for my day, I want the dress I want," says Royal, who did not want to give details about the gown she settled on because she wants to surprise her future husband. "I really don't think about age. I think age is something that people shouldn't think about. It's all about your life and the way you feel. I feel good about myself and my life."

That's not to say that some brides planning big weddings aren't getting any pushback from their friends or relatives. For instance, Joan Hunter, a 76-year-old widow for 33 years, is planning a big wedding with her fiance Guido Campanile, an 87-year-old widower, for October.

The couple is spending $10,000 on the reception, which will be held at a wedding hall. They are planning to have 10 people in the wedding party, including her two grown sons, ages 56 and 54, who will be giving her away, and her 5-year-old great-grandson who will serve as the ring bearer. The couple also hired a DJ and a florist who is creating a floral arch.

But when Hunter first told her sons of her plans, they thought she was "crazy." They wondered why she wasn't just eloping to Las Vegas. "I told my kids that this may well be my last big party," says Hunter, who lives in Rosemead, Calif. "I'm really young at heart. I just wanted to do something that everyone would remember."
Still, the older bride has limits. She plans to throw a bouquet and is considering wearing a garter belt, but she will not be wearing white. Instead, she's planning to don a taupe gown she purchased at David's Bridal.

"I felt white wasn't appropriate for me," says Hunter, who will be wearing a chiffon gown with a fitted bodice and layers of ruffles cascading from the waist.

Apparently, the groom has limits, too. He proposed by giving Hunter a 5 1/2-carat diamond ring. But he stopped short of getting down on one knee.

"He did not get on his knees. That's for sure," Hunter laughed. "He may not have gotten back up again."

Subscribe to Simply Chic | Friend us on Facebook | Follow us on Twitter | Find us on Pinterest

More Simply Chic...
Kelly Clarkson's engagement photos
The do's and don'ts of wedding hair extensions 
5 pairs of over-the-top fantasy wedding shoes from Brian Atwood

Bing: More Americans waiting longer to get married

Follow Anne D'Innocenzio on Twitter at https://twitter.com/​ADInnocenzio.
beauty tips and style advice
This week's surprise announcement about Kate Middleton's pregnancy has already sparked speculation on what the Duchess will be wearing with her soon-to-be spare heir. What's more, the spring 2015 collections in New York are providing Middleton with plenty of maternity-friendly ideas for day and night. Here, we pinpoint six looks that should carry the Duchess through her third trimester.

Style inspiration doesn't just come from the runway. Every Fashion Week, we look far beyond the shows themselves—from the designers and the traveling troupes of editors to the models, photographers, and showgoers, all sorts of style tribes are out hitting the pavement. To refresh our fall closet, we look to eight chic cliques, from the front-row power couples to street-style bloggers. Even better? Getting the look of your favorite tribe has never been easier—everything we've pulled is $100 or less.

Autumn is upon us, and we've got sweaters, coats and booties on our minds! Below are the first things we'll be buying (or have already bought!) to kick off next season.

As autumn approaches and the opportunity for days spent lying by the beach begins to wind down, there comes a time to trade the sand-strewn sandals of summer in for the bright, shiny new footwear of fall. And what's the best way to kick off your closet in preparation for a brisk temperature drop? The boot. From animal print to glittery, hiking to fringed, our fall boots include everything you need to start the season off on the right foot.

No matter what the era, denim is always a staple. From blue to black, acid-washed, studded, and shredded, there's a denim to fit any mood (or body type). For this fall (and back-to-school month), we've rounded up our favorite picks of this all-American classic: Whether we are inspired by a nineties Kate Moss, Rihanna's affinity for fringe, or model off-duty looks, our elevated denim guide is guaranteed to refresh your wardrobe just in time for the new season.

Beachy waves, soft strands—you can have the dream locks you've always wanted.

You already know wearing white after Labor Day is cool. But menswear is reinventing itself rapidly, leaving some long-held mandates by the wayside, not to mention a bunch of men with a lot of questions. Sure, some style laws are truly inviolable. Showing a quarter-inch of cuff will always be crucial, but with designers and dandies flaunting so many former taboos it's hard to tell what's in play these days. So we thought we'd take this opportunity to let you know which rules no longer apply.

With every changing season, our shopping lists seem to grow and grow and grow . . . and yet our bank accounts somehow stay exactly the same! But don't fret, you can capture all the best fall trends straight from the runway without breaking the bank. Whether you're yearning for cozy knits, statement necklaces, or bold graphic pieces, our Fall Fashion Guide gives you the best looks—all for less than $100.

Allow us to be frank: Fashion Week is a bit of a misnomer. What with the global sprawl of shows—from New York to London to Milan to Paris—it really should be Fashion Month. (Or Fashion Forever.) Either way, what better way to kick off the marathon of shows, after-parties, flights, and appointments than with our comprehensive A-to-Z guide to all things Fashion Week? Here, find out what to do, eat, see, wear, and keep your eye on this season.

Fashion Weeks may come and go (and with them a focus that shifts from statement coats to statement shoes and statement lips and eyes and back again), but one thing stays the same, no matter the date, year, or season: the editorial need for survival. And with that, you know, ideally looking good, too. Luckily for you, this season the Vogue.com team is divulging its Fashion Week "steals"; must-haves for under $100. From sneakers to a staple cardigan and a classic pair of shades, here are the fall-friendly items that we'll be carrying with us long after the collections end.

Arm yourself from the cold with these foolproof tips.

Our top picks for brushes, glosses, concealers and beyond.