When should you stop wearing red lipstick and heavy makeup?
Women surveyed think you should ditch red lips once you hit a certain age.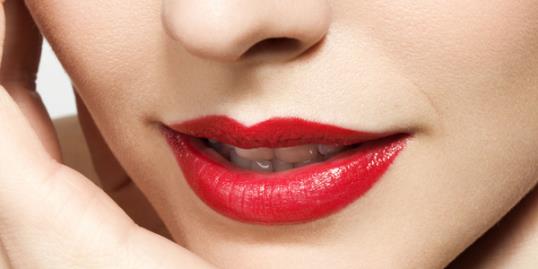 Apparently women have an opinion when it comes to aging and makeup. A new study conducted by British beauty brand Nurture Replenish Skincare found that women think the age of 59 is the time when ladies should stop wearing high heels, putting on red lipstick and focus instead on looking more natural.

More from Living: 10 Ways to Look and Feel More Polished

The study surveyed 2,000 women ages 45 and older and the results found that most women think that there is indeed an expiration date on wearing makeup. But give up red lips once you hit 60? Is that really necessary? We agree that when you get older, you may want to retire the spandex mini skirt at some point (or maybe not, no judgment) but giving up bold lips and high heels? Well that just seems ridiculous.

More from Living: 30 New Holiday Party Hair Ideas

The bottom line is that you should wear whatever you want, at any stage of your life. "Many women will be able to relate to these findings...But every woman will face this stage at different times," said a spokesperson for the brand. "What's important to remember is to be yourself and don't be forced to look a certain way."
Tell us: Do you think women should ever stop wearing red lipstick?

Bing: When should you adjust your makeup?


Photo: Jonathan Knowles/Getty Images
More from Simply Chic:

Easy hairstyles for the holidays
What your shoes say about you
Would you ever get your pinky toe removed?
beauty tips and style advice
Neatly sidestepping high fashion, the smiling, cheerful Kate Middleton is fast becoming the Duchess of Normcore.

This December, New Yorkers might notice something missing in the Christmas air.

When Madonna posted an image of herself wearing a full on Game of Thrones Khaleesi costume on Instagram last week we weren't exactly surprised—this is the woman who rolled into the Grammy Awards wearing a tuxedo and a grill earlier this winter, so why not celebrate the Jewish holiday of Purim with a leather corset and a pair of tiny dragons? Still, we were hypnotized by her white-blonde, braided Daenerys Targaryen hair. Functioning as a bleached out cultural weather vane of sorts, it tapped into multiple obsessions at once—the return of "Game of Thrones" to HBO, spring's new extreme hair lengths and, most notably, fashion's current platinum mania. Our own love of ice-blonde hair—which transforms any look from everyday to extraordinary—has been well documented of late, but last night's Game of Thrones premiere sent our platinum fever into overdrive. In celebration of fashion's favorite hair color, a look at the best platinum moments in history.

While you were sleeping, fast retail chain H&M H&M announced that its next designer collaboration is with Alexander Wang.

Formal, beachy, country club-chic or gorgeously rustic whatever the setting calls for, we've found a bevy of beautiful dresses to wear to a wedding this season.

Puffy, tired, weary no more. These tips take years off and create that "I slept great, thanks!" effect.