When should you stop wearing red lipstick and heavy makeup?
Women surveyed think you should ditch red lips once you hit a certain age.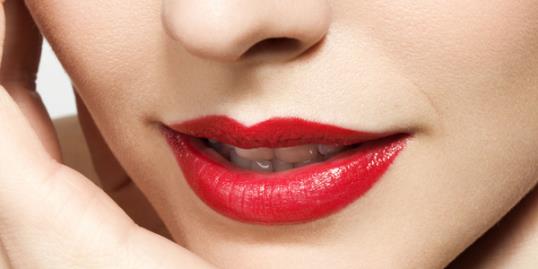 Apparently women have an opinion when it comes to aging and makeup. A new study conducted by British beauty brand Nurture Replenish Skincare found that women think the age of 59 is the time when ladies should stop wearing high heels, putting on red lipstick and focus instead on looking more natural.

More from Living: 10 Ways to Look and Feel More Polished

The study surveyed 2,000 women ages 45 and older and the results found that most women think that there is indeed an expiration date on wearing makeup. But give up red lips once you hit 60? Is that really necessary? We agree that when you get older, you may want to retire the spandex mini skirt at some point (or maybe not, no judgment) but giving up bold lips and high heels? Well that just seems ridiculous.

More from Living: 30 New Holiday Party Hair Ideas

The bottom line is that you should wear whatever you want, at any stage of your life. "Many women will be able to relate to these findings...But every woman will face this stage at different times," said a spokesperson for the brand. "What's important to remember is to be yourself and don't be forced to look a certain way."
Tell us: Do you think women should ever stop wearing red lipstick?

Bing: When should you adjust your makeup?


Photo: Jonathan Knowles/Getty Images
More from Simply Chic:

Easy hairstyles for the holidays
What your shoes say about you
Would you ever get your pinky toe removed?
beauty tips and style advice
In feel-good fashion news of the day: Victoria Beckham will design a set of mommy-daughter dresses to benefit Born Free Africa, a non-profit with the mission to end mother-to-child HIV transmission by 2015.

See Duchess Catherin's perfect beach look.

These travel-sized beauty products will do double-duty while you're on the road.

And before you ask, sorry, the $325 dress is SOLD OUT on Matches.com and DVF.com—you snooze, you loose.

Click through the slideshow to shop some of our spring favorites.

French braid? Been there. Fishtail? Done that. The newest styles are all about unexpected texture, major volume, and one man's wild imagination.

Long hair, don't care? Think again…

She dishes on the routine that keeps her looking polished, even when she's pulling up to the <i>Mad Men</i> set at 5 a.m. Plus, the fragrance that helps Christina get her Joan on.

For inspiration, we've rounded up gorgeous (and easy to replicate) wedding makeup looks from the red carpet.

With a few insider tricks, you can enjoy short hair 365 days of the year and have a gorgeous style on your wedding day. Wedding hairstyles for short hair do exist.

I'm beyond excited to finally ditch my winter coat and heavy layers, but I'm not so eager to ditch my tights. Let's just say my legs are not as smooth and bronzed as they were the last time I showed them off many, many months ago.

After a jam-packed week in New Zealand, Kate Middleton and Prince William finally enjoyed a day off, but as of last night (or this morning..? Ah, time change!) they're back on the road again.