Does a bad hair day affect your well-being?
Having bad hair may lower self esteem.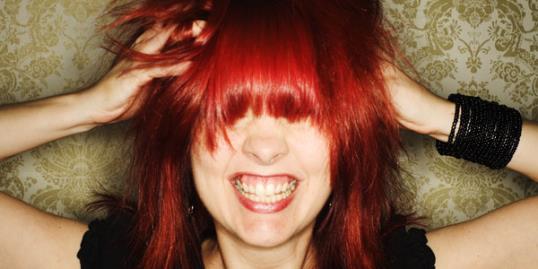 We all have them—bad hair days—the morning you wake up that no matter what product you throw in your 'do, it's not 'do-ing' what you want it to. So you leave the house in a funk and secretly have a slightly less elevated mood, no matter how much you try to convince yourself this is not the case. But little did we realize, having a bad hair day can do more than affect your afternoon. Bad hair can have a serious impact on your overall mental well-being, says a new study. 

Researchers have found that people have a tendency to perform well below what they are capable of when they believe their hair doesn't look good.  The study, conducted by Proctor & Gamble, found that even the thought of a bad hair day made both men and women feel less intelligent. In addition, it was reported that men feel less self-confident and more nervous when they don't like their hair, while women feel embarrassed and ashamed.
More from Living: Beauty 101: Healthy hair
"There is a strong correlation between what we see in the mirror and how we feel about ourselves," Amy L. Flowers, PhD, a psychologist with expertise in self-esteem and body image and with a practice in Macon, Ga, tells
San Jose Mercury News
.
"Thomas Cash, a famous researcher in body image, states that up to 25 percent of our self-esteem is determined by how we feel about our bodies — you can't hate the way you look and still love yourself," Flowers said. "Also, we assume that others see us the way we see ourselves, so if we don't like a particular feature (like our hair), we assume that others find it repulsive, too."
More from Living: Looks guys love (and hate)
"I think hair can say a lot about how we see ourselves — if it looks like you just fell out of bed, it implies that you don't care about your appearance, which to me indicates poor self-esteem," says Flowers. "I don't think you have to have on a full face of makeup before going out to get the mail, but a person who is going out in public should be clean and tidy. It shows self-respect and makes a good impression." And she urges people to "remember that old expression: You only have one chance to make a first impression."
Tell us: Does your hair affect your mood?


Photo: Courtney Bell/Getty Images
More from Simply Chic:

The hottest manicure styles of 2013
75% of women say they've purchased a designer knockoff
The most "OMG, WHAT!?" looks from London Men's Fashion Week
beauty tips and style advice
These travel-sized beauty products will do double-duty while you're on the road.

Neatly sidestepping high fashion, the smiling, cheerful Kate Middleton is fast becoming the Duchess of Normcore.

This December, New Yorkers might notice something missing in the Christmas air.

When Madonna posted an image of herself wearing a full on Game of Thrones Khaleesi costume on Instagram last week we weren't exactly surprised—this is the woman who rolled into the Grammy Awards wearing a tuxedo and a grill earlier this winter, so why not celebrate the Jewish holiday of Purim with a leather corset and a pair of tiny dragons? Still, we were hypnotized by her white-blonde, braided Daenerys Targaryen hair. Functioning as a bleached out cultural weather vane of sorts, it tapped into multiple obsessions at once—the return of "Game of Thrones" to HBO, spring's new extreme hair lengths and, most notably, fashion's current platinum mania. Our own love of ice-blonde hair—which transforms any look from everyday to extraordinary—has been well documented of late, but last night's Game of Thrones premiere sent our platinum fever into overdrive. In celebration of fashion's favorite hair color, a look at the best platinum moments in history.

While you were sleeping, fast retail chain H&M H&M announced that its next designer collaboration is with Alexander Wang.

Formal, beachy, country club-chic or gorgeously rustic whatever the setting calls for, we've found a bevy of beautiful dresses to wear to a wedding this season.

Puffy, tired, weary no more. These tips take years off and create that "I slept great, thanks!" effect.

Top dermatologists, cosmetic chemists, makeup artists, and hairstylists reveal quick tips and tricks that can peel back years in a matter of seconds

We're all for sartorial freedom, but there are certain once-on-trend items that, when worn today, appear anything but current. Consider this your official out list.

If you're a practitioner of reselling your clothes—a good way to clear out some space in your wardrobe and make a few extra bucks—you might already be familiar with San Francisco-based thredUP.

A picture may be worth a thousand words, but emoji must be worth at least a million. Here we show you how to channel your favorites: Go ahead, express yourself!

11 earth-friendly beauty products we love.