Does a bad hair day affect your well-being?
Having bad hair may lower self esteem.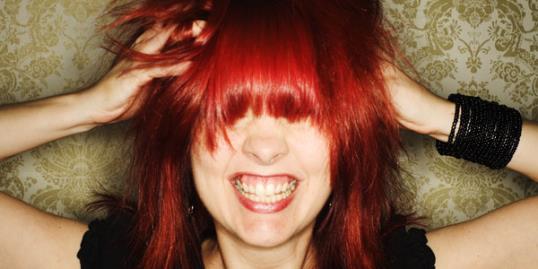 We all have them—bad hair days—the morning you wake up that no matter what product you throw in your 'do, it's not 'do-ing' what you want it to. So you leave the house in a funk and secretly have a slightly less elevated mood, no matter how much you try to convince yourself this is not the case. But little did we realize, having a bad hair day can do more than affect your afternoon. Bad hair can have a serious impact on your overall mental well-being, says a new study. 

Researchers have found that people have a tendency to perform well below what they are capable of when they believe their hair doesn't look good.  The study, conducted by Proctor & Gamble, found that even the thought of a bad hair day made both men and women feel less intelligent. In addition, it was reported that men feel less self-confident and more nervous when they don't like their hair, while women feel embarrassed and ashamed.
More from Living: Beauty 101: Healthy hair
"There is a strong correlation between what we see in the mirror and how we feel about ourselves," Amy L. Flowers, PhD, a psychologist with expertise in self-esteem and body image and with a practice in Macon, Ga, tells
San Jose Mercury News
.
"Thomas Cash, a famous researcher in body image, states that up to 25 percent of our self-esteem is determined by how we feel about our bodies — you can't hate the way you look and still love yourself," Flowers said. "Also, we assume that others see us the way we see ourselves, so if we don't like a particular feature (like our hair), we assume that others find it repulsive, too."
More from Living: Looks guys love (and hate)
"I think hair can say a lot about how we see ourselves — if it looks like you just fell out of bed, it implies that you don't care about your appearance, which to me indicates poor self-esteem," says Flowers. "I don't think you have to have on a full face of makeup before going out to get the mail, but a person who is going out in public should be clean and tidy. It shows self-respect and makes a good impression." And she urges people to "remember that old expression: You only have one chance to make a first impression."
Tell us: Does your hair affect your mood?


Photo: Courtney Bell/Getty Images
More from Simply Chic:

The hottest manicure styles of 2013
75% of women say they've purchased a designer knockoff
The most "OMG, WHAT!?" looks from London Men's Fashion Week
beauty tips and style advice
From Monica, Rachel, and Phoebe on Friends to Blair and Serena on Gossip Girl, here are the most memorable wedding dresses to grace the small screen.

If diamonds are a girl's best friend, then fashion is the close friend who completes her circle. Style is unique to each and every one of us, but trends come and go to serve as fun ways to spice up our everyday looks or ways to try out something altogether new and bold. Even bridal wear captures trends each season (hello crop tops!), but brides to be must remember that just because it is being sold, does not mean that it is meant to be worn on one of the most important days of your life. This summer, fashion has a slew of great seasonal fads, but most of them just do not work for a wedding. If you're on the fence about how trendy to be for your wedding day, here are five pieces to avoid during your wedding festivities.

We've done some strange things in the name of beauty (a butt facial for one), but these powerful ingredients would make us gag — if they didn't work so damn well.

The redeeming factor of summer, sadly, not being endless? New seasons require a different wardrobe, and there's no time like the present to start your fall shopping. With autumn creeping up, I already know the boots and sweaters I'll be heaving out of the stuffed containers under my bed that I think of fondly as my second closet…but there's always room for fresh blood. I quizzed Shopbop's fashion director, Elle Strauss, for help with getting the best strategy in place. Herewith, the 10 pieces she suggests picking up now (plus chic ideas for how to start incorporating them into your current closet).

We may have one more month left in summer, but pretty soon you're going to have to start thinking about fall outfits. And what's a bigger fall wardrobe workhorse than denim? Audit your closet to see if you own these jean essentials, and if not, consider adding them to your fall shopping list.

Maybe this sounds familiar: You fall in love with a sweet new face scrub and love it so much that you use it, oh, every day. Morning and night. Until your skin breaks out in protest. Or perhaps you're in the once-a-year pedicure camp, and have to spend hours pumicing your callouses before even thinking about polish. Well, the laissez-faire approach stops now. It's not just which products you choose—but how often you deploy them. Here's a quick rundown of how frequently you should be doing various at-home treatments.