Does a bad hair day affect your well-being?
Having bad hair may lower self esteem.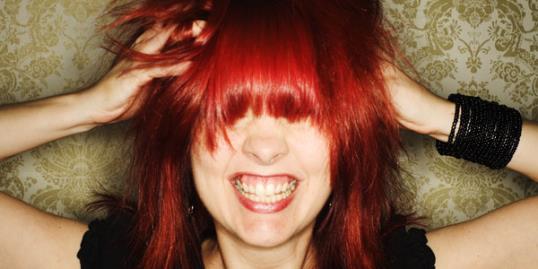 We all have them—bad hair days—the morning you wake up that no matter what product you throw in your 'do, it's not 'do-ing' what you want it to. So you leave the house in a funk and secretly have a slightly less elevated mood, no matter how much you try to convince yourself this is not the case. But little did we realize, having a bad hair day can do more than affect your afternoon. Bad hair can have a serious impact on your overall mental well-being, says a new study. 

Researchers have found that people have a tendency to perform well below what they are capable of when they believe their hair doesn't look good.  The study, conducted by Proctor & Gamble, found that even the thought of a bad hair day made both men and women feel less intelligent. In addition, it was reported that men feel less self-confident and more nervous when they don't like their hair, while women feel embarrassed and ashamed.
More from Living: Beauty 101: Healthy hair
"There is a strong correlation between what we see in the mirror and how we feel about ourselves," Amy L. Flowers, PhD, a psychologist with expertise in self-esteem and body image and with a practice in Macon, Ga, tells
San Jose Mercury News
.
"Thomas Cash, a famous researcher in body image, states that up to 25 percent of our self-esteem is determined by how we feel about our bodies — you can't hate the way you look and still love yourself," Flowers said. "Also, we assume that others see us the way we see ourselves, so if we don't like a particular feature (like our hair), we assume that others find it repulsive, too."
More from Living: Looks guys love (and hate)
"I think hair can say a lot about how we see ourselves — if it looks like you just fell out of bed, it implies that you don't care about your appearance, which to me indicates poor self-esteem," says Flowers. "I don't think you have to have on a full face of makeup before going out to get the mail, but a person who is going out in public should be clean and tidy. It shows self-respect and makes a good impression." And she urges people to "remember that old expression: You only have one chance to make a first impression."
Tell us: Does your hair affect your mood?


Photo: Courtney Bell/Getty Images
More from Simply Chic:

The hottest manicure styles of 2013
75% of women say they've purchased a designer knockoff
The most "OMG, WHAT!?" looks from London Men's Fashion Week
beauty tips and style advice
You already know wearing white after Labor Day is cool. But menswear is reinventing itself rapidly, leaving some long-held mandates by the wayside, not to mention a bunch of men with a lot of questions. Sure, some style laws are truly inviolable. Showing a quarter-inch of cuff will always be crucial, but with designers and dandies flaunting so many former taboos it's hard to tell what's in play these days. So we thought we'd take this opportunity to let you know which rules no longer apply.

Put down the wrinkled button-down, step away from the Crocs, and open your closet. We need to talk about the new rules of casual.

Buying a brush is like getting a new smartphone: once you learn how to use it, it's indispensable.

Surfers are the epitome of cool, laid-back American style. And if we can't be them, at least we can copy their hair.

It's time for bridal beauty to loosen up. Hair doesn't have to be tightly wound, makeup perfectly contoured, and nails French manicured (on this last point, really, please don't). You can, in fact, look gorgeously and timelessly cool at your wedding. Here's how.

Thirty-year-old Lisa Conn was shamed for her American Apparel swim suit.

This Instagram should be an ad campaign on billboards everywhere immediately.

The famous Parisian shoe designer has unveiled a luxurious new nail polish, his first foray into the world of beauty, and there are no prizes for guessing what color it comes in.

Average shoe size is up about two sizes since the '70s, study says.

They can't escape wedding season, so they might as well look their best.

Front-row style star Miroslava Duma just clears 5′, Oscar winner Reese Witherspoon one-ups her—literally—at 5′ 1″, and fashion crush Rachel Bilson barely tops them both at a whopping 5′ 2″. But aside from standing at the diminutive end of the height spectrum, these three ladies have something else in common: the ability to nail every summer fashion trend. If you're part of the petite girls' club, take a look at these 12 fashion essentials—from closet staples to chic accessories—to keep you at the top of your style game this summer.

Quick, easy, everywhere-appropriate: There's no summer piece quite as versatile--or flattering.