Does a bad hair day affect your well-being?
Having bad hair may lower self esteem.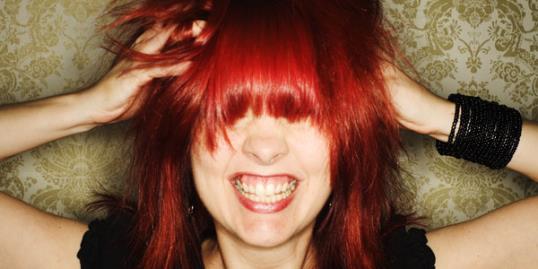 We all have them—bad hair days—the morning you wake up that no matter what product you throw in your 'do, it's not 'do-ing' what you want it to. So you leave the house in a funk and secretly have a slightly less elevated mood, no matter how much you try to convince yourself this is not the case. But little did we realize, having a bad hair day can do more than affect your afternoon. Bad hair can have a serious impact on your overall mental well-being, says a new study. 

Researchers have found that people have a tendency to perform well below what they are capable of when they believe their hair doesn't look good.  The study, conducted by Proctor & Gamble, found that even the thought of a bad hair day made both men and women feel less intelligent. In addition, it was reported that men feel less self-confident and more nervous when they don't like their hair, while women feel embarrassed and ashamed.
More from Living: Beauty 101: Healthy hair
"There is a strong correlation between what we see in the mirror and how we feel about ourselves," Amy L. Flowers, PhD, a psychologist with expertise in self-esteem and body image and with a practice in Macon, Ga, tells
San Jose Mercury News
.
"Thomas Cash, a famous researcher in body image, states that up to 25 percent of our self-esteem is determined by how we feel about our bodies — you can't hate the way you look and still love yourself," Flowers said. "Also, we assume that others see us the way we see ourselves, so if we don't like a particular feature (like our hair), we assume that others find it repulsive, too."
More from Living: Looks guys love (and hate)
"I think hair can say a lot about how we see ourselves — if it looks like you just fell out of bed, it implies that you don't care about your appearance, which to me indicates poor self-esteem," says Flowers. "I don't think you have to have on a full face of makeup before going out to get the mail, but a person who is going out in public should be clean and tidy. It shows self-respect and makes a good impression." And she urges people to "remember that old expression: You only have one chance to make a first impression."
Tell us: Does your hair affect your mood?


Photo: Courtney Bell/Getty Images
More from Simply Chic:

The hottest manicure styles of 2013
75% of women say they've purchased a designer knockoff
The most "OMG, WHAT!?" looks from London Men's Fashion Week
beauty tips and style advice
Olivia Wilde dishes on her minimalist approach to skincare, and how pregnancy has made her more conscious of the products she uses.

Kate Middleton's Temperley London gown resurfaced on the red carpet for the third time. Do you love it, or is it one time too many?

See 14 holiday dresses you'll love under $100.

This season, let your nails be as merry—and bright—as your mood.

A few things are certain in life: death, taxes and the fact that a gal pretty much can't go bare legged from November to March.

See 15 fragrances for every personality on your holiday list.

Click to see 15 dog-walking outfits inspired by celebrities.

We're sure this enigmatic purple shade will be everywhere next year, from fashion and beauty to home, and we're pumped for its impending takeover. We've rounded up some of our favorite celebrity looks in Radiant Orchid, including Jessica Paré, Kristen Bell, Amy Adams, and Krysten Ritter, to give you a preview of what you can expect to see in 2014. Commit Radiant Orchid to memory—you're going to be spotting much more of it in the coming months.

What do you wear to a holiday party? Whether you're heading to a family shindig or an after-work office soiree, crib these style tips and lessons learned from some of our favorite celebrity dos and don'ts of the festive season.

We caught up with the new mommy to find out the trick to keeping her makeup on point—even when she's not in front of the cameras.

Kristen Stewart is known for her casual style, both on and off the red carpet

You can rent a couture dress or a designer bag, but would you rent hair extensions?