Does a bad hair day affect your well-being?
Having bad hair may lower self esteem.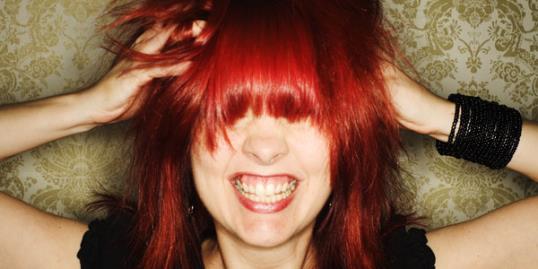 We all have them—bad hair days—the morning you wake up that no matter what product you throw in your 'do, it's not 'do-ing' what you want it to. So you leave the house in a funk and secretly have a slightly less elevated mood, no matter how much you try to convince yourself this is not the case. But little did we realize, having a bad hair day can do more than affect your afternoon. Bad hair can have a serious impact on your overall mental well-being, says a new study. 

Researchers have found that people have a tendency to perform well below what they are capable of when they believe their hair doesn't look good.  The study, conducted by Proctor & Gamble, found that even the thought of a bad hair day made both men and women feel less intelligent. In addition, it was reported that men feel less self-confident and more nervous when they don't like their hair, while women feel embarrassed and ashamed.
More from Living: Beauty 101: Healthy hair
"There is a strong correlation between what we see in the mirror and how we feel about ourselves," Amy L. Flowers, PhD, a psychologist with expertise in self-esteem and body image and with a practice in Macon, Ga, tells
San Jose Mercury News
.
"Thomas Cash, a famous researcher in body image, states that up to 25 percent of our self-esteem is determined by how we feel about our bodies — you can't hate the way you look and still love yourself," Flowers said. "Also, we assume that others see us the way we see ourselves, so if we don't like a particular feature (like our hair), we assume that others find it repulsive, too."
More from Living: Looks guys love (and hate)
"I think hair can say a lot about how we see ourselves — if it looks like you just fell out of bed, it implies that you don't care about your appearance, which to me indicates poor self-esteem," says Flowers. "I don't think you have to have on a full face of makeup before going out to get the mail, but a person who is going out in public should be clean and tidy. It shows self-respect and makes a good impression." And she urges people to "remember that old expression: You only have one chance to make a first impression."
Tell us: Does your hair affect your mood?


Photo: Courtney Bell/Getty Images
More from Simply Chic:

The hottest manicure styles of 2013
75% of women say they've purchased a designer knockoff
The most "OMG, WHAT!?" looks from London Men's Fashion Week
fashion: trends & must-haves for your wardrobe
That's right. We said it. These nail polish colors aren't just sexy—they're the hottest things you can put on your feet this summer. Now the hard part: choosing one.

Days are getting longer, skirts are getting shorter, and our feet haven't seen the light of day since the autumnal equinox. A seasonal beauty overhaul is in order.

There's no hair hotline for all your summer freakouts—but for every strand, type, and texture, there is an Allure editor who's tested tons of products (in millions of combinations) to fix any problem. Here, our roundup of tried-and-true hot-weather hair regimens.

When heat and humidity strike, the last thing you want to do is spend an eternity styling your hair, only for it to end in the F word: frizz. But that doesn't mean you need to settle for a ho-hum hair day. These ten hairstyles are quick, simple, and not the least bit boring.

She's chosen designer gowns that you can rent from the new Beyoncé Boutique.

Long, layered, medium or wavy – we're sharing our favorite hairstyles of 2013 with a new 'do each day. Stuck in a hair rut? Check back daily for snappy new looks that are sure to give your locks some beauty inspiration.

Big event? Focus on the outfit, because we've got your hair all figured out, whether you've got two minutes to do it or 20.

When morning talk shows and local newspapers dole out their seasonal swimsuit shopping advice, I'm usually pretty disappointed by the lack of body types represented. What about the women who don't resemble fruit? (Or aren't boy-shaped—the third "one of these things is not like the other" category I've never quite understood. Couldn't they say "banana?" Or is that somehow more offensive than "apple" and "pear" shapes?)

Ready to refresh your hair and makeup for spring? Well, look no further for your latest batch of inspiration. These ladies are bringing the beauty brilliance with megawatt lipstick shades, sleek haircuts, and must-try hair colors. Get ready to play copycat.

Step into spring with style in June Ambrose's new shoe line for HSN.

Revamp your corporate look with graphic prints and bold color.

If you have only five makeup tools in your kit, make sure these are them. They do much more than just look cute on your vanity!