The 18 cities with the prettiest people
These cities are hot, hot, hot.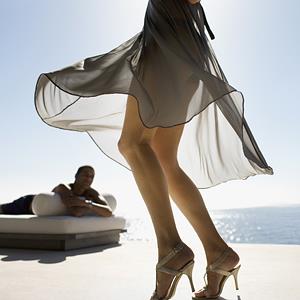 fashion: trends & must-haves for your wardrobe
If every morning seems like a Manic Monday, then you'll love these clever, minute-shaving beauty tips. Learn the secrets to spending less time getting gorgeous straight from pros!

More American women are trading their itsy bitsy bikinis in for one piece swimwear.

Punk, with its undercurrents of rebellion and reinvention, brought out the best of the fashion flock at last night's Met Gala—where more than a few beauty transformations made their winning debut. Actress Anne Hathaway turned up on the red carpet with an extreme bleach-blonde crop that sent photographers into overdrive, while model Joan Smalls showed off a cool new ombré hair color that graduated sharply from brown to blonde.

Experts tell you the simple things you can do to get gorgeous while you sleep.

As much as we'd love to agree with Elle Woods that the rules of hair care are simple and finite, there are plenty of ways you may be harming your precious strands without even knowing it. Here's how to stop the damage.

Each spring we look forward to the opulent red-carpet display that takes place at the Metropolitan Museum of Art's annual Costume Institute Gala and the dresses that will grace its steps the first Monday in May. The evening is never short on grandeur, but there's always a few artistically minded guests who go the extra mile and dress with the year's exhibit wholeheartedly in mind—donning a look that not only impresses but more than tips its perfectly considered hat to the theme. From Hamish Bowles' tartan tuxedo in homage to Alexander McQueen to Kate Moss in a gold-lame Marc Jacobs frock and matching turban embodying the concept of Model as Muse, we pay tribute to those who creatively and elegantly elevate the dress code.