Company creates a device to hide camel toe
What will they think of next?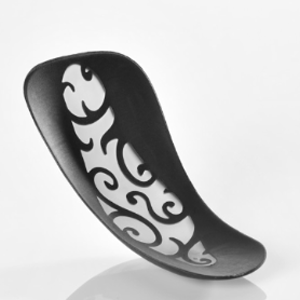 We've all seen it. Most of us have even had it at one point or another—you know what we're talking about—the dreaded case of camel toe—the situation that arises when pants are way too tight and ride up into your precious nether regions, creating a camel-like hump that can be viewed by anyone who accidently glances down at your crotch at any given moment. 

More from Living: What does your lingerie say about you?

After all, according to company SmoothGrove, "a staggering 55 percent of women, irrespective of age, size or weight, experience camel toe at some point." Really? Because we thought it was maybe even higher than that. But we digress.

More from Living: The perfect jeans for your figure

Regardless, now you can wear tight-as-hell pants without that dreaded scenario, simply by buying a piece of plastic that prevents camel toe. The problem-solving SmoothGroove Luxe comes in three different colors, it's washable (it better be considering where you put it) and with a "presentation case, discreet satin storage pouch and velcro dots, ideal as a gift or for those who need to safely and discreetly carry their SmoothGroove," says the web site. 

Bing: Crazy fashion trends

Tell us: Would you wear an anti-camel toe device in your crotch?

More from Simply Chic:
January Jones on her hair: "It's falling out in clumps"
Blondes may have more fun, but brunettes are more likely to succeed at work
Women look older at 3:30 p.m. on Wednesdays

Photo: SmoothGroove
beauty tips and style advice
Instead of just slapping on five creams—then washing your face because, seriously, that stuff is heavy—follow the lead of the pros.

Forget about simple straightening--the flat iron is so much more versatile than that.

Assuming that you've had tons of practice doing your own makeup on a daily basis, attempting to do it yourself on your wedding day actually isn't that much more difficult. After all, no one knows your face better than you do, and chances are you have many of the tools and products that you need for the big day right at your fingertips—you just need to know how to use them.

There's a particular episode of 30 Rock ("Black Light Attack!", for all the fellow 30 Rock historians out there) in which Jane Krakowski's youth-obsessed character Jenna goes on a Gossip Girl audition. She thinks it's for the role of an Upper East Side high schooler, but as she learns in the middle of the tryout, it's for that of her mother instead. While Tina Fey's brilliant Liz Lemon later tries to talk Jenna off the cliff, she says, "You can try to fight getting older. You can be like Madonna, and cling to youth with your Gollum arms. Or you can be like Meryl Streep and embrace your age with elegance."

Save money and look great.

As if there weren't already enough things causing wrinkles while you're awake—smiling, frowning, sipping from a straw, probably breathing—it turns out even sleeping can be line-inducing.