Company creates a device to hide camel toe
What will they think of next?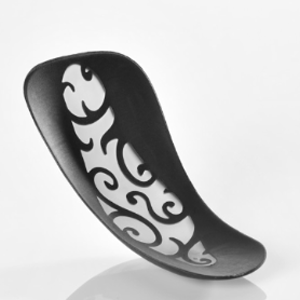 We've all seen it. Most of us have even had it at one point or another—you know what we're talking about—the dreaded case of camel toe—the situation that arises when pants are way too tight and ride up into your precious nether regions, creating a camel-like hump that can be viewed by anyone who accidently glances down at your crotch at any given moment. 

More from Living: What does your lingerie say about you?

After all, according to company SmoothGrove, "a staggering 55 percent of women, irrespective of age, size or weight, experience camel toe at some point." Really? Because we thought it was maybe even higher than that. But we digress.

More from Living: The perfect jeans for your figure

Regardless, now you can wear tight-as-hell pants without that dreaded scenario, simply by buying a piece of plastic that prevents camel toe. The problem-solving SmoothGroove Luxe comes in three different colors, it's washable (it better be considering where you put it) and with a "presentation case, discreet satin storage pouch and velcro dots, ideal as a gift or for those who need to safely and discreetly carry their SmoothGroove," says the web site. 

Bing: Crazy fashion trends

Tell us: Would you wear an anti-camel toe device in your crotch?

More from Simply Chic:
January Jones on her hair: "It's falling out in clumps"
Blondes may have more fun, but brunettes are more likely to succeed at work
Women look older at 3:30 p.m. on Wednesdays

Photo: SmoothGroove
beauty tips and style advice
The secret to effortlessly beautiful hair? Embracing what you're born with! Twenty celebs show you how to do it.

Last year's beauty buzz may have been all about J. Law's cropped cut, M'Obama's bangs and Miley Cyrus' pixie, but we're not even halfway through 2014 and we're pretty sure we've already topped 2013. From Margot Robbie's glossy brunette dye-job to Katie Holmes' irresistible set of bangs, we're obsessed with all these recent celebrity transformations—all of which are perfect inspiration for a new spring hairstyle. Click through above to see a round-up of our favorites!

The green coat is pretty much as Middleton as it gets.

Monday's New Zealand itinerary brought Kate and William to the cricket field.

We put a slew of new formulas to the test, and these are the ones making us look younger and fresher.

From the coolest chestnut to the deepest mahogany, these stars show how to unleash your inner brunette bombshell.

In a girl's life, there are a select few occasions when it's considered completely appropriate to go all out with a truly spectacular dress. Her wedding day comes to mind, of course, and maybe her Sweet 16. Prom night, however, is certainly at the tip-top of that short list of special events.

When I was a teenager, I wouldn't be caught dead without my lip gloss, blush, eyeshadow and eyeliner at all times. Now, even though I'm older, I'll admit I still don't feel 100 percent confident leaving the house without at least some of my "face" on—plus, my obsession with beauty products doesn't encourage me to go makeup-free very often.

Good magazine covers grab your attention and make you want to look inside. Controversial covers and photo shoots, like the 14 that follow, often become a part of history.

For those of you on official Kate Middleton Outfit Watch, here's the latest.

Fashion Week is continuing to make its way around the globe, and at its latest stop, Australia, we're seeing some seriously inventive hairstyle ideas pop up. Check out this coolness.

Kate Middleton put her perfect hair in a perfect ponytail yesterday at a wreath-laying service at a war memorial in New Zealand, and, of course, the whole thing was perfect.