Which states have the lowest divorce rates?
Good news for East Coasters.
No married person will tell you that keeping the knot tied is easy, but hard work notwithstanding, one key to a lasting union might just be geographic location.
According to new data released by the U.S. Census Bureau, your marriage might have a better chance of enduring if you reside somewhere in the northeastern part of the country.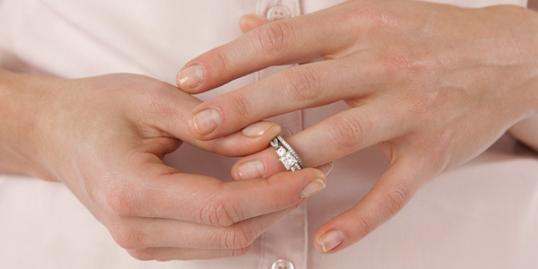 The Bureau released the 2011 American Community Survey just last month, and in it, New Jersey was revealed as the state with the lowest percentage of residents 18 and older who are divorced, the New York Times reports. New York came in at a close second.
In New Jersey, just 9.1 percent of adults are divorced, compared with almost 52 percent of its residents 18 and older who are married. Susan L. Brown, co-director of the National Center for Family and Marriage Research, told the Times:

"The composition of New Jersey married individuals is quite favorable across several indicators, providing some evidence for the low divorce rate."
Naomi Cahn, a professor at George Washington University Law School, further explained the data:
"Marriages are more likely to last for longer periods of time when people marry at an older age, have a higher education and earn more, and New Jersey scores high on these three criteria. New Jerseyans are more likely than residents of most states to delay marriage until after they complete college and graduate school. There are fewer divorces in New Jersey because there are fewer risk factors."
Basically, New Jersey residents are likely to postpone marriage until they're "emotionally and financially ready," as Deborah Carr, a sociology professor at Rutgers, puts it.
The same must be true for residents of New York, Connecticut, Delaware and Massachusetts, as those states all ranked low in percentages of divorced adults. In fact, from New York down to South Carolina, the East Coast in general had a rate of less than 12 percent. Minnesota, Wisconsin, Iowa and Illinois also saw low percentages.
And Nevada may be the state of the quickie wedding, but when it comes to lasting marriages, couples don't fare so well. Nevada had the highest percentage of divorce, at 14.7. Wyoming, Florida, Kentucky and Tennessee were all over 13.5 percent.
The state of the economy has also played a key role in U.S. divorce rates. Mel Schwartz, a psychotherapist who has studied and written on the topic of divorce, told The Heart Beat:
"Divorce is far less a stigma than it used to be. However, the current economic conditions may force many people to remain unhappily married due to financial constraints."
And that would explain why divorce is less common in New Jersey than the rest of the country. As Carr told the Times:
"New Jersey is among the wealthier states in the nation, and economic stability also contributes to marital stability."
Bing: Which A-list actor is currently embroiled in a divorce?
Photo: Vstock LLC/Getty Images
More Sex & Love on MSN Living:
10 Reasons He Hasn't Asked You to Marry Him
10 Things He Should Do to Make You Happy
What His Date Style Says About Him
8 Words That Give a Liar Away
6 Fascinating Facts About Exes

beauty tips and style advice
I can't tell you how many times one ill-timed sneeze ruined all of my hard work with a mascara wand. #allergyproblems.

While we're not averse to shelling out upwards of $30 for an amazing lipstick, many of our standby lip colors cost a whole lot less than that. The drugstore is full of high-quality, long-lasting lipsticks in gorgeous shades that—wait for it!—ring in under $10. Click through above to shop our favorites!

What's the perfect add-on to your beauty look? A hair accessory, of course! Just when you think you've seen it all, every year there seems to be a new "it" hair piece that rules the moment. In the '50s, a dainty bow-tied head scarf was perfectly housewife-chic. In the '60s and '70s, real flower crowns officially became the epitome of boho style—your outfit simply wasn't complete without a daisy topper. Fast-forward to the '90s and you had a bevy of creative hair charms and baubles, including butterfly clips, hair wraps and those infamous bra strap headbands (shudder).

The right blush can warm up your complexion, create the illusion of cheekbones, and even make you look younger. (Yes, really!) Here, the most flattering shades for fair, medium, olive, and dark skin.

Think you can't put a price on looking younger? Well, we did—and it's $25. We challenged dermatologists to find great products that don't cost even one cent over that amount.

You want to dress in a way that's young and cool but that doesn't suggest you're on your way to a One Direction concert. "The trick to looking younger is adding one fashionable piece to a classic outfit," says stylist Cher Coulter. Here's how to nail it.