Which states have the lowest divorce rates?
Good news for East Coasters.
No married person will tell you that keeping the knot tied is easy, but hard work notwithstanding, one key to a lasting union might just be geographic location.
According to new data released by the U.S. Census Bureau, your marriage might have a better chance of enduring if you reside somewhere in the northeastern part of the country.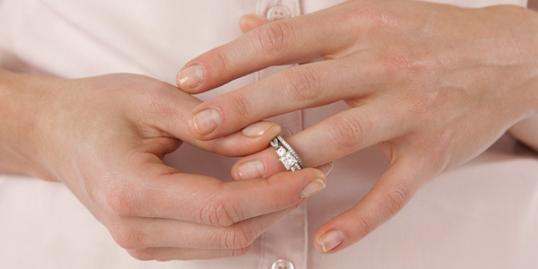 The Bureau released the 2011 American Community Survey just last month, and in it, New Jersey was revealed as the state with the lowest percentage of residents 18 and older who are divorced, the New York Times reports. New York came in at a close second.
In New Jersey, just 9.1 percent of adults are divorced, compared with almost 52 percent of its residents 18 and older who are married. Susan L. Brown, co-director of the National Center for Family and Marriage Research, told the Times:

"The composition of New Jersey married individuals is quite favorable across several indicators, providing some evidence for the low divorce rate."
Naomi Cahn, a professor at George Washington University Law School, further explained the data:
"Marriages are more likely to last for longer periods of time when people marry at an older age, have a higher education and earn more, and New Jersey scores high on these three criteria. New Jerseyans are more likely than residents of most states to delay marriage until after they complete college and graduate school. There are fewer divorces in New Jersey because there are fewer risk factors."
Basically, New Jersey residents are likely to postpone marriage until they're "emotionally and financially ready," as Deborah Carr, a sociology professor at Rutgers, puts it.
The same must be true for residents of New York, Connecticut, Delaware and Massachusetts, as those states all ranked low in percentages of divorced adults. In fact, from New York down to South Carolina, the East Coast in general had a rate of less than 12 percent. Minnesota, Wisconsin, Iowa and Illinois also saw low percentages.
And Nevada may be the state of the quickie wedding, but when it comes to lasting marriages, couples don't fare so well. Nevada had the highest percentage of divorce, at 14.7. Wyoming, Florida, Kentucky and Tennessee were all over 13.5 percent.
The state of the economy has also played a key role in U.S. divorce rates. Mel Schwartz, a psychotherapist who has studied and written on the topic of divorce, told The Heart Beat:
"Divorce is far less a stigma than it used to be. However, the current economic conditions may force many people to remain unhappily married due to financial constraints."
And that would explain why divorce is less common in New Jersey than the rest of the country. As Carr told the Times:
"New Jersey is among the wealthier states in the nation, and economic stability also contributes to marital stability."
Bing: Which A-list actor is currently embroiled in a divorce?
Photo: Vstock LLC/Getty Images
More Sex & Love on MSN Living:
10 Reasons He Hasn't Asked You to Marry Him
10 Things He Should Do to Make You Happy
What His Date Style Says About Him
8 Words That Give a Liar Away
6 Fascinating Facts About Exes

beauty tips and style advice
When Madonna posted an image of herself wearing a full on Game of Thrones Khaleesi costume on Instagram last week we weren't exactly surprised—this is the woman who rolled into the Grammy Awards wearing a tuxedo and a grill earlier this winter, so why not celebrate the Jewish holiday of Purim with a leather corset and a pair of tiny dragons? Still, we were hypnotized by her white-blonde, braided Daenerys Targaryen hair. Functioning as a bleached out cultural weather vane of sorts, it tapped into multiple obsessions at once—the return of "Game of Thrones" to HBO, spring's new extreme hair lengths and, most notably, fashion's current platinum mania. Our own love of ice-blonde hair—which transforms any look from everyday to extraordinary—has been well documented of late, but last night's Game of Thrones premiere sent our platinum fever into overdrive. In celebration of fashion's favorite hair color, a look at the best platinum moments in history.

While you were sleeping, fast retail chain H&M H&M announced that its next designer collaboration is with Alexander Wang.

Formal, beachy, country club-chic or gorgeously rustic whatever the setting calls for, we've found a bevy of beautiful dresses to wear to a wedding this season.

Puffy, tired, weary no more. These tips take years off and create that "I slept great, thanks!" effect.

Top dermatologists, cosmetic chemists, makeup artists, and hairstylists reveal quick tips and tricks that can peel back years in a matter of seconds

We're all for sartorial freedom, but there are certain once-on-trend items that, when worn today, appear anything but current. Consider this your official out list.

If you're a practitioner of reselling your clothes—a good way to clear out some space in your wardrobe and make a few extra bucks—you might already be familiar with San Francisco-based thredUP.

A picture may be worth a thousand words, but emoji must be worth at least a million. Here we show you how to channel your favorites: Go ahead, express yourself!

11 earth-friendly beauty products we love.

The secret to effortlessly beautiful hair? Embracing what you're born with! Twenty celebs show you how to do it.

Last year's beauty buzz may have been all about J. Law's cropped cut, M'Obama's bangs and Miley Cyrus' pixie, but we're not even halfway through 2014 and we're pretty sure we've already topped 2013. From Margot Robbie's glossy brunette dye-job to Katie Holmes' irresistible set of bangs, we're obsessed with all these recent celebrity transformations—all of which are perfect inspiration for a new spring hairstyle. Click through above to see a round-up of our favorites!

The green coat is pretty much as Middleton as it gets.