Which states have the lowest divorce rates?
Good news for East Coasters.
No married person will tell you that keeping the knot tied is easy, but hard work notwithstanding, one key to a lasting union might just be geographic location.
According to new data released by the U.S. Census Bureau, your marriage might have a better chance of enduring if you reside somewhere in the northeastern part of the country.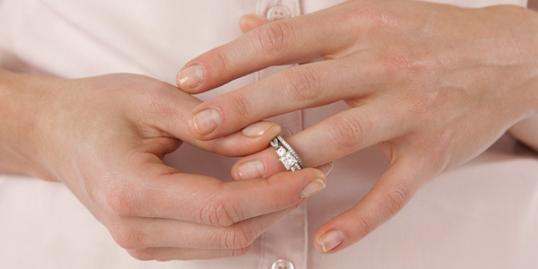 The Bureau released the 2011 American Community Survey just last month, and in it, New Jersey was revealed as the state with the lowest percentage of residents 18 and older who are divorced, the New York Times reports. New York came in at a close second.
In New Jersey, just 9.1 percent of adults are divorced, compared with almost 52 percent of its residents 18 and older who are married. Susan L. Brown, co-director of the National Center for Family and Marriage Research, told the Times:

"The composition of New Jersey married individuals is quite favorable across several indicators, providing some evidence for the low divorce rate."
Naomi Cahn, a professor at George Washington University Law School, further explained the data:
"Marriages are more likely to last for longer periods of time when people marry at an older age, have a higher education and earn more, and New Jersey scores high on these three criteria. New Jerseyans are more likely than residents of most states to delay marriage until after they complete college and graduate school. There are fewer divorces in New Jersey because there are fewer risk factors."
Basically, New Jersey residents are likely to postpone marriage until they're "emotionally and financially ready," as Deborah Carr, a sociology professor at Rutgers, puts it.
The same must be true for residents of New York, Connecticut, Delaware and Massachusetts, as those states all ranked low in percentages of divorced adults. In fact, from New York down to South Carolina, the East Coast in general had a rate of less than 12 percent. Minnesota, Wisconsin, Iowa and Illinois also saw low percentages.
And Nevada may be the state of the quickie wedding, but when it comes to lasting marriages, couples don't fare so well. Nevada had the highest percentage of divorce, at 14.7. Wyoming, Florida, Kentucky and Tennessee were all over 13.5 percent.
The state of the economy has also played a key role in U.S. divorce rates. Mel Schwartz, a psychotherapist who has studied and written on the topic of divorce, told The Heart Beat:
"Divorce is far less a stigma than it used to be. However, the current economic conditions may force many people to remain unhappily married due to financial constraints."
And that would explain why divorce is less common in New Jersey than the rest of the country. As Carr told the Times:
"New Jersey is among the wealthier states in the nation, and economic stability also contributes to marital stability."
Bing: Which A-list actor is currently embroiled in a divorce?
Photo: Vstock LLC/Getty Images
More Sex & Love on MSN Living:
10 Reasons He Hasn't Asked You to Marry Him
10 Things He Should Do to Make You Happy
What His Date Style Says About Him
8 Words That Give a Liar Away
6 Fascinating Facts About Exes

beauty tips and style advice
See 14 holiday dresses you'll love under $100.

This season, let your nails be as merry—and bright—as your mood.

A few things are certain in life: death, taxes and the fact that a gal pretty much can't go bare legged from November to March.

See 15 fragrances for every personality on your holiday list.

Click to see 15 dog-walking outfits inspired by celebrities.

We're sure this enigmatic purple shade will be everywhere next year, from fashion and beauty to home, and we're pumped for its impending takeover. We've rounded up some of our favorite celebrity looks in Radiant Orchid, including Jessica Paré, Kristen Bell, Amy Adams, and Krysten Ritter, to give you a preview of what you can expect to see in 2014. Commit Radiant Orchid to memory—you're going to be spotting much more of it in the coming months.

What do you wear to a holiday party? Whether you're heading to a family shindig or an after-work office soiree, crib these style tips and lessons learned from some of our favorite celebrity dos and don'ts of the festive season.

We caught up with the new mommy to find out the trick to keeping her makeup on point—even when she's not in front of the cameras.

Kristen Stewart is known for her casual style, both on and off the red carpet

You can rent a couture dress or a designer bag, but would you rent hair extensions?

To get the scoop on quick office party beauty tricks, we turned to Landy Dean, celebrity makeup artist at Marie Robinson salon. His simple tutorial requires only a handful of products, starting with the darkest, inkiest eyeliner you can find. Dean swears by the Nars Larger Than Life liners smudged over the waterline and lashline, topped off with a few coats of Maybelline The Falsies mascara. Before you dash off to apply product, there's one small step that involves removing makeup. "If your foundation and concealer have caked or creased, I recommend a quick removal with a cleansing towelette and a redo to avoid heavy looking skin," he cautions. For those who would prefer to go the easy route, apply a hydrating moisturizer using a stippling motion and a sponge. Finish the look with a dusting of BareMinerals Mineral Veil—"this will even out discolorations and give a reflective finish that still looks natural"—swap your work bag for a chic clutch, and get ready to ring in the season.

Here's something to brighten up your Tuesday afternoon: The brilliant minds at Moschino have always been masters at combining fashion and whimsical, quirky humor—and this season, they've gone and outdone themselves.