The New Crocs
Don't take these to the pool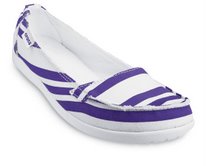 Are Crocs fashionable? 
As the publicly traded company, founded in Denver, puts forth its latest collection -- one that goes far beyond its signature clogs -- it hopes you will respond with a resounding YES! 
But can we make the leap? It's a little like asking us to go hiking in our stilettos. Wait a minute. Why didn't anyone ever think of that?
The breathable resin shoe was conceived as little more than an option for lovers of the outdoors. But suddenly, anyone with aspirations to look like she had just harvested 20 acres or anchored her 42-foot schooner around the corner required a pair. 
The whole world caught on, the masses clamoring for the comfy, colorful, economical slip-ons that so evoked a work-be-darned ethos. 
Yes, Crocs were dumpy. But dumpy was the new cool. 
Consumer fatigue set in early last year, I would venture. Although Crocs have been able to stay somewhat relevant, increasingly they're a victim of their own success. 
Some of the new Crocs look like the old Crocs. But if you haven't gone to the Web site, crocs.com, lately, you may be surprised to see how many of the latest styles are strikingly different. 
There are wedge-heeded thongs, loafers and conventional sandals. All incorporate the resin into the shoe's structure, but now other materials are used, too, like canvas and leather. 
The result? Some, like the handsome Santa Cruz for women, in striped blue and white for $49.99 (shown above), look good enough to wear off the beach. 
Others, like the men's Tideline Leather shoe, $59.99, leave an  impression of, well, huh? 
Every style costs less than $60, and in that sense, Crocs is staying true to its down-market roots. 
But can we accept the brand as more than the flip-flop's distant cousin? Will we ever be able to head to the office or the club with head held high if we're shod in Crocs? 
Ultimately, might a Croc be dismissed as a crock? 
Get them at stores at at crocs.com.
E-mail Kathryn at kathrynwexler@hotmail.com. 
beauty tips and style advice
If your New Year's resolution is to try new things, a great place to start is with your hairstyle! Check out these major 'dos to rock as you ring in 2014.

Nope, holiday hair doesn't have to be fussy—or even hard to do. These five looks are simple and chic. Try one tonight!

It was a year full of hair-related breaking news: There was the good, the bad, and the pixies. Oh, the pixies. Here, in no particular order, the top ten most jaw-dropping celebrity hair makeovers of 2013.

If there was one makeup trend we all wanted to be wearing in 2013, it was cat-eye liner

After the presents are purchased and plane tickets are secured, there's one final to-do: packing a suitcase for your holiday getaway. Instead of choosing your largest bag and shoving everything inside (yes, we've all done it), take some style inspiration from these always-glamorous celebs. Whether you're heading to a warm or cold climate, these ladies will lead you in the right style direction with perfect outfit ideas for your vacation.

"These are my secret weapons for looking like I'm always on top of my beauty game—even when I'm not!" says Glamour beauty editor Maureen Choi.

Don't get me wrong—there's nothing better than a simple, classic peacoat or double-lined trench to get you through those long winter workweeks. But when it comes to the holiday party circuit, you need something with a little more oomph to layer over all those pretty cocktail dresses. Whether thanks to a statement hue, a dramatic silhouette, a flash of metallic or a dose of fur (real or faux, of course), the toppers in the slideshow above are just the thing to complete all your cold-weather formal looks. So the next time you head out to a yuletide fête, don't leave your coat at home (seriously, hypothermia's not a good look on anyone)—just pick one that's festive enough to hold its own against the rest of your look. Click through to shop my holiday outerwear picks now!

Have you ever found yourself stuck in a snowstorm while wearing non-waterproof mascara? We know from experience that the result is not a pretty one.

Every flight seems to have one: that girl who, even after spending several hours enduring the same dry, cramped conditions as everybody else, deplanes looking mind-bogglingly dewy and well-rested. She leaves you too intrigued to be jealous, because who survives air travel without getting puffy eyes and dry patches? Does that mean you can as well? According to our editors, the answer is yes. As you'll see in the slideshow above, which includes their in-flight beauty routines, maintaining your skin, health and hair while traveling through the sky all comes down to the right products. Click through to see what they use, and to stock up before your next big trip—next time, you'll be the one everyone notices.

This year, appearance and politics collided, and body-image issues—from the serious to the frivolous—were top news. Afros were back, a larger-than-life governor got a little smaller, and a duchess gave birth to a prince in the most stylish way. So let's raise a glass to the year that was—because sometimes looking back is the only way to see where we're going.

There's nothing more stressful than trying to elbow my way through the malls during the holiday season. So this year—for the first time—I'm determined to do all of my gift shopping online. I would say it's going great, but to be honest I've barely started. So if you're like me and still have yet to make a dent in your holiday list of things to buy, there are tons of beauty retailers that are offering free shipping today for those in a last-minute bind. Click through above for participating beauty stores.

See 4 ways to transform your look with holiday accessories.