The New Crocs
Don't take these to the pool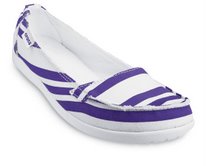 Are Crocs fashionable? 
As the publicly traded company, founded in Denver, puts forth its latest collection -- one that goes far beyond its signature clogs -- it hopes you will respond with a resounding YES! 
But can we make the leap? It's a little like asking us to go hiking in our stilettos. Wait a minute. Why didn't anyone ever think of that?
The breathable resin shoe was conceived as little more than an option for lovers of the outdoors. But suddenly, anyone with aspirations to look like she had just harvested 20 acres or anchored her 42-foot schooner around the corner required a pair. 
The whole world caught on, the masses clamoring for the comfy, colorful, economical slip-ons that so evoked a work-be-darned ethos. 
Yes, Crocs were dumpy. But dumpy was the new cool. 
Consumer fatigue set in early last year, I would venture. Although Crocs have been able to stay somewhat relevant, increasingly they're a victim of their own success. 
Some of the new Crocs look like the old Crocs. But if you haven't gone to the Web site, crocs.com, lately, you may be surprised to see how many of the latest styles are strikingly different. 
There are wedge-heeded thongs, loafers and conventional sandals. All incorporate the resin into the shoe's structure, but now other materials are used, too, like canvas and leather. 
The result? Some, like the handsome Santa Cruz for women, in striped blue and white for $49.99 (shown above), look good enough to wear off the beach. 
Others, like the men's Tideline Leather shoe, $59.99, leave an  impression of, well, huh? 
Every style costs less than $60, and in that sense, Crocs is staying true to its down-market roots. 
But can we accept the brand as more than the flip-flop's distant cousin? Will we ever be able to head to the office or the club with head held high if we're shod in Crocs? 
Ultimately, might a Croc be dismissed as a crock? 
Get them at stores at at crocs.com.
E-mail Kathryn at kathrynwexler@hotmail.com. 
fashion: trends & must-haves for your wardrobe
When morning talk shows and local newspapers dole out their seasonal swimsuit shopping advice, I'm usually pretty disappointed by the lack of body types represented. What about the women who don't resemble fruit? (Or aren't boy-shaped—the third "one of these things is not like the other" category I've never quite understood. Couldn't they say "banana?" Or is that somehow more offensive than "apple" and "pear" shapes?)

Ready to refresh your hair and makeup for spring? Well, look no further for your latest batch of inspiration. These ladies are bringing the beauty brilliance with megawatt lipstick shades, sleek haircuts, and must-try hair colors. Get ready to play copycat.

Long, layered, medium or wavy – we're sharing our favorite hairstyles of 2013 with a new 'do each day. Stuck in a hair rut? Check back daily for snappy new looks that are sure to give your locks some beauty inspiration.

Step into spring with style in June Ambrose's new shoe line for HSN.

Revamp your corporate look with graphic prints and bold color.

If you have only five makeup tools in your kit, make sure these are them. They do much more than just look cute on your vanity!

Think all it can do is shellac everything down, helmet-head style? So wrong! A can of whatever's in your cabinet is your secret beauty weapon. Try it like this.

You may not get wrinkles on your hair, but it ages all the same. Grays, dullness, thinning strands, and frizz are all (unfortunately) part of the hair's aging process, which starts happening in your 30s. The good news is that you don't need Botox to fix these problems. Here are six tips for hair that's shiny, bouncy, healthy—and, yes, younger looking.

Our fashion-savvy FLOTUS shows us she is truly a master at mixing high- and low-end designs.

Get ready for summer with these cute and easy to DIY nail art designs.

Brides, it's your big day and you want to look special. Please, whatever you do, don't wear one of these wedding dresses. These are truly the worst.

Even if you're the best friend of all time, no bridesmaid should ever have to wear these worst-ever bridesmaid dresses. Lace, ruffles and satin overload!