The New Crocs
Don't take these to the pool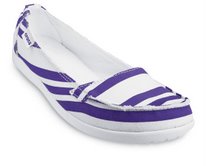 Are Crocs fashionable? 
As the publicly traded company, founded in Denver, puts forth its latest collection -- one that goes far beyond its signature clogs -- it hopes you will respond with a resounding YES! 
But can we make the leap? It's a little like asking us to go hiking in our stilettos. Wait a minute. Why didn't anyone ever think of that?
The breathable resin shoe was conceived as little more than an option for lovers of the outdoors. But suddenly, anyone with aspirations to look like she had just harvested 20 acres or anchored her 42-foot schooner around the corner required a pair. 
The whole world caught on, the masses clamoring for the comfy, colorful, economical slip-ons that so evoked a work-be-darned ethos. 
Yes, Crocs were dumpy. But dumpy was the new cool. 
Consumer fatigue set in early last year, I would venture. Although Crocs have been able to stay somewhat relevant, increasingly they're a victim of their own success. 
Some of the new Crocs look like the old Crocs. But if you haven't gone to the Web site, crocs.com, lately, you may be surprised to see how many of the latest styles are strikingly different. 
There are wedge-heeded thongs, loafers and conventional sandals. All incorporate the resin into the shoe's structure, but now other materials are used, too, like canvas and leather. 
The result? Some, like the handsome Santa Cruz for women, in striped blue and white for $49.99 (shown above), look good enough to wear off the beach. 
Others, like the men's Tideline Leather shoe, $59.99, leave an  impression of, well, huh? 
Every style costs less than $60, and in that sense, Crocs is staying true to its down-market roots. 
But can we accept the brand as more than the flip-flop's distant cousin? Will we ever be able to head to the office or the club with head held high if we're shod in Crocs? 
Ultimately, might a Croc be dismissed as a crock? 
Get them at stores at at crocs.com.
E-mail Kathryn at kathrynwexler@hotmail.com. 
fashion: trends & must-haves for your wardrobe
Toss your tweezers. Everything from brows (thick!) to your workout is taking a cue from the Flintstones. Yabba-dabba-doo!

Big event? Focus on the outfit, because we've got your hair all figured out, whether you've got two minutes to do it or 20.

If every morning seems like a Manic Monday, then you'll love these clever, minute-shaving beauty tips. Learn the secrets to spending less time getting gorgeous straight from pros!

More American women are trading their itsy bitsy bikinis in for one piece swimwear.

Punk, with its undercurrents of rebellion and reinvention, brought out the best of the fashion flock at last night's Met Gala—where more than a few beauty transformations made their winning debut. Actress Anne Hathaway turned up on the red carpet with an extreme bleach-blonde crop that sent photographers into overdrive, while model Joan Smalls showed off a cool new ombré hair color that graduated sharply from brown to blonde.

Experts tell you the simple things you can do to get gorgeous while you sleep.