The New Crocs
Don't take these to the pool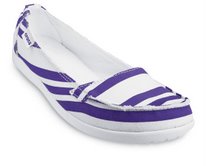 Are Crocs fashionable? 
As the publicly traded company, founded in Denver, puts forth its latest collection -- one that goes far beyond its signature clogs -- it hopes you will respond with a resounding YES! 
But can we make the leap? It's a little like asking us to go hiking in our stilettos. Wait a minute. Why didn't anyone ever think of that?
The breathable resin shoe was conceived as little more than an option for lovers of the outdoors. But suddenly, anyone with aspirations to look like she had just harvested 20 acres or anchored her 42-foot schooner around the corner required a pair. 
The whole world caught on, the masses clamoring for the comfy, colorful, economical slip-ons that so evoked a work-be-darned ethos. 
Yes, Crocs were dumpy. But dumpy was the new cool. 
Consumer fatigue set in early last year, I would venture. Although Crocs have been able to stay somewhat relevant, increasingly they're a victim of their own success. 
Some of the new Crocs look like the old Crocs. But if you haven't gone to the Web site, crocs.com, lately, you may be surprised to see how many of the latest styles are strikingly different. 
There are wedge-heeded thongs, loafers and conventional sandals. All incorporate the resin into the shoe's structure, but now other materials are used, too, like canvas and leather. 
The result? Some, like the handsome Santa Cruz for women, in striped blue and white for $49.99 (shown above), look good enough to wear off the beach. 
Others, like the men's Tideline Leather shoe, $59.99, leave an  impression of, well, huh? 
Every style costs less than $60, and in that sense, Crocs is staying true to its down-market roots. 
But can we accept the brand as more than the flip-flop's distant cousin? Will we ever be able to head to the office or the club with head held high if we're shod in Crocs? 
Ultimately, might a Croc be dismissed as a crock? 
Get them at stores at at crocs.com.
E-mail Kathryn at kathrynwexler@hotmail.com. 
beauty tips and style advice
It's not always about the ladies of style. Check out these fashion icons.

Do you hear that? It's the sound of hundreds of cover bands beginning to tune their guitars and trying to remember the lyrics to "Shout." Ladies and gentlemen (but mostly ladies), it's nearly wedding season.

So, it hasn't snowed in nearly a week—does that mean it's summer yet? Well, almost. But alas, just because you're confident setting aside your trusty Sorel boots unfortunately doesn't mean you get to hop right into an itsy-bitsy-teenie-weenie yellow polka dot bikini just yet. Unless, of course, you're headed somewhere tropical in the next few weeks (lucky you!) and really do need to stock up on sexy swimsuits right now.

Getting away from it all for a bit? Your vacation wardrobe should be just like your plans: laid-back but totally fabulous. Take a cue from these celebrities, whose low-effort, high-style outfit ideas are officially on our must-copy list.

These fun and flattering vintage-style suits blend the best of the old with the best of the new.

Although it's not officially spring yet—the best time to start shopping for warm-weather clothes is now, while stores still have a good selection. Waiting until it's actually balmy enough to go bare-legged and short-sleeved leaves far too many factors to chance: what if your size sells out? Or the wrong color is left? And let's not forget about gross makeup stains from 10 other people trying it on!

From patriotic bikinis to retro two pieces, these celebs' stylish swimsuits will have you counting down to beach season! Check out your favorite stars rocking the hottest swim trends!

Sunglasses: it may seem counterintuitive to invest in a wintertime accessory traditionally viewed as a sunny, warm-weather item. But spring is on the way and we're also currently being exposed to crazy amounts of UV rays—and then, of course, there's the reflective snow situation.

As we herald a new season, the itch arrives to update one's wardrobe, and nothing cleanses a closet like a spanking-new bag, slick new pumps, or sparkling new jewels. Here, see our picks for the best investments to make this spring.

Some people look younger than they are, some look older. Even those with easy access to BOTOX and personal trainers. Can you guess the age of these celebrities?

Did anyone else hear wedding bells on the Oscars red carpet last night?

Then after the show, er, Oscars, it's the after party. Then after the party, it's the... Best Dressed List, of course. Nikki already picked her tops for the Academy Awards red carpet (did you vote yet?), so now it's time to see what the stars wore to the post-celebrations.