The New Crocs
Don't take these to the pool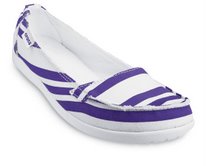 Are Crocs fashionable? 
As the publicly traded company, founded in Denver, puts forth its latest collection -- one that goes far beyond its signature clogs -- it hopes you will respond with a resounding YES! 
But can we make the leap? It's a little like asking us to go hiking in our stilettos. Wait a minute. Why didn't anyone ever think of that?
The breathable resin shoe was conceived as little more than an option for lovers of the outdoors. But suddenly, anyone with aspirations to look like she had just harvested 20 acres or anchored her 42-foot schooner around the corner required a pair. 
The whole world caught on, the masses clamoring for the comfy, colorful, economical slip-ons that so evoked a work-be-darned ethos. 
Yes, Crocs were dumpy. But dumpy was the new cool. 
Consumer fatigue set in early last year, I would venture. Although Crocs have been able to stay somewhat relevant, increasingly they're a victim of their own success. 
Some of the new Crocs look like the old Crocs. But if you haven't gone to the Web site, crocs.com, lately, you may be surprised to see how many of the latest styles are strikingly different. 
There are wedge-heeded thongs, loafers and conventional sandals. All incorporate the resin into the shoe's structure, but now other materials are used, too, like canvas and leather. 
The result? Some, like the handsome Santa Cruz for women, in striped blue and white for $49.99 (shown above), look good enough to wear off the beach. 
Others, like the men's Tideline Leather shoe, $59.99, leave an  impression of, well, huh? 
Every style costs less than $60, and in that sense, Crocs is staying true to its down-market roots. 
But can we accept the brand as more than the flip-flop's distant cousin? Will we ever be able to head to the office or the club with head held high if we're shod in Crocs? 
Ultimately, might a Croc be dismissed as a crock? 
Get them at stores at at crocs.com.
E-mail Kathryn at kathrynwexler@hotmail.com. 
fashion: trends & must-haves for your wardrobe
Stuck in a office-look-rut? Let some of history's most smartly dressed women inspire your everyday uniform.

Few spots are as fashionable as the Cannes Film Festival red carpet. Celebrity style stars pull out all the stops—because if you can't wear a fabulous dress at one of the film industry's biggest events, in one of the world's most glamorous locales, when can you? Here are 25 of the masterpieces we still can't stop staring at.

From demure dresses to covetable coats, the Duchess of Cambridge has a maternity wardrobe that would make any grown woman wish she could be a princess. Click through the gallery to see some of her most stylish looks while pregnant.

When it was revealed that Kim Kardashian was expecting her first child with boyfriend Kanye West, we wondered what would happen to her fondness for curve-hugging clothes and stilettos. As it turns out, nothing at all! Kardashian has been criticized for some of her attempts at adapting her everyday style to her growing belly, but we've rounded up her best bump looks, along with the lessons expectant moms can learn from them.

It's official: Bangs are back in a big way this season. Whether you have curly, wavy, or straight hair, there's flattering fringe that will work for you. Check out these celebrity haircuts for inspiration.

Hard work, talent and perseverance are the three keys to professional success—but sometimes a really great haircut helps, too.

There's no miracle cure for acne, but the products and tips below come pretty darn close.

Beauty truth: You can't buy the best makeup and body potions stars use; their makeup pros are whipping up mystery formulas. And beauty sleuth Andrea Pomerantz Lustig learned 'em!

What can make a face softer but edgier at the same time? (Don't worry, this isn't some complicated riddle.) Bangs can enhance any face shape—if you wear them the right way, that is. We've rounded up five ideas with fringe benefits, along with hairstylist Nathaniel Hawkins's tips for pulling them off.

We all know we need moisturizer. The confusing part? Picking one that works for your skin—and your budget. Well, here's your cheat sheet: Using the Allure Beauty Product Finder, we found the ten best drugstore moisturizers for every skin type, all for under $20. So whether your skin is dry, acne-prone, or you've got dark spots or fine lines, we've got you—and your wallet—covered.

Growing pains? Totally unnecessary. Getting—and keeping—long, shiny, sexy hair has never been easier.

You may have spent years studiously ignoring your mother's advice (and she was right about that guy in high school, admit it), but eventually all that bossing and nagging adds up to something truly useful. Here, Allure staffers share their mothers' wisest words about beauty.