Dress for Success: Shorts at the Office
Are shorts ever appropriate at the office?
Even though I work in an extremely casual environment, I still think there are certain items of clothing that should never be worn to the office. Daisy Duke shorts are a prime example. If you dare to wear these, you'll instantly attract the wrong kind of attention, particularly from upper management.

The other day at work, I walked by a woman who looked like she belonged on the beach in Cancún rather than in the office: She was wearing flip-flops, a tank top and tiny shorts. While this woman has a model-caliber figure and probably wanted to take full advantage of a rare sunny day in Seattle, she certainly attracted the attention of my co-workers. Just not the kind you want to get while on the job.

If you want to stay cool and still look professional in the summer, Bermuda shorts are a great alternative. These knee-length shorts will take you from the park to work to happy hour and everywhere in between. Try pairing them with tasteful heels, a lightweight blouse and either a cardigan or a blazer.

Here's an example of what you don't want to wear to work: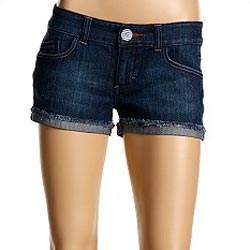 Photo: Roxy All 4 U Denim Shorts, $42.50 at Zappos 
Here's an example of a work-appropriate outfit: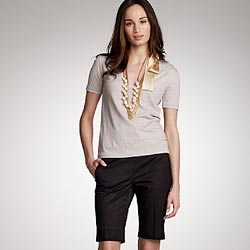 Photo: J. Crew Bermuda shorts, $58 at jcrew.com. 
What do you think? Are shorts ever appropriate in the workplace?
beauty tips and style advice
You thought you were so cool.

Kate Middleton likes outlet malls too.

Smart fall shopping can't be boiled down to some set-in-stone lineup of items. It's much more about how you play with what you've got rather than just racking up a bunch of new stuff; sometimes your bank account's balance simply won't allow for a full-on wardrobe refresh. That's when it's important to know what's worth it—and what isn't.

Autumn's just a few short months away, and we've got sweaters, coats and booties on our minds! Below are the first things we'll be buying (or have already bought!) to kick off next season.

Beauty editors are routinely asked to name three essentials they couldn't live without on a desert island. So here's our list: water, matches, protein bars. As much as we depend on beauty products, they're not exactly essential to survival. These luxurious fragrances, nail polishes, and tools are no exception. They're the anti-basics—hardly your medicine-cabinet staples. They won't shrink pores or obliterate frizz, but they will make you weak with desire. And that's a refreshing change of pace. Beyond just looking and feeling great, each of these cool new things appeals to our sense of style. How's that for an SOS?

You could breeze through the rest of summer with the same sheer balm and nude gloss you always wear. Or you could throw caution to the wind and try one of these superfun, superbright lipstick shades we saw on the spring runways. True red, orchid purple, neon orange—these lipsticks are as bold as they are beautiful.