Dress for Success: Shorts at the Office
Are shorts ever appropriate at the office?
Even though I work in an extremely casual environment, I still think there are certain items of clothing that should never be worn to the office. Daisy Duke shorts are a prime example. If you dare to wear these, you'll instantly attract the wrong kind of attention, particularly from upper management.

The other day at work, I walked by a woman who looked like she belonged on the beach in Cancún rather than in the office: She was wearing flip-flops, a tank top and tiny shorts. While this woman has a model-caliber figure and probably wanted to take full advantage of a rare sunny day in Seattle, she certainly attracted the attention of my co-workers. Just not the kind you want to get while on the job.

If you want to stay cool and still look professional in the summer, Bermuda shorts are a great alternative. These knee-length shorts will take you from the park to work to happy hour and everywhere in between. Try pairing them with tasteful heels, a lightweight blouse and either a cardigan or a blazer.

Here's an example of what you don't want to wear to work: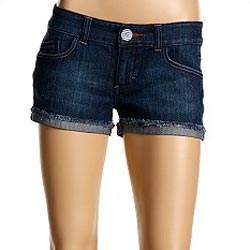 Photo: Roxy All 4 U Denim Shorts, $42.50 at Zappos 
Here's an example of a work-appropriate outfit: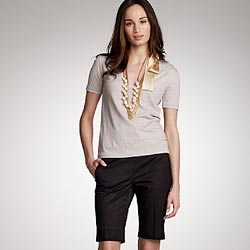 Photo: J. Crew Bermuda shorts, $58 at jcrew.com. 
What do you think? Are shorts ever appropriate in the workplace?
beauty tips and style advice
She's followed by Michael Kors and Ralph Lauren.

Tis the season for gift-giving, mistletoe, snowmen – and ugly holiday sweaters. Whether you're headed to an ugly sweater party or just want to stay cozy in a festive, patterned pullover, Pinterest is chock full of joyful style inspiration this holiday season.

Be it from stress, lack of sleep or a rushed morning, we've all had those days where a glimpse in the mirror causes a minor shock. All of a sudden you find yourself faced with an unforseen beauty emergency, like a surprise zit or severe undereye circles. Luckily, these are hiccups can be fixed—and fast. Above, Nordstrom Beauty Stylist Enisa Sabovi shares her best tips on how to remedy any surprise beauty situation like a pro.

For makeup that gives you that je-ne-sais-quoi, listen to the pros and tailor your look to your eye shape. Brushes ready!

No one should have to sacrifice style when snow starts to fall. We've selected the top all-weather boots to keep you warm and chic on the streets (and indoors).

In the distant future, in a postapocalyptic universe, when aliens from faraway planets excavate Earth and cobble together a rudimentary construction of human behavior in the 20th and 21st centuries, they will surely marvel at the irrepressible, widespread, multigenerational, transcontinental prevalence of Ugg boots.