Dress for Success: Shorts at the Office
Are shorts ever appropriate at the office?
Even though I work in an extremely casual environment, I still think there are certain items of clothing that should never be worn to the office. Daisy Duke shorts are a prime example. If you dare to wear these, you'll instantly attract the wrong kind of attention, particularly from upper management.

The other day at work, I walked by a woman who looked like she belonged on the beach in Cancún rather than in the office: She was wearing flip-flops, a tank top and tiny shorts. While this woman has a model-caliber figure and probably wanted to take full advantage of a rare sunny day in Seattle, she certainly attracted the attention of my co-workers. Just not the kind you want to get while on the job.

If you want to stay cool and still look professional in the summer, Bermuda shorts are a great alternative. These knee-length shorts will take you from the park to work to happy hour and everywhere in between. Try pairing them with tasteful heels, a lightweight blouse and either a cardigan or a blazer.

Here's an example of what you don't want to wear to work: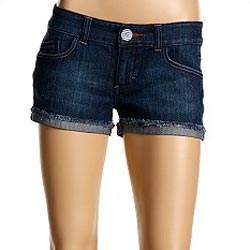 Photo: Roxy All 4 U Denim Shorts, $42.50 at Zappos 
Here's an example of a work-appropriate outfit: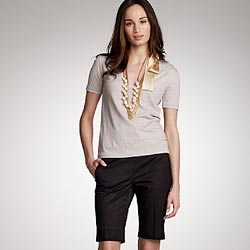 Photo: J. Crew Bermuda shorts, $58 at jcrew.com. 
What do you think? Are shorts ever appropriate in the workplace?
beauty tips and style advice
Our favorite freckle-faced models and actresses.

Still searching for your dream wedding dress? You'll get a kick out of these fun facts about your most important wedding-day purchase.

From detachable tulle overskirts to romantic off-the-shoulder necklines, check out these emerging trends from the Spring 2015 bridal runways.

Who says you have to wear white on your wedding day? Get some colorful inspiration from these seven wedding dresses.

Since its inception in 1940, the International Best-Dressed List—revealed in Vanity Fair for the last decade—has lauded the most polished, eclectic, and stylish of dressers. From royalty to politicians, athletes to fashion designers, the poll is comprehensive in the personalities it celebrates. Those appearing multiple times over the years are considered for induction into the Hall of Fame—the List's highest honor.

Most of us have a post-workout beauty routine that's basically a mad dash from locker to shower to mirror to door—with a quick swipe of lip balm and a one-minute hairstyle in between. To save time and look (and smell) better than ever, stock your gym bag with these key multitaskers and read on for surprising ways to hack them. Guarantee your get-ready sprint will go a bit smoother.

Even if you're not going back to school this season, that doesn't mean new style supplies, like a fresh haircut, aren't in order. So whether you're looking to chop it all off, add a few pieces, or finally try bangs, here are 30 red-carpet-inspired cuts worth giving a shot.

Not ready to trade in your summer hair color for a fall shade just yet? Don't worry: These 30 ideas will help you transition seamlessly

Have you ever noticed that denim ads are some of the sexiest? And most memorable? We can't tell you how many of the people featured on our site, jeanstories.com, swoon as they reminisce about the first time they watched the 1985 Levis's 501s "Laundrette" TV spot featuring the handsome Nick Kamen—who ended up , ahem, sans jeans. As for print ads, think Guess, Calvin Klein … not only sexy, but envelope-pushing and groundbreaking. If concerned mothers of America are writing angry letters to their local newspapers about the boob-baring models of your campaign, you, as a jeans brand, know you've done something right.

Most of us have heard that a dab of clear nail polish can stop a pantyhose run in its tracks, but there are lots of other quick fixes and DIY projects you can do with all those nail polish bottles you never wear anymore. Here are ten of our favorite clever and unexpected uses for nail polish—besides freshening up your fingers and toes:

Because no boyfriend's family is the same as the next, and the last thing you need getting in the way of you and Mr. Right is the bad impression you made on his mother, we've gone ahead and fool-proofed your outfit — the rest is on you.

From Monica, Rachel, and Phoebe on Friends to Blair and Serena on Gossip Girl, here are the most memorable wedding dresses to grace the small screen.