Dress for Success: Shorts at the Office
Are shorts ever appropriate at the office?
Even though I work in an extremely casual environment, I still think there are certain items of clothing that should never be worn to the office. Daisy Duke shorts are a prime example. If you dare to wear these, you'll instantly attract the wrong kind of attention, particularly from upper management.

The other day at work, I walked by a woman who looked like she belonged on the beach in Cancún rather than in the office: She was wearing flip-flops, a tank top and tiny shorts. While this woman has a model-caliber figure and probably wanted to take full advantage of a rare sunny day in Seattle, she certainly attracted the attention of my co-workers. Just not the kind you want to get while on the job.

If you want to stay cool and still look professional in the summer, Bermuda shorts are a great alternative. These knee-length shorts will take you from the park to work to happy hour and everywhere in between. Try pairing them with tasteful heels, a lightweight blouse and either a cardigan or a blazer.

Here's an example of what you don't want to wear to work: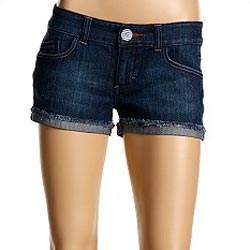 Photo: Roxy All 4 U Denim Shorts, $42.50 at Zappos 
Here's an example of a work-appropriate outfit: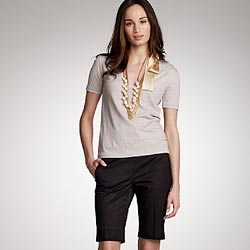 Photo: J. Crew Bermuda shorts, $58 at jcrew.com. 
What do you think? Are shorts ever appropriate in the workplace?
beauty tips and style advice
While you were sleeping, fast retail chain H&M H&M announced that its next designer collaboration is with Alexander Wang.

Formal, beachy, country club-chic or gorgeously rustic whatever the setting calls for, we've found a bevy of beautiful dresses to wear to a wedding this season.

Puffy, tired, weary no more. These tips take years off and create that "I slept great, thanks!" effect.

Top dermatologists, cosmetic chemists, makeup artists, and hairstylists reveal quick tips and tricks that can peel back years in a matter of seconds

We're all for sartorial freedom, but there are certain once-on-trend items that, when worn today, appear anything but current. Consider this your official out list.

If you're a practitioner of reselling your clothes—a good way to clear out some space in your wardrobe and make a few extra bucks—you might already be familiar with San Francisco-based thredUP.

A picture may be worth a thousand words, but emoji must be worth at least a million. Here we show you how to channel your favorites: Go ahead, express yourself!

11 earth-friendly beauty products we love.

The secret to effortlessly beautiful hair? Embracing what you're born with! Twenty celebs show you how to do it.

Last year's beauty buzz may have been all about J. Law's cropped cut, M'Obama's bangs and Miley Cyrus' pixie, but we're not even halfway through 2014 and we're pretty sure we've already topped 2013. From Margot Robbie's glossy brunette dye-job to Katie Holmes' irresistible set of bangs, we're obsessed with all these recent celebrity transformations—all of which are perfect inspiration for a new spring hairstyle. Click through above to see a round-up of our favorites!

The green coat is pretty much as Middleton as it gets.

Monday's New Zealand itinerary brought Kate and William to the cricket field.