The Ittiest
A new bra company for an old complaint.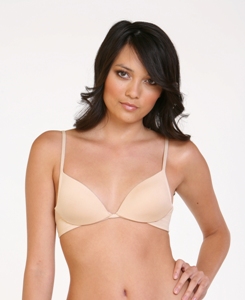 We've had our consciousness raised over the hardship of Rubenesque women finding great plus-size garments. But what about the tiniest among us?
We're talking about the long neglected owners of itty bitties, those barely-there bosoms.
We are demanding respect! Underscoring our humanity!
And begging for a bra that fits.
Itty bitties just don't sit right in regular brassieres. The larger the band size, the larger the cups. So if you require a bra over a size 32, there's usually a lot of extra room in there.
And when you get into the smallest cups, underwire is a rarity. Just because we're little doesn't mean we're not looking for perkiness, hello.
What's more, we don't want to fake it by stuffing gelatinous wedges under our shirts.
For too long have we have we hankered for a bra to call our own. And now we have one.
From Irvine, California, comes a new line of bras constructed just for us. It's the aptly named Itty Bitty Bra. Smallness is its specialty, and cups go from size AA to B. No starter bras, these. The garments are very well designed, with underwire and wide-set shoulder straps. Cut low beneath the armpit and also low across the bust, they come in a handful of solids and a couple of prints. They're light on the padding but not so much so that you need fear a cool breeze.
At $50 to $55 a pop, these puppies don't come cheap. But they do coax some semblance of cleavage from even the ittiest of itty bitties.
And what's it worth finally to be able to say: My cups spilth over? At ittybittybra.com.
E-mail Kathryn at KathrynWexler@hotmail.com
beauty tips and style advice
Neatly sidestepping high fashion, the smiling, cheerful Kate Middleton is fast becoming the Duchess of Normcore.

This December, New Yorkers might notice something missing in the Christmas air.

When Madonna posted an image of herself wearing a full on Game of Thrones Khaleesi costume on Instagram last week we weren't exactly surprised—this is the woman who rolled into the Grammy Awards wearing a tuxedo and a grill earlier this winter, so why not celebrate the Jewish holiday of Purim with a leather corset and a pair of tiny dragons? Still, we were hypnotized by her white-blonde, braided Daenerys Targaryen hair. Functioning as a bleached out cultural weather vane of sorts, it tapped into multiple obsessions at once—the return of "Game of Thrones" to HBO, spring's new extreme hair lengths and, most notably, fashion's current platinum mania. Our own love of ice-blonde hair—which transforms any look from everyday to extraordinary—has been well documented of late, but last night's Game of Thrones premiere sent our platinum fever into overdrive. In celebration of fashion's favorite hair color, a look at the best platinum moments in history.

While you were sleeping, fast retail chain H&M H&M announced that its next designer collaboration is with Alexander Wang.

Formal, beachy, country club-chic or gorgeously rustic whatever the setting calls for, we've found a bevy of beautiful dresses to wear to a wedding this season.

Puffy, tired, weary no more. These tips take years off and create that "I slept great, thanks!" effect.