The Ittiest
A new bra company for an old complaint.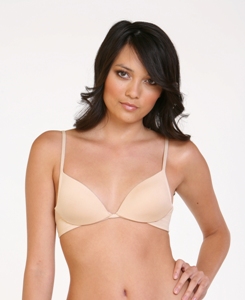 We've had our consciousness raised over the hardship of Rubenesque women finding great plus-size garments. But what about the tiniest among us?
We're talking about the long neglected owners of itty bitties, those barely-there bosoms.
We are demanding respect! Underscoring our humanity!
And begging for a bra that fits.
Itty bitties just don't sit right in regular brassieres. The larger the band size, the larger the cups. So if you require a bra over a size 32, there's usually a lot of extra room in there.
And when you get into the smallest cups, underwire is a rarity. Just because we're little doesn't mean we're not looking for perkiness, hello.
What's more, we don't want to fake it by stuffing gelatinous wedges under our shirts.
For too long have we have we hankered for a bra to call our own. And now we have one.
From Irvine, California, comes a new line of bras constructed just for us. It's the aptly named Itty Bitty Bra. Smallness is its specialty, and cups go from size AA to B. No starter bras, these. The garments are very well designed, with underwire and wide-set shoulder straps. Cut low beneath the armpit and also low across the bust, they come in a handful of solids and a couple of prints. They're light on the padding but not so much so that you need fear a cool breeze.
At $50 to $55 a pop, these puppies don't come cheap. But they do coax some semblance of cleavage from even the ittiest of itty bitties.
And what's it worth finally to be able to say: My cups spilth over? At ittybittybra.com.
E-mail Kathryn at KathrynWexler@hotmail.com
beauty tips and style advice
Still searching for your dream wedding dress? You'll get a kick out of these fun facts about your most important wedding-day purchase.

From detachable tulle overskirts to romantic off-the-shoulder necklines, check out these emerging trends from the Spring 2015 bridal runways.

Who says you have to wear white on your wedding day? Get some colorful inspiration from these seven wedding dresses.

Since its inception in 1940, the International Best-Dressed List—revealed in Vanity Fair for the last decade—has lauded the most polished, eclectic, and stylish of dressers. From royalty to politicians, athletes to fashion designers, the poll is comprehensive in the personalities it celebrates. Those appearing multiple times over the years are considered for induction into the Hall of Fame—the List's highest honor.

Most of us have a post-workout beauty routine that's basically a mad dash from locker to shower to mirror to door—with a quick swipe of lip balm and a one-minute hairstyle in between. To save time and look (and smell) better than ever, stock your gym bag with these key multitaskers and read on for surprising ways to hack them. Guarantee your get-ready sprint will go a bit smoother.

Even if you're not going back to school this season, that doesn't mean new style supplies, like a fresh haircut, aren't in order. So whether you're looking to chop it all off, add a few pieces, or finally try bangs, here are 30 red-carpet-inspired cuts worth giving a shot.