The Ittiest
A new bra company for an old complaint.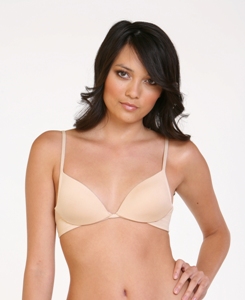 We've had our consciousness raised over the hardship of Rubenesque women finding great plus-size garments. But what about the tiniest among us?
We're talking about the long neglected owners of itty bitties, those barely-there bosoms.
We are demanding respect! Underscoring our humanity!
And begging for a bra that fits.
Itty bitties just don't sit right in regular brassieres. The larger the band size, the larger the cups. So if you require a bra over a size 32, there's usually a lot of extra room in there.
And when you get into the smallest cups, underwire is a rarity. Just because we're little doesn't mean we're not looking for perkiness, hello.
What's more, we don't want to fake it by stuffing gelatinous wedges under our shirts.
For too long have we have we hankered for a bra to call our own. And now we have one.
From Irvine, California, comes a new line of bras constructed just for us. It's the aptly named Itty Bitty Bra. Smallness is its specialty, and cups go from size AA to B. No starter bras, these. The garments are very well designed, with underwire and wide-set shoulder straps. Cut low beneath the armpit and also low across the bust, they come in a handful of solids and a couple of prints. They're light on the padding but not so much so that you need fear a cool breeze.
At $50 to $55 a pop, these puppies don't come cheap. But they do coax some semblance of cleavage from even the ittiest of itty bitties.
And what's it worth finally to be able to say: My cups spilth over? At ittybittybra.com.
E-mail Kathryn at KathrynWexler@hotmail.com
beauty tips and style advice
For any trade, it's totally counterintuitive that an industry could so obviously not cater to the largest demographic out there — but that's exactly how the plus-size world is.

Sorry, Kate Upton. You may be having a moment now, but the lovely supermodels of the '90s (and '80s) have been going strong for decades, and their careers and stunning looks are showing no signs of slowing down. In fact, we think they've only gotten sexier throughout the years.

Look stylish, even when you have absolutely no idea what to wear, with these totally amazing style hacks.

Your strands are saying more than you think. Not only can your facial features tell you a thing or two about yourself, "your hairstyle can also reveal things about you," Jean Haner, an expert in face reading and author of The Wisdom of Your Face, says. Here, Haner tells what your strands most likely are saying about you, based on her studies in 3,000-year-old face reading derived from Chinese medicine.

Realized that pixie or bob haircut isn't for you? Luckily, it is possible to make a graceful transition back to long.

Not everyone was pleased with free copy of 'GQ" featuring Emily Ratajkowski.

Not everyone was pleased with free copy of 'GQ" featuring Emily Ratajkowski.

Could you go that long without using cosmetics?

Controversial.... Or empowering?

From a young age, little girls learn the word "pretty," but in the last few years, everything has been changing — for the better.

If you want to look picture-perfect in your beautiful wedding dress, you have to invest in the proper undergarments. From comfy shapewear to no-slip strapless bras, we've got answers to every burning question you have about what you need to wear beneath that gown. Your next dress fitting just got way easier. Q: I'm plus-size. [...]

You've seen many a star hit the red carpet in glamorous curls. But, most of the time, these coiled updos come courtesy of a curling iron, which leaves us craving some all-natural inspiration.