The Ittiest
A new bra company for an old complaint.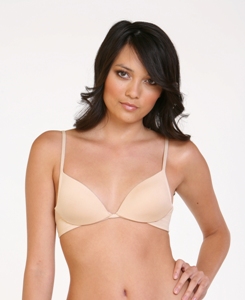 We've had our consciousness raised over the hardship of Rubenesque women finding great plus-size garments. But what about the tiniest among us?
We're talking about the long neglected owners of itty bitties, those barely-there bosoms.
We are demanding respect! Underscoring our humanity!
And begging for a bra that fits.
Itty bitties just don't sit right in regular brassieres. The larger the band size, the larger the cups. So if you require a bra over a size 32, there's usually a lot of extra room in there.
And when you get into the smallest cups, underwire is a rarity. Just because we're little doesn't mean we're not looking for perkiness, hello.
What's more, we don't want to fake it by stuffing gelatinous wedges under our shirts.
For too long have we have we hankered for a bra to call our own. And now we have one.
From Irvine, California, comes a new line of bras constructed just for us. It's the aptly named Itty Bitty Bra. Smallness is its specialty, and cups go from size AA to B. No starter bras, these. The garments are very well designed, with underwire and wide-set shoulder straps. Cut low beneath the armpit and also low across the bust, they come in a handful of solids and a couple of prints. They're light on the padding but not so much so that you need fear a cool breeze.
At $50 to $55 a pop, these puppies don't come cheap. But they do coax some semblance of cleavage from even the ittiest of itty bitties.
And what's it worth finally to be able to say: My cups spilth over? At ittybittybra.com.
E-mail Kathryn at KathrynWexler@hotmail.com
beauty tips and style advice
If you're anything like me, you probably haven't gone anywhere near a hair accessory for years—save for the few stretched-out Goody elastics tumbling around at the bottom of your handbag, the slightly rusty bobby pins gathering dust at the back of your medicine cabinet or that scrunchie you use to pull your hair back when washing your face in the morning. For as long as I can remember, hair adornments have been slapped with somewhat of a childish reputation; when's the last time you saw a girl over the age of 11 wearing a barrette or witnessed a woman past her teen years sporting a headband?

When it's hot and humid, pulling your hair into a ponytail is practical. But it can also be fun, easy, unexpected, and mind-blowingly gorgeous. Here, stunning summer hair ideas inspired by our favorite runway and red-carpet looks of the moment—plus expert tips on how to re-create them.

Sure, sunglasses protect your eyes and help you see, but they can also lend an instant, undeniable cool factor to just about anyone. Said cool factor is most apparent when sunglasses fit well, balance your features, and look like they were made for your face. Because one-size-flatters-all shades are unfortunately not a thing, we asked Bobbi Brown, makeup artist, glasses expert, and author of the new book Bobbi Brown: Everything Eyes, for her top tips for finding flattering sunglasses for every face shape.

The leading ladies who make summer beauty look effortless.

Chic accessories for every wedding style.

When it comes to lounging on the beach in the buff, turns out that Germans and Austrians are the most comfortable with their birthday suits, according to a worldwide survey of beachgoing habits around the world.

Chic time-tested shades you'll love for this summer.

Our top picks for staying cool this summer.

Does makeup make you feel more or less like yourself? These women — some makeup junkies, some who never touch the stuff — were brave enough to be photographed with half their faces made up by a pro and half their faces totally bare.

Chic ensembles for every woman.

At almost every age, more men report being satisfied with looks than women.

Wrinkle no blouse, tangle no jewelry, leave no beauty product behind, and still have room to spare.