The Ittiest
A new bra company for an old complaint.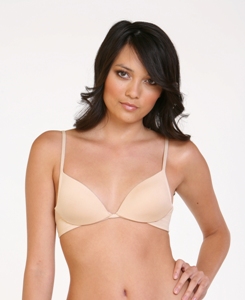 We've had our consciousness raised over the hardship of Rubenesque women finding great plus-size garments. But what about the tiniest among us?
We're talking about the long neglected owners of itty bitties, those barely-there bosoms.
We are demanding respect! Underscoring our humanity!
And begging for a bra that fits.
Itty bitties just don't sit right in regular brassieres. The larger the band size, the larger the cups. So if you require a bra over a size 32, there's usually a lot of extra room in there.
And when you get into the smallest cups, underwire is a rarity. Just because we're little doesn't mean we're not looking for perkiness, hello.
What's more, we don't want to fake it by stuffing gelatinous wedges under our shirts.
For too long have we have we hankered for a bra to call our own. And now we have one.
From Irvine, California, comes a new line of bras constructed just for us. It's the aptly named Itty Bitty Bra. Smallness is its specialty, and cups go from size AA to B. No starter bras, these. The garments are very well designed, with underwire and wide-set shoulder straps. Cut low beneath the armpit and also low across the bust, they come in a handful of solids and a couple of prints. They're light on the padding but not so much so that you need fear a cool breeze.
At $50 to $55 a pop, these puppies don't come cheap. But they do coax some semblance of cleavage from even the ittiest of itty bitties.
And what's it worth finally to be able to say: My cups spilth over? At ittybittybra.com.
E-mail Kathryn at KathrynWexler@hotmail.com
beauty tips and style advice
The top tips I've picked up thanks to my obsession with blowouts, highlights, and my favorite hairstylist.

Something happens to your head when you have a kid — not to mention your body completely changes, and you can barely recognize yourself through bleary eyes, a fog of tiredness, and matted hair from sleepless nights. Sounds sexy, right? But, when that glimmering light at the end of the tunnel is in the near distance and the kid actually starts to act like a human and sleep normal hours, just like magic, you start to look like your old self again.

Ever slip into the latest summer fashion trend and then realize it's not exactly traditionally attractive? So what? Today we're speaking out on behalf of our favorite awkward fashion trends, whether they're bulky, strangely proportioned, or just at the opposite end of sexy. If there's still something magnetic about its pull on you, we say go for it. It's all in the name of fashion.

One shopper's tweet of the emaciated-looking figure forced the store to take action.

Once the summer heat kicks in, it's all we can do not to slip into the breeziest beach dresses and flip-flops for the morning commute. So trust us when we say we understand that the humidity can have a powerful effect on your wardrobe — still, there are some things you just can't wear to your place of employment, no matter how hot it gets.

Wrinkle no blouse, tangle no jewelry, leave no beauty product behind, and still have room to spare.

Hue-changing dos we absolutely love.

Why your jean size varies from store to store.

Wait a month between waxing visits? Check. Pop a preappointment Advil? Duh. We all know the basics, but here are the tricks you don't know.

What to always—and never, ever—do to keep hair in top shape.

Get inspired to try these sweet and summery looks.

Stunning wedding styles that create a statement.