Three-year-old model walks the runway
Little boy is the biggest new hit in the modeling world.
Chanel creative designer Karl Lagerfeld has some competition on his hands—someone else is steeling the spotlight—but it's all good, Karl wouldn't have it any other way.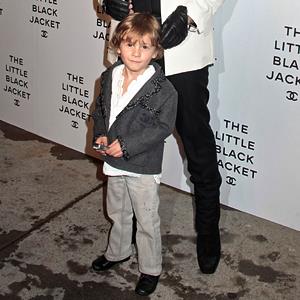 Hudson Kroenig, the designer's three-year-old godson, recently caused a frenzy of "ooh's" and "aah's" when he walked the runway at fashion house's Métier d'Arts 2013 show this week, clad in—what else—a full Chanel ensemble. 

More from Living: 7 Designers You Need to Know

According to the Telegraph, he walked hand-in-hand down the runway with his dad, 32-year-old male model Brad Kroenig (this is where we melted, too). Hudson is also the godson of Karl Lagerfeld, who serves as Chanel's infamous creative director.

More from Living: 10 Celebrities Who Refuse to Fix Their "Flaws"

But the little guy is no amateur when it comes to the catwalk—the Telegraph says this wasn't his first time on the runway—apparently he has appeared in previous Chanel shows and has also been photographed for W magazine, German Vogue and is a part of Lagerfeld's 'Little Black Jacket' exhibition.

Tell us: What do you think of a three-year-old walking the runway?Bing: Karl Lagerfeld quotes

Photo: REX Features

More from Simply Chic:
Store mannequins spy on shoppers
Would you ever get your pinky toe removed?
Did Kate Middleton say no to clothing from Kim Kardashian?
beauty tips and style advice
I'm beyond excited to finally ditch my winter coat and heavy layers, but I'm not so eager to ditch my tights. Let's just say my legs are not as smooth and bronzed as they were the last time I showed them off many, many months ago.

After a jam-packed week in New Zealand, Kate Middleton and Prince William finally enjoyed a day off, but as of last night (or this morning..? Ah, time change!) they're back on the road again.

These travel-sized beauty products will do double-duty while you're on the road.

Neatly sidestepping high fashion, the smiling, cheerful Kate Middleton is fast becoming the Duchess of Normcore.

This December, New Yorkers might notice something missing in the Christmas air.

When Madonna posted an image of herself wearing a full on Game of Thrones Khaleesi costume on Instagram last week we weren't exactly surprised—this is the woman who rolled into the Grammy Awards wearing a tuxedo and a grill earlier this winter, so why not celebrate the Jewish holiday of Purim with a leather corset and a pair of tiny dragons? Still, we were hypnotized by her white-blonde, braided Daenerys Targaryen hair. Functioning as a bleached out cultural weather vane of sorts, it tapped into multiple obsessions at once—the return of "Game of Thrones" to HBO, spring's new extreme hair lengths and, most notably, fashion's current platinum mania. Our own love of ice-blonde hair—which transforms any look from everyday to extraordinary—has been well documented of late, but last night's Game of Thrones premiere sent our platinum fever into overdrive. In celebration of fashion's favorite hair color, a look at the best platinum moments in history.

While you were sleeping, fast retail chain H&M H&M announced that its next designer collaboration is with Alexander Wang.

Formal, beachy, country club-chic or gorgeously rustic whatever the setting calls for, we've found a bevy of beautiful dresses to wear to a wedding this season.

Puffy, tired, weary no more. These tips take years off and create that "I slept great, thanks!" effect.

Top dermatologists, cosmetic chemists, makeup artists, and hairstylists reveal quick tips and tricks that can peel back years in a matter of seconds

We're all for sartorial freedom, but there are certain once-on-trend items that, when worn today, appear anything but current. Consider this your official out list.

If you're a practitioner of reselling your clothes—a good way to clear out some space in your wardrobe and make a few extra bucks—you might already be familiar with San Francisco-based thredUP.