Fashion Speak: Stunt Dressing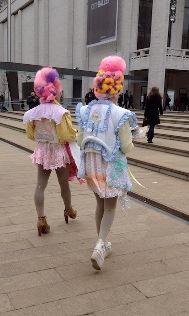 by Tracey Lomrantz, Glamour Magazine

STUNT DRESSING: v./phrase: stuhnt dres-ing: The act of styling oneself in an obviously outlandish way, specifically with the intention of being noticed and snapped by street style photographers.

If there's one thing I can say with certainty about this New York Fashion Week, it's that there's as much inspiring fashion going on off the runway as there is on (have you check out our new street style video series, What Are You Wearing? yet?). And with all of that chicness comes hordes of photographers to capture it all, and with all of those photographers come a slew of show-goers who seem to get dressed with only the cameras in mind. I call it "Stunt Dressing," and just like a James Franco appearance on General Hospital, it makes you scratch your head and think, "really!?" Our amazingly talented Dos and Don'ts photographer, Ronnie Andren, has been out at the shows snapping some ridiculously wild looks over the past few days, and you have to wonder if these people had anything in mind other than his lens when they left the house in the morning.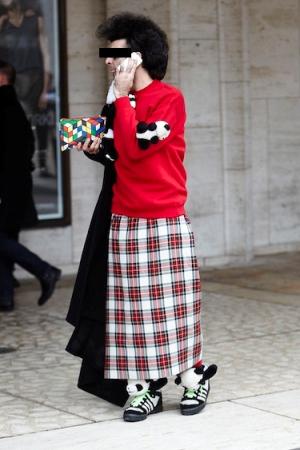 Take this guy in the kilt. Can you imagine his inner monologue in front of his closet? "Oh I know, I'll wear my plaid blanket...but as a skirt! And then I'll totally hot glue my kid brother's stuffed animals all over my sweatshirt and shoes...he'll never miss them! And there's no way anyone will miss me! I am SO getting my picture taken today!"

Related: Spring 2012's Most Wearable Fashion Trends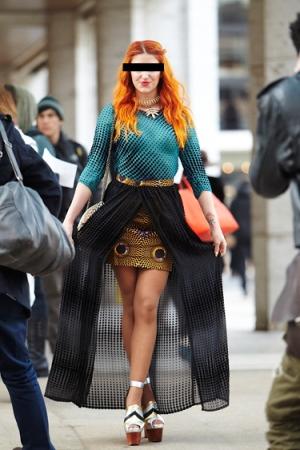 Just try and tell me this lovely lady isn't freezing her patootie off--this photo was taken in February, in New York City, and while everyone around her is bundled in hats and gloves and scarves, there's nary a coat or a pair of tights in sight. And yet she has found the strength to curtsy! Y'know how Tinkerbell needs applause to live? This woman needs flashbulbs.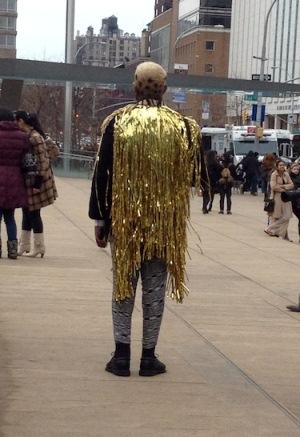 Yes, this a cape made of oversize tinsel strips. Its primary purpose? I'll give you three guesses. What's that? Nope, unfortunately it's not insulated, so warmth is out of the equation. Solar energy? Oh, if only. There is a slim-to-none chance that this baby was concocted with the sole intention of landing itself on the pages of Street Peeper.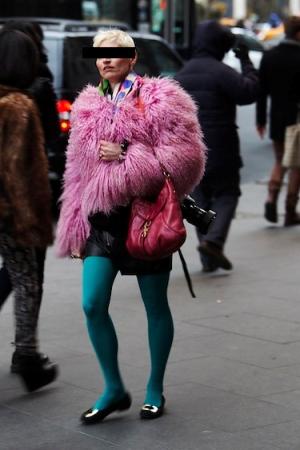 And while we're all for hot color combos, something tells me this fuzzy pink number with turquoise tights was inspired by nothing so much as a deep love of attention! Certain outfits just scream "look at me!" and this, my dears, is one of 'em.

Related: 10 Shoes Every Woman Should Own

Of course, Stunt Dressing isn't just native to New York Fashion Week--I'm guessing you know a gal who once showed up to a wedding in a red sequined dress with a deep plunging V-neck? Or have an aunt who dresses half her age in miniskirts that should be twice as long when she shows up for carpool? Or possibly, just possibly, you've participated in a bit of stunt dressing yourself!? 'Fess up, gals...what do you think of this styling-yourself-for​-the-cameras practice? Isn't it a little silly? Do you think street style has become the new barometer for chic? Or has it just gotten out of hand? Discuss!

More from Glamour:
Cute Haircut Ideas for Midlength Hair
50 Things Men Are Afraid to Ask For But Want Super-Duper Badly
What Your Hairstyle Says About You (According to Guys)
beauty tips and style advice
Average shoe size is up about two sizes since the '70s, study says.

They can't escape wedding season, so they might as well look their best.

Front-row style star Miroslava Duma just clears 5′, Oscar winner Reese Witherspoon one-ups her—literally—at 5′ 1″, and fashion crush Rachel Bilson barely tops them both at a whopping 5′ 2″. But aside from standing at the diminutive end of the height spectrum, these three ladies have something else in common: the ability to nail every summer fashion trend. If you're part of the petite girls' club, take a look at these 12 fashion essentials—from closet staples to chic accessories—to keep you at the top of your style game this summer.

Quick, easy, everywhere-appropriate: There's no summer piece quite as versatile--or flattering.

These fresh, cute outfit ideas range from unexpected mash-ups to completely coordinated looks. What they all have in common is they'll get you out the door feeling totally confident.

Because it actually takes some makeup—maybe even a few false lashes—to look beautifully bare-faced.

Make a good impression by presenting the best form of yourself. Even when luck's against you--for instance, you encounter a huge zit the week before an important presentation--take action now. Here are fixes for your most common grooming mishaps.

We're still dreaming about Olivia Palermo's unconventional yet impossibly chic wedding-day ensemble. The shorts! The jutting tulle skirt overlay! The creamy cashmere sweater! Everything about this layered look is as trend-setting as it is unique.And though she may be the first star to walk down the aisle in shorts, Olivia isn't the first celebrity to say "I do" in something nontraditional. Several boundary-pushing stars have skipped the all-white look, and instead opted for a colorful wedding dress.

Keep your tresses looking their best, even on the muggiest of summer days, with these tips

Wide-leg pants are blowing up. Six women show us how to style a pair by Lauren Ralph Lauren.

It's the best and worst time to be a single girl in the dating world. On the one hand, past generations of women didn't have the freedom, financial independence, access to birth control (depending on your state and employer, of course), or plethora of options to meet new people—online and off—that we enjoy today. On the other hand, they also didn't have to worry about sexting, selecting the best selfie for their profile picture, or accidentally swiping right on a coworker.

If you're anything like me, you probably haven't gone anywhere near a hair accessory for years—save for the few stretched-out Goody elastics tumbling around at the bottom of your handbag, the slightly rusty bobby pins gathering dust at the back of your medicine cabinet or that scrunchie you use to pull your hair back when washing your face in the morning. For as long as I can remember, hair adornments have been slapped with somewhat of a childish reputation; when's the last time you saw a girl over the age of 11 wearing a barrette or witnessed a woman past her teen years sporting a headband?