Fashion Speak: Stunt Dressing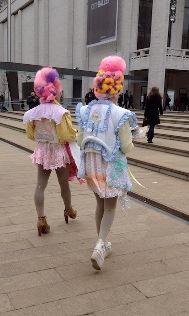 by Tracey Lomrantz, Glamour Magazine

STUNT DRESSING: v./phrase: stuhnt dres-ing: The act of styling oneself in an obviously outlandish way, specifically with the intention of being noticed and snapped by street style photographers.

If there's one thing I can say with certainty about this New York Fashion Week, it's that there's as much inspiring fashion going on off the runway as there is on (have you check out our new street style video series, What Are You Wearing? yet?). And with all of that chicness comes hordes of photographers to capture it all, and with all of those photographers come a slew of show-goers who seem to get dressed with only the cameras in mind. I call it "Stunt Dressing," and just like a James Franco appearance on General Hospital, it makes you scratch your head and think, "really!?" Our amazingly talented Dos and Don'ts photographer, Ronnie Andren, has been out at the shows snapping some ridiculously wild looks over the past few days, and you have to wonder if these people had anything in mind other than his lens when they left the house in the morning.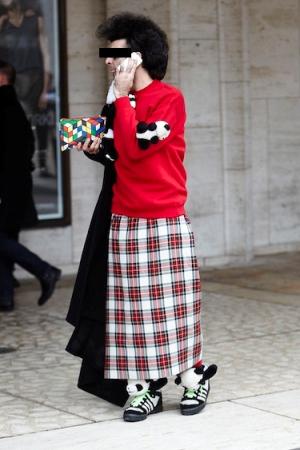 Take this guy in the kilt. Can you imagine his inner monologue in front of his closet? "Oh I know, I'll wear my plaid blanket...but as a skirt! And then I'll totally hot glue my kid brother's stuffed animals all over my sweatshirt and shoes...he'll never miss them! And there's no way anyone will miss me! I am SO getting my picture taken today!"

Related: Spring 2012's Most Wearable Fashion Trends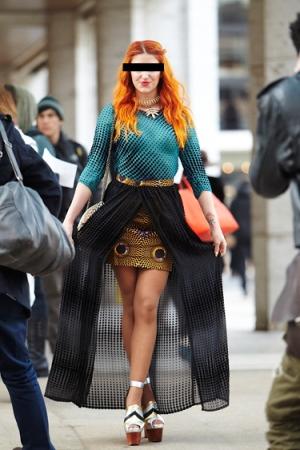 Just try and tell me this lovely lady isn't freezing her patootie off--this photo was taken in February, in New York City, and while everyone around her is bundled in hats and gloves and scarves, there's nary a coat or a pair of tights in sight. And yet she has found the strength to curtsy! Y'know how Tinkerbell needs applause to live? This woman needs flashbulbs.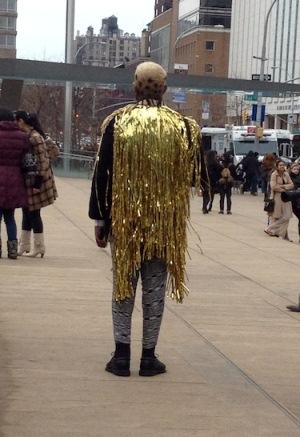 Yes, this a cape made of oversize tinsel strips. Its primary purpose? I'll give you three guesses. What's that? Nope, unfortunately it's not insulated, so warmth is out of the equation. Solar energy? Oh, if only. There is a slim-to-none chance that this baby was concocted with the sole intention of landing itself on the pages of Street Peeper.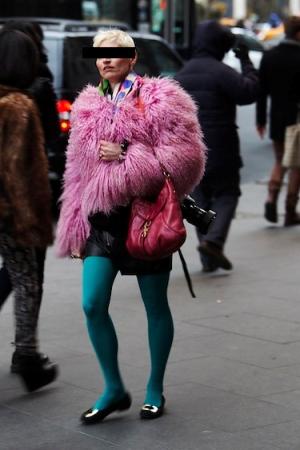 And while we're all for hot color combos, something tells me this fuzzy pink number with turquoise tights was inspired by nothing so much as a deep love of attention! Certain outfits just scream "look at me!" and this, my dears, is one of 'em.

Related: 10 Shoes Every Woman Should Own

Of course, Stunt Dressing isn't just native to New York Fashion Week--I'm guessing you know a gal who once showed up to a wedding in a red sequined dress with a deep plunging V-neck? Or have an aunt who dresses half her age in miniskirts that should be twice as long when she shows up for carpool? Or possibly, just possibly, you've participated in a bit of stunt dressing yourself!? 'Fess up, gals...what do you think of this styling-yourself-for​-the-cameras practice? Isn't it a little silly? Do you think street style has become the new barometer for chic? Or has it just gotten out of hand? Discuss!

More from Glamour:
Cute Haircut Ideas for Midlength Hair
50 Things Men Are Afraid to Ask For But Want Super-Duper Badly
What Your Hairstyle Says About You (According to Guys)
beauty tips and style advice
Telling a brand their model looks like she needs a sandwich is cruel and helps no one.

If diamonds are a girl's best friend, then fashion is the close friend who completes her circle. Style is unique to each and every one of us, but trends come and go to serve as fun ways to spice up our everyday looks or ways to try out something altogether new and bold. Even bridal wear captures trends each season (hello crop tops!), but brides to be must remember that just because it is being sold, does not mean that it is meant to be worn on one of the most important days of your life. This summer, fashion has a slew of great seasonal fads, but most of them just do not work for a wedding. If you're on the fence about how trendy to be for your wedding day, here are five pieces to avoid during your wedding festivities.

We've done some strange things in the name of beauty (a butt facial for one), but these powerful ingredients would make us gag — if they didn't work so damn well.

The redeeming factor of summer, sadly, not being endless? New seasons require a different wardrobe, and there's no time like the present to start your fall shopping. With autumn creeping up, I already know the boots and sweaters I'll be heaving out of the stuffed containers under my bed that I think of fondly as my second closet…but there's always room for fresh blood. I quizzed Shopbop's fashion director, Elle Strauss, for help with getting the best strategy in place. Herewith, the 10 pieces she suggests picking up now (plus chic ideas for how to start incorporating them into your current closet).

We may have one more month left in summer, but pretty soon you're going to have to start thinking about fall outfits. And what's a bigger fall wardrobe workhorse than denim? Audit your closet to see if you own these jean essentials, and if not, consider adding them to your fall shopping list.

Maybe this sounds familiar: You fall in love with a sweet new face scrub and love it so much that you use it, oh, every day. Morning and night. Until your skin breaks out in protest. Or perhaps you're in the once-a-year pedicure camp, and have to spend hours pumicing your callouses before even thinking about polish. Well, the laissez-faire approach stops now. It's not just which products you choose—but how often you deploy them. Here's a quick rundown of how frequently you should be doing various at-home treatments.