Fashion Speak: Stunt Dressing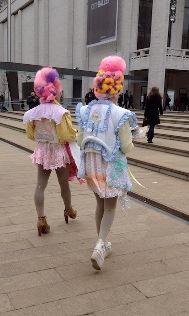 by Tracey Lomrantz, Glamour Magazine

STUNT DRESSING: v./phrase: stuhnt dres-ing: The act of styling oneself in an obviously outlandish way, specifically with the intention of being noticed and snapped by street style photographers.

If there's one thing I can say with certainty about this New York Fashion Week, it's that there's as much inspiring fashion going on off the runway as there is on (have you check out our new street style video series, What Are You Wearing? yet?). And with all of that chicness comes hordes of photographers to capture it all, and with all of those photographers come a slew of show-goers who seem to get dressed with only the cameras in mind. I call it "Stunt Dressing," and just like a James Franco appearance on General Hospital, it makes you scratch your head and think, "really!?" Our amazingly talented Dos and Don'ts photographer, Ronnie Andren, has been out at the shows snapping some ridiculously wild looks over the past few days, and you have to wonder if these people had anything in mind other than his lens when they left the house in the morning.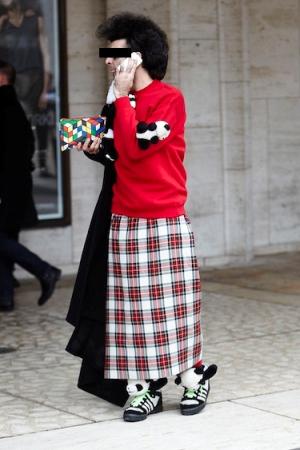 Take this guy in the kilt. Can you imagine his inner monologue in front of his closet? "Oh I know, I'll wear my plaid blanket...but as a skirt! And then I'll totally hot glue my kid brother's stuffed animals all over my sweatshirt and shoes...he'll never miss them! And there's no way anyone will miss me! I am SO getting my picture taken today!"

Related: Spring 2012's Most Wearable Fashion Trends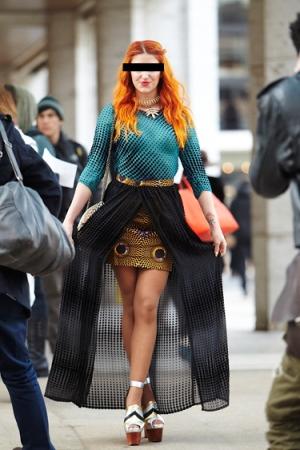 Just try and tell me this lovely lady isn't freezing her patootie off--this photo was taken in February, in New York City, and while everyone around her is bundled in hats and gloves and scarves, there's nary a coat or a pair of tights in sight. And yet she has found the strength to curtsy! Y'know how Tinkerbell needs applause to live? This woman needs flashbulbs.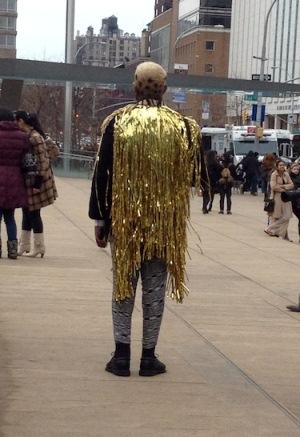 Yes, this a cape made of oversize tinsel strips. Its primary purpose? I'll give you three guesses. What's that? Nope, unfortunately it's not insulated, so warmth is out of the equation. Solar energy? Oh, if only. There is a slim-to-none chance that this baby was concocted with the sole intention of landing itself on the pages of Street Peeper.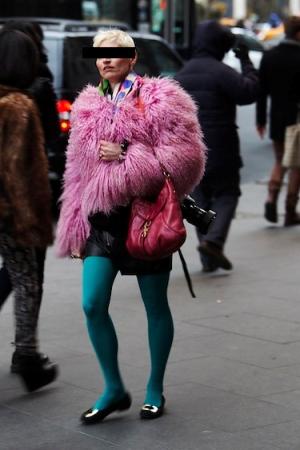 And while we're all for hot color combos, something tells me this fuzzy pink number with turquoise tights was inspired by nothing so much as a deep love of attention! Certain outfits just scream "look at me!" and this, my dears, is one of 'em.

Related: 10 Shoes Every Woman Should Own

Of course, Stunt Dressing isn't just native to New York Fashion Week--I'm guessing you know a gal who once showed up to a wedding in a red sequined dress with a deep plunging V-neck? Or have an aunt who dresses half her age in miniskirts that should be twice as long when she shows up for carpool? Or possibly, just possibly, you've participated in a bit of stunt dressing yourself!? 'Fess up, gals...what do you think of this styling-yourself-for​-the-cameras practice? Isn't it a little silly? Do you think street style has become the new barometer for chic? Or has it just gotten out of hand? Discuss!

More from Glamour:
Cute Haircut Ideas for Midlength Hair
50 Things Men Are Afraid to Ask For But Want Super-Duper Badly
What Your Hairstyle Says About You (According to Guys)
fashion: trends & must-haves for your wardrobe
As your face changes, so should your hair—the right cut can shave years from your appearance. And while there's no such thing as an age-appropriate length, there are age-appropriate styles. Here, the 30 most gorgeous hairstyles for every age, as seen on Mila Kunis, Jessica Biel, Jennifer Aniston, Diane Keaton, and more.

Stuck in a office-look-rut? Let some of history's most smartly dressed women inspire your everyday uniform.

Few spots are as fashionable as the Cannes Film Festival red carpet. Celebrity style stars pull out all the stops—because if you can't wear a fabulous dress at one of the film industry's biggest events, in one of the world's most glamorous locales, when can you? Here are 25 of the masterpieces we still can't stop staring at.

From demure dresses to covetable coats, the Duchess of Cambridge has a maternity wardrobe that would make any grown woman wish she could be a princess. Click through the gallery to see some of her most stylish looks while pregnant.

When it was revealed that Kim Kardashian was expecting her first child with boyfriend Kanye West, we wondered what would happen to her fondness for curve-hugging clothes and stilettos. As it turns out, nothing at all! Kardashian has been criticized for some of her attempts at adapting her everyday style to her growing belly, but we've rounded up her best bump looks, along with the lessons expectant moms can learn from them.

It's official: Bangs are back in a big way this season. Whether you have curly, wavy, or straight hair, there's flattering fringe that will work for you. Check out these celebrity haircuts for inspiration.

Hard work, talent and perseverance are the three keys to professional success—but sometimes a really great haircut helps, too.

There's no miracle cure for acne, but the products and tips below come pretty darn close.

Beauty truth: You can't buy the best makeup and body potions stars use; their makeup pros are whipping up mystery formulas. And beauty sleuth Andrea Pomerantz Lustig learned 'em!

What can make a face softer but edgier at the same time? (Don't worry, this isn't some complicated riddle.) Bangs can enhance any face shape—if you wear them the right way, that is. We've rounded up five ideas with fringe benefits, along with hairstylist Nathaniel Hawkins's tips for pulling them off.

We all know we need moisturizer. The confusing part? Picking one that works for your skin—and your budget. Well, here's your cheat sheet: Using the Allure Beauty Product Finder, we found the ten best drugstore moisturizers for every skin type, all for under $20. So whether your skin is dry, acne-prone, or you've got dark spots or fine lines, we've got you—and your wallet—covered.

Growing pains? Totally unnecessary. Getting—and keeping—long, shiny, sexy hair has never been easier.