Nail Art For Your Dog? Yup, This Is a Thing. You've GOT to See This!
Behold some work created by the Pawdicure Polish Pens made by Warren London...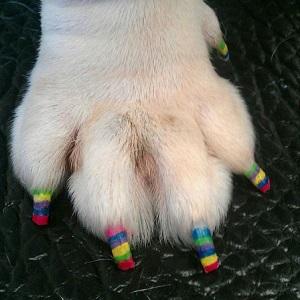 by Beth Shapouri
,
Glamour Magazine
You know that episode of
Friends
where Phoebe has an old lady's spirit trapped inside her who won't go away until she's seen everything? Well, this would have sent her on her way:
Dog
nail art
. DOG NAIL ART, folks. That's what the world has come to. Behold some work created by the Pawdicure Polish Pens made by Warren London...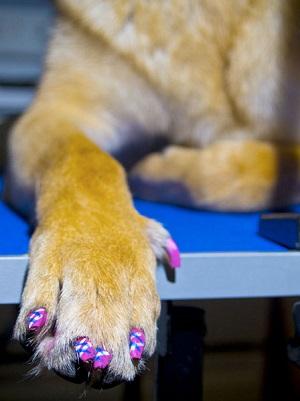 Here's what the company has to say for itself and its products: "Our patented Pawdicure Polish Pens are water based, non-toxic, dries in under 40 seconds and is great for nail art!"

Related: 7 Summer-to-Fall Nail Colors

Oh, and here's a tip: "On dark nails, we suggest doing a base coat of white first and then a color for a better result." Sure, dude I'll get right on that.

Ay yi yi. I don't know whether to laugh hysterically or fear for the state of mankind. But I think for now I'll settle into the "amused" category. How 'bout you?




Related: The Dos and Don'ts of Fall 2012 Fashion Trends

Oh, and if you're wondering about the ingredients involved, here's the list:
Water, Acrylates, Copolymer, Propylene Glycol, Propylene Glycol Butyl Ether, Dipropylene Glycol Butyl Ether, Trimthyl Pentanyl Disobutyrate, Sodium PCA, Ammonium Hydroxide, Butoxyethanol, Alkylaryl Polyether, Simethicone, Glutaronite, Quinacridone Violet 19.

Photos: Warren London/ Splash, Courtesy Warren London

More from Glamour:
20 Date-Night Outfits Guys Love
15 Gorgeous Hair Updates to Try
What to Wear to Work This Fall


beauty tips and style advice
Our favorite freckle-faced models and actresses.

Still searching for your dream wedding dress? You'll get a kick out of these fun facts about your most important wedding-day purchase.

From detachable tulle overskirts to romantic off-the-shoulder necklines, check out these emerging trends from the Spring 2015 bridal runways.

Who says you have to wear white on your wedding day? Get some colorful inspiration from these seven wedding dresses.

Since its inception in 1940, the International Best-Dressed List—revealed in Vanity Fair for the last decade—has lauded the most polished, eclectic, and stylish of dressers. From royalty to politicians, athletes to fashion designers, the poll is comprehensive in the personalities it celebrates. Those appearing multiple times over the years are considered for induction into the Hall of Fame—the List's highest honor.

Most of us have a post-workout beauty routine that's basically a mad dash from locker to shower to mirror to door—with a quick swipe of lip balm and a one-minute hairstyle in between. To save time and look (and smell) better than ever, stock your gym bag with these key multitaskers and read on for surprising ways to hack them. Guarantee your get-ready sprint will go a bit smoother.