Nail Art For Your Dog? Yup, This Is a Thing. You've GOT to See This!
Behold some work created by the Pawdicure Polish Pens made by Warren London...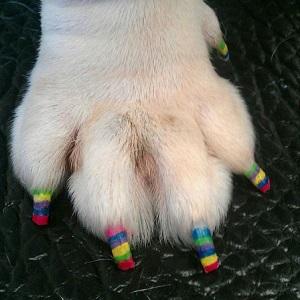 by Beth Shapouri
,
Glamour Magazine
You know that episode of
Friends
where Phoebe has an old lady's spirit trapped inside her who won't go away until she's seen everything? Well, this would have sent her on her way:
Dog
nail art
. DOG NAIL ART, folks. That's what the world has come to. Behold some work created by the Pawdicure Polish Pens made by Warren London...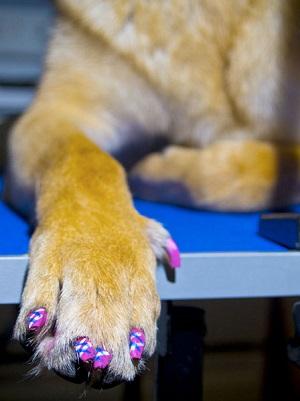 Here's what the company has to say for itself and its products: "Our patented Pawdicure Polish Pens are water based, non-toxic, dries in under 40 seconds and is great for nail art!"

Related: 7 Summer-to-Fall Nail Colors

Oh, and here's a tip: "On dark nails, we suggest doing a base coat of white first and then a color for a better result." Sure, dude I'll get right on that.

Ay yi yi. I don't know whether to laugh hysterically or fear for the state of mankind. But I think for now I'll settle into the "amused" category. How 'bout you?




Related: The Dos and Don'ts of Fall 2012 Fashion Trends

Oh, and if you're wondering about the ingredients involved, here's the list:
Water, Acrylates, Copolymer, Propylene Glycol, Propylene Glycol Butyl Ether, Dipropylene Glycol Butyl Ether, Trimthyl Pentanyl Disobutyrate, Sodium PCA, Ammonium Hydroxide, Butoxyethanol, Alkylaryl Polyether, Simethicone, Glutaronite, Quinacridone Violet 19.

Photos: Warren London/ Splash, Courtesy Warren London

More from Glamour:
20 Date-Night Outfits Guys Love
15 Gorgeous Hair Updates to Try
What to Wear to Work This Fall


fashion: trends & must-haves for your wardrobe
Toss your tweezers. Everything from brows (thick!) to your workout is taking a cue from the Flintstones. Yabba-dabba-doo!

Big event? Focus on the outfit, because we've got your hair all figured out, whether you've got two minutes to do it or 20.

If every morning seems like a Manic Monday, then you'll love these clever, minute-shaving beauty tips. Learn the secrets to spending less time getting gorgeous straight from pros!

More American women are trading their itsy bitsy bikinis in for one piece swimwear.

Punk, with its undercurrents of rebellion and reinvention, brought out the best of the fashion flock at last night's Met Gala—where more than a few beauty transformations made their winning debut. Actress Anne Hathaway turned up on the red carpet with an extreme bleach-blonde crop that sent photographers into overdrive, while model Joan Smalls showed off a cool new ombré hair color that graduated sharply from brown to blonde.

Experts tell you the simple things you can do to get gorgeous while you sleep.