Nail Art For Your Dog? Yup, This Is a Thing. You've GOT to See This!
Behold some work created by the Pawdicure Polish Pens made by Warren London...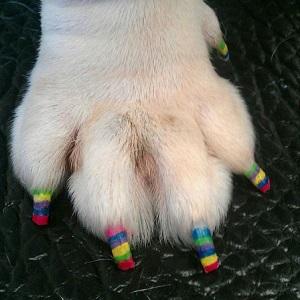 by Beth Shapouri
,
Glamour Magazine
You know that episode of
Friends
where Phoebe has an old lady's spirit trapped inside her who won't go away until she's seen everything? Well, this would have sent her on her way:
Dog
nail art
. DOG NAIL ART, folks. That's what the world has come to. Behold some work created by the Pawdicure Polish Pens made by Warren London...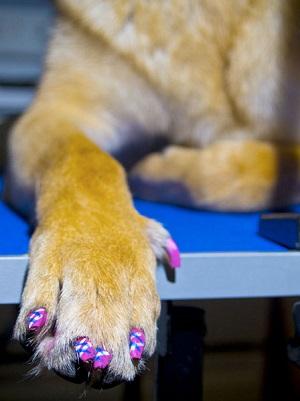 Here's what the company has to say for itself and its products: "Our patented Pawdicure Polish Pens are water based, non-toxic, dries in under 40 seconds and is great for nail art!"

Related: 7 Summer-to-Fall Nail Colors

Oh, and here's a tip: "On dark nails, we suggest doing a base coat of white first and then a color for a better result." Sure, dude I'll get right on that.

Ay yi yi. I don't know whether to laugh hysterically or fear for the state of mankind. But I think for now I'll settle into the "amused" category. How 'bout you?




Related: The Dos and Don'ts of Fall 2012 Fashion Trends

Oh, and if you're wondering about the ingredients involved, here's the list:
Water, Acrylates, Copolymer, Propylene Glycol, Propylene Glycol Butyl Ether, Dipropylene Glycol Butyl Ether, Trimthyl Pentanyl Disobutyrate, Sodium PCA, Ammonium Hydroxide, Butoxyethanol, Alkylaryl Polyether, Simethicone, Glutaronite, Quinacridone Violet 19.

Photos: Warren London/ Splash, Courtesy Warren London

More from Glamour:
20 Date-Night Outfits Guys Love
15 Gorgeous Hair Updates to Try
What to Wear to Work This Fall


beauty tips and style advice
It's not always about the ladies of style. Check out these fashion icons.

Do you hear that? It's the sound of hundreds of cover bands beginning to tune their guitars and trying to remember the lyrics to "Shout." Ladies and gentlemen (but mostly ladies), it's nearly wedding season.

So, it hasn't snowed in nearly a week—does that mean it's summer yet? Well, almost. But alas, just because you're confident setting aside your trusty Sorel boots unfortunately doesn't mean you get to hop right into an itsy-bitsy-teenie-weenie yellow polka dot bikini just yet. Unless, of course, you're headed somewhere tropical in the next few weeks (lucky you!) and really do need to stock up on sexy swimsuits right now.

Getting away from it all for a bit? Your vacation wardrobe should be just like your plans: laid-back but totally fabulous. Take a cue from these celebrities, whose low-effort, high-style outfit ideas are officially on our must-copy list.

These fun and flattering vintage-style suits blend the best of the old with the best of the new.

Although it's not officially spring yet—the best time to start shopping for warm-weather clothes is now, while stores still have a good selection. Waiting until it's actually balmy enough to go bare-legged and short-sleeved leaves far too many factors to chance: what if your size sells out? Or the wrong color is left? And let's not forget about gross makeup stains from 10 other people trying it on!

From patriotic bikinis to retro two pieces, these celebs' stylish swimsuits will have you counting down to beach season! Check out your favorite stars rocking the hottest swim trends!

Sunglasses: it may seem counterintuitive to invest in a wintertime accessory traditionally viewed as a sunny, warm-weather item. But spring is on the way and we're also currently being exposed to crazy amounts of UV rays—and then, of course, there's the reflective snow situation.

As we herald a new season, the itch arrives to update one's wardrobe, and nothing cleanses a closet like a spanking-new bag, slick new pumps, or sparkling new jewels. Here, see our picks for the best investments to make this spring.

Some people look younger than they are, some look older. Even those with easy access to BOTOX and personal trainers. Can you guess the age of these celebrities?

Did anyone else hear wedding bells on the Oscars red carpet last night?

Then after the show, er, Oscars, it's the after party. Then after the party, it's the... Best Dressed List, of course. Nikki already picked her tops for the Academy Awards red carpet (did you vote yet?), so now it's time to see what the stars wore to the post-celebrations.