Nail Art For Your Dog? Yup, This Is a Thing. You've GOT to See This!
Behold some work created by the Pawdicure Polish Pens made by Warren London...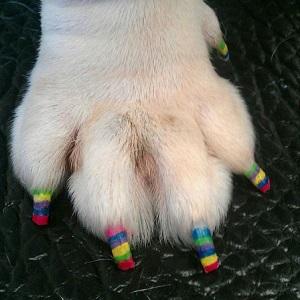 by Beth Shapouri
,
Glamour Magazine
You know that episode of
Friends
where Phoebe has an old lady's spirit trapped inside her who won't go away until she's seen everything? Well, this would have sent her on her way:
Dog
nail art
. DOG NAIL ART, folks. That's what the world has come to. Behold some work created by the Pawdicure Polish Pens made by Warren London...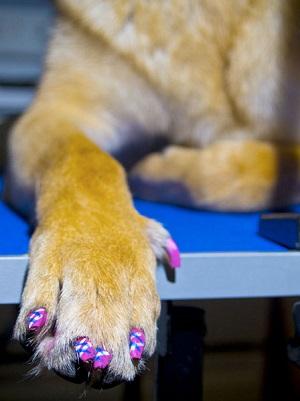 Here's what the company has to say for itself and its products: "Our patented Pawdicure Polish Pens are water based, non-toxic, dries in under 40 seconds and is great for nail art!"

Related: 7 Summer-to-Fall Nail Colors

Oh, and here's a tip: "On dark nails, we suggest doing a base coat of white first and then a color for a better result." Sure, dude I'll get right on that.

Ay yi yi. I don't know whether to laugh hysterically or fear for the state of mankind. But I think for now I'll settle into the "amused" category. How 'bout you?




Related: The Dos and Don'ts of Fall 2012 Fashion Trends

Oh, and if you're wondering about the ingredients involved, here's the list:
Water, Acrylates, Copolymer, Propylene Glycol, Propylene Glycol Butyl Ether, Dipropylene Glycol Butyl Ether, Trimthyl Pentanyl Disobutyrate, Sodium PCA, Ammonium Hydroxide, Butoxyethanol, Alkylaryl Polyether, Simethicone, Glutaronite, Quinacridone Violet 19.

Photos: Warren London/ Splash, Courtesy Warren London

More from Glamour:
20 Date-Night Outfits Guys Love
15 Gorgeous Hair Updates to Try
What to Wear to Work This Fall


beauty tips and style advice
The secret to effortlessly beautiful hair? Embracing what you're born with! Twenty celebs show you how to do it.

Last year's beauty buzz may have been all about J. Law's cropped cut, M'Obama's bangs and Miley Cyrus' pixie, but we're not even halfway through 2014 and we're pretty sure we've already topped 2013. From Margot Robbie's glossy brunette dye-job to Katie Holmes' irresistible set of bangs, we're obsessed with all these recent celebrity transformations—all of which are perfect inspiration for a new spring hairstyle. Click through above to see a round-up of our favorites!

The green coat is pretty much as Middleton as it gets.

Monday's New Zealand itinerary brought Kate and William to the cricket field.

We put a slew of new formulas to the test, and these are the ones making us look younger and fresher.

From the coolest chestnut to the deepest mahogany, these stars show how to unleash your inner brunette bombshell.

In a girl's life, there are a select few occasions when it's considered completely appropriate to go all out with a truly spectacular dress. Her wedding day comes to mind, of course, and maybe her Sweet 16. Prom night, however, is certainly at the tip-top of that short list of special events.

When I was a teenager, I wouldn't be caught dead without my lip gloss, blush, eyeshadow and eyeliner at all times. Now, even though I'm older, I'll admit I still don't feel 100 percent confident leaving the house without at least some of my "face" on—plus, my obsession with beauty products doesn't encourage me to go makeup-free very often.

Good magazine covers grab your attention and make you want to look inside. Controversial covers and photo shoots, like the 14 that follow, often become a part of history.

For those of you on official Kate Middleton Outfit Watch, here's the latest.

Fashion Week is continuing to make its way around the globe, and at its latest stop, Australia, we're seeing some seriously inventive hairstyle ideas pop up. Check out this coolness.

Kate Middleton put her perfect hair in a perfect ponytail yesterday at a wreath-laying service at a war memorial in New Zealand, and, of course, the whole thing was perfect.