The hottest manicure styles of 2013
10 nail trends to try this year.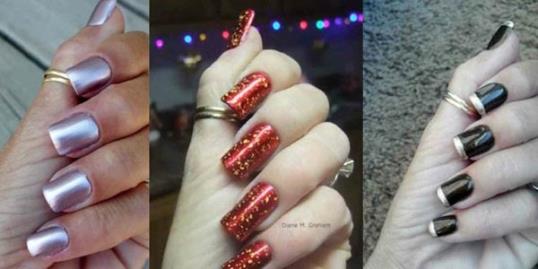 A new year means 365 more days of fashion and beauty trends. And as we look forward to spring, we're currently pondering what kind of color to try on our digits. But before we experiment, we wanted to scope out the hottest new trends in nails.

According to Katie Saxton, founder of CustomNailSolutions,​ there are 10 new fun and fab trends that will be all the rage this year. Here's ten trends to try on your nails in 2013.

More from Living: Princess Diana and Kate Middleton's similar styles

1. Two Tone French Manicure: 
This nail style exudes sophistication and classiness. To do this design, paint your nails any color and let dry, then add a French tip with a contrasting polish.
 


2. Sideways French Mani: 
Painting your nails with a coat of polish and adding a different-colored vertical stripe on either the right or left side of each nail will be huge in 2013. This fashionable and unique nail style will make you the talk of the town in all occasions!
 


3. One-Of-A-Kind French Tips: 
Changing out the traditional white tips for animal print accents, colored tips, funky wrapped tips, polka-dot tips, bejeweled tips, etc. will be huge in the year 2013. This is a fantastic way to express yourself and show off your unique personality!
 


4. Colored Metallic Nails: 
Jazzing up your nails with metallic polishes in colors like blue, red, and purple will be huge in the year 2013. This nail style is sassy and beautiful!
 


5. Vibrant Orange: 
Painting your nails in shades of orange like tangerine and orange-red will be a major trend of the year 2013. Wear polish in vibrant orange hues to ensure that your nails turn heads wherever you go!  
 


6. Holographic Nails:
Shimmery polishes with a 3D effect will be the go-to nail design in 2013. This gorgeous look is perfect for a night out at your fave downtown hotspot!
 


7. Real Gold Top Coats: 
Adding a real gold-infused topcoat to a colorful manicure will ensure that your nails are ready for the paparazzi wherever you go! Although more expensive than a typical clear topcoat, the gold flake topcoat is so glitzy and glamorous that it is well worth it!

8. Half Moon Manicure:
This classy manicure is perfect for a high fashion event or a fancy cocktail party! To do this style, paint your nails a certain color, let dry, and then cover the bottom halves of each nail with a hole reinforcer or a half-circle of tape, making certain that a semi-circle of paper/tape protrudes from the bottom of each nail. Add a coat of a different-colored polish over the paper/tape covering and the rest of the nail, and then take off the paper/tape covering and let dry. Voilà! You have a beautiful half moon mani to show off to the world!
 


9. Edgy Accents: 
Manicures featuring "bloody" tips, jagged tips, suspicious shadowy tips, and mysterious dark and dripping tips will be huge in the year 2013. Adding a chancy and dark theme to your nails shows your daring and adventurous side!
 


10. Pale Nails: 
Adding a coat of pale pink or neutral polish will be a popular look in the year 2013. It is a subtle and simple way to keep your nails primped and pretty!  

In addition to these top nail trends of the upcoming year, below is also info on the most innovative and talked-about nail product of the New Year: Custom Nail Solutions. It will keep your nails in tip-top shape for the year 2013 and beyond!

More from Living: 50 new hair ideas for the New Year

Katie Saxton is the founder of CustomNailSolutions a renowned blogger and regular contributor to TV, radio, print  and online media, on topics of nail beauty, nail care and trends. Custom Nail Solutions is a revolutionary artificial nail product offering custom nails that uniquely fit only your nail beds, are reusable, chemical-free and are guaranteed to last a lifetime. You can have lovely, natural looking salon-style nails on your own schedule and in the comfort of your own home.
Photo: Courtesy Custom Nail Solutions 

Bing: Fashion and beauty trends to try in 2013

More from Simply Chic:
The 'Kim effect' is more powerful than the 'Kate effect'
Models covered in manure for photo shoot
Has the cat trend officially jumped the shark?
beauty tips and style advice
Famous brides may have access to elite designers that most of us can only dream of, but we can all delight in the statements they make on their big days. In honor of the pending nuptials of Kim Kardashian and Kanye West, let's take a look at some recent and past famous gorgeous gowns.

From pretty pastels to bold brights and cool textures, up your #ManicureMonday game with spring's top nail polish trends!

Even if everyone at school will be rocking their most festive shades of emerald on March 17, you don't want to end up looking like a Leprechaun in head-to-toe green.

Neutral tones and beautiful metallics were a huge trend on the Oscars red carpet. And we saw so many dresses that would be exceptionally beautiful walking down the aisle. Here are our favorites!

Sorry, winter, we're way over you. It's time to refresh your look for spring with bold lippies, fun nail art and major brows—here's how to rock the hottest new trends, just like these stylish celebs!

Time to say buh-bye to the same old, played-out 'dos. Celebrity stylist Jen Atkin tells you how to update these 7 classic hairstyles for spring.

How to dress your baby bump.

Things we learned backstage at the fall 2014 runway shows: Bold brows aren't going anywhere, bright green can actually look subtle, and glitter is amazing almost anywhere (within reason). Here, our favorite makeup looks of the season so far.

The fall runways showcased a broad range of hairstyles—braids, buns, ponytails, and even wigs. But there were unifying themes, too: A pervasive sense of ease; experimentation with texture; and an apparent belief that anything goes.

It's not always about the ladies of style. Check out these fashion icons.

Do you hear that? It's the sound of hundreds of cover bands beginning to tune their guitars and trying to remember the lyrics to "Shout." Ladies and gentlemen (but mostly ladies), it's nearly wedding season.

So, it hasn't snowed in nearly a week—does that mean it's summer yet? Well, almost. But alas, just because you're confident setting aside your trusty Sorel boots unfortunately doesn't mean you get to hop right into an itsy-bitsy-teenie-weenie yellow polka dot bikini just yet. Unless, of course, you're headed somewhere tropical in the next few weeks (lucky you!) and really do need to stock up on sexy swimsuits right now.