Store mannequins spy on shoppers
Ever get the creepy feeling that department store mannequins are watching you? You just may be right.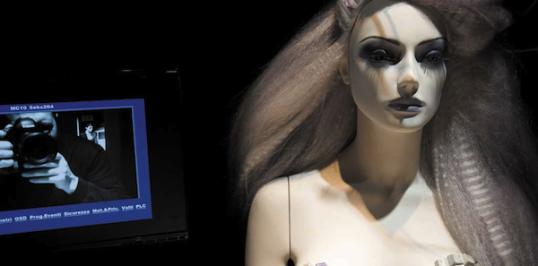 Sure, it's way past Halloween, but we've got a brand new report from Bloomberg that puts a slight chill in our holiday shopping sales jaunts. Mannequins are no longer simply mute witnesses to the sea of passing humanity, but active participants in information gathering and consumer profiling. (The Daily Mail has video of them in action here.)
Related: Fall fashion modern mannequins (and fashionistas) crave
We assumed these stylish spies sport an embedded camera behind one eye to help with loss prevention (aka shoplifting), but the main purpose, according to Italian manufacturer Almax, is to send images back to closed-circuit TVs for retail buying trend analysis. Through the mannequin's fixed gaze, people are monitored as they browse and choose items. Facial recognition software then specifies the age, gender and race of shoppers. While this sounds way too much like that Twilight Zone episode that freaked us out as kids, the "Eye See" mannequin is already parked in five companies in the U.S. and Europe, and more orders arrive all the time at a whopping five grand a piece. The next update involves tweaking the mannequins so they can hear folks' chatter. Color us creeped out.
Related: Browse party gowns from the privacy of home
Tell us: What do you think of these new spy mannequins? Cool or creepy?
Photo: Courtesy of Almax

beauty tips and style advice
Nicole Kidman plays Grace Kelly, the glamorous movie star turned princess, in Grace of Monaco (out in March).

What if they were covered in Swarovski crystals?

Forget spanx! These clever pieces use color blocks and patterns to help you look thinner. Click through for 15 pieces that will ensure you won't have to hit the gym post-Thanksgiving.

Celebrity beauty looks made headlines this year. Super short cuts topped the news, but that wasn't the only trend creating a buzz. Punk looks turned haute, peroxide blonde became the color of the moment, and braids reached an unprecedented level of artistry. Here, we look back at the most memorable hits and misses. For more year-end roundups, check out the Best and Worst Red Carpet Looks of 2013.

From the good, the bad, to the just plain bizarre, we've rounded up the top 13 hits and misses to grace the red carpet this year. For more year-end roundups, check out the Best Hairstyles of 2013.

=Hairdresser Rossano Ferretti can expect plenty of business following my news that the Duchess of Cambridge booked in to his luxury hair spa for a marathon six-hour session recently.

Selena Gomez with short hair? Behold the evidence at the KISS FM Jingle Ball last night.

Having a sister means stealing each other's clothes and fighting over the bathroom mirror. It also means enjoying two wardrobes and sharing new beauty-product tips and tricks. Here, our five favorite sets of celebrity sisters and the beauty lessons we've learned from them.

Most regrettable trends come with warning signs: Do your teeth set off metal detectors? Are your lashes prone to tangling? Are your shoes ugly and uncomfortable? Here is this year's crop of bad fads.

Restoring botched brows can be a major pain in the...arch.

In order to cope with the intense feelings of jealousy I experienced when seeing Jennifer Garner's flawless hairstyle last week, I decided to contact the stylist responsible for the look, Kylee Heath, and find out what exactly she did to produce these glorious results.

Apparently, every celebrity in the world decided to dye her hair over the last few days—or at least Duchess Catherine, Sienna Miller, and Pamela Anderson did.