Would you wear eyelash jewelry?
Etsy designer makes bling for your lashes.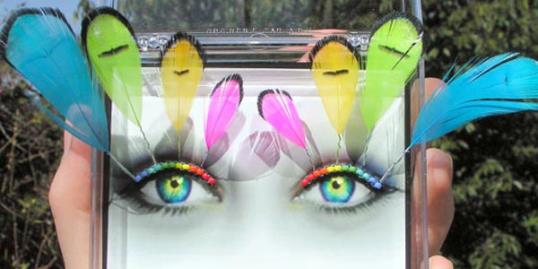 These days, there seems to be an obsession with bringing attention to the eyelashes. In the midst of a growing trend geared towards longer, more luscious lashes via eyelash extensions and the use of lash-enhancing products like Latisse, there's a lot of options out there for getting notice-me eyes. But this option may top the rest.

Etsy seller Natalie Russo is making a line of jewelry for your eyelashes—and it will definitely turn heads. The eyelash jewelry comes in a variety of themes, including neon rainbow feathers, snowflakes, and even googly-eye varieties. There's also a design called the "bubble bath," featuring a mini rubber ducky.

More from Living: The craziest nail designs of all time

According to the seller's Etsy site, the jewelry is created by hand-weaving tiny glass beads onto ultra thin wire to create a super light band that shapes to your eye. To apply these intricate designs, just bend your "jewelry" into the correct shape, apply eyelash glue and adhere the piece to your eyelid, just like you would for any other false eyelashes. 

"The beads used in this shop are primarily Japanese Toho brand seed beads. Their smooth shape provides maximum flexibility and comfort," says the designer on her web site. "Japanese Delica brand seed beads are also used for their superior shine and smaller size. Some designs also include 2mm Swarovski crystals and genuine gem stone beads." 

More from Living: Best & worst style & beauty trends of the year

Something about the concept of applying wire to our eyelids seems terrifying, but never fear, this isn't just any old wire. "The wire used is 34 gauge jewelry wire consisting of either silver or copper. This wire is so extremely thin and light, a single strand of it can be difficult to see."

With lashes like these, we won't even have to work at batting them—they definitely get attention all on their own. Check out more pics of the lashes below. 
Fish in the Sea Lashes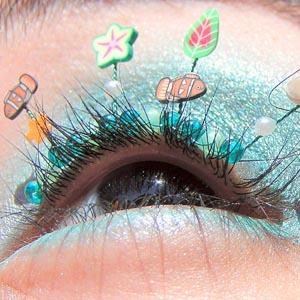 Cupcake Lashes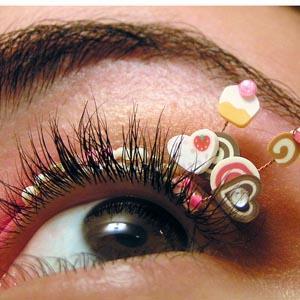 Snowflake Lashes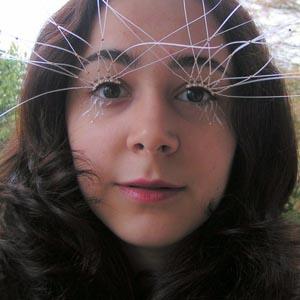 Tell us: Would you wear jewelry on your eyelashes?
beauty tips and style advice
These travel-sized beauty products will do double-duty while you're on the road.

Neatly sidestepping high fashion, the smiling, cheerful Kate Middleton is fast becoming the Duchess of Normcore.

This December, New Yorkers might notice something missing in the Christmas air.

When Madonna posted an image of herself wearing a full on Game of Thrones Khaleesi costume on Instagram last week we weren't exactly surprised—this is the woman who rolled into the Grammy Awards wearing a tuxedo and a grill earlier this winter, so why not celebrate the Jewish holiday of Purim with a leather corset and a pair of tiny dragons? Still, we were hypnotized by her white-blonde, braided Daenerys Targaryen hair. Functioning as a bleached out cultural weather vane of sorts, it tapped into multiple obsessions at once—the return of "Game of Thrones" to HBO, spring's new extreme hair lengths and, most notably, fashion's current platinum mania. Our own love of ice-blonde hair—which transforms any look from everyday to extraordinary—has been well documented of late, but last night's Game of Thrones premiere sent our platinum fever into overdrive. In celebration of fashion's favorite hair color, a look at the best platinum moments in history.

While you were sleeping, fast retail chain H&M H&M announced that its next designer collaboration is with Alexander Wang.

Formal, beachy, country club-chic or gorgeously rustic whatever the setting calls for, we've found a bevy of beautiful dresses to wear to a wedding this season.

Puffy, tired, weary no more. These tips take years off and create that "I slept great, thanks!" effect.

Top dermatologists, cosmetic chemists, makeup artists, and hairstylists reveal quick tips and tricks that can peel back years in a matter of seconds

We're all for sartorial freedom, but there are certain once-on-trend items that, when worn today, appear anything but current. Consider this your official out list.

If you're a practitioner of reselling your clothes—a good way to clear out some space in your wardrobe and make a few extra bucks—you might already be familiar with San Francisco-based thredUP.

A picture may be worth a thousand words, but emoji must be worth at least a million. Here we show you how to channel your favorites: Go ahead, express yourself!

11 earth-friendly beauty products we love.