Would you wear eyelash jewelry?
Etsy designer makes bling for your lashes.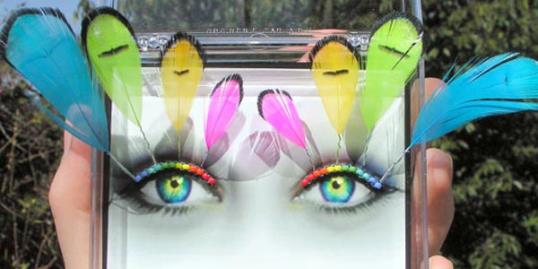 These days, there seems to be an obsession with bringing attention to the eyelashes. In the midst of a growing trend geared towards longer, more luscious lashes via eyelash extensions and the use of lash-enhancing products like Latisse, there's a lot of options out there for getting notice-me eyes. But this option may top the rest.

Etsy seller Natalie Russo is making a line of jewelry for your eyelashes—and it will definitely turn heads. The eyelash jewelry comes in a variety of themes, including neon rainbow feathers, snowflakes, and even googly-eye varieties. There's also a design called the "bubble bath," featuring a mini rubber ducky.

More from Living: The craziest nail designs of all time

According to the seller's Etsy site, the jewelry is created by hand-weaving tiny glass beads onto ultra thin wire to create a super light band that shapes to your eye. To apply these intricate designs, just bend your "jewelry" into the correct shape, apply eyelash glue and adhere the piece to your eyelid, just like you would for any other false eyelashes. 

"The beads used in this shop are primarily Japanese Toho brand seed beads. Their smooth shape provides maximum flexibility and comfort," says the designer on her web site. "Japanese Delica brand seed beads are also used for their superior shine and smaller size. Some designs also include 2mm Swarovski crystals and genuine gem stone beads." 

More from Living: Best & worst style & beauty trends of the year

Something about the concept of applying wire to our eyelids seems terrifying, but never fear, this isn't just any old wire. "The wire used is 34 gauge jewelry wire consisting of either silver or copper. This wire is so extremely thin and light, a single strand of it can be difficult to see."

With lashes like these, we won't even have to work at batting them—they definitely get attention all on their own. Check out more pics of the lashes below. 
Fish in the Sea Lashes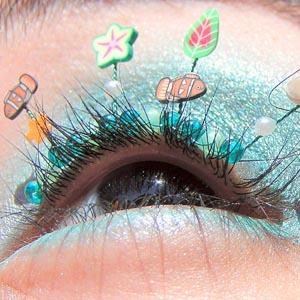 Cupcake Lashes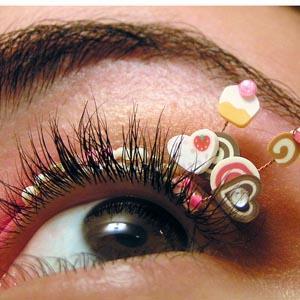 Snowflake Lashes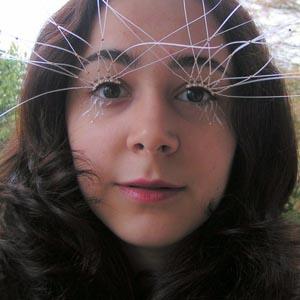 Tell us: Would you wear jewelry on your eyelashes?
beauty tips and style advice
Sunglasses: it may seem counterintuitive to invest in a wintertime accessory traditionally viewed as a sunny, warm-weather item. But spring is on the way and we're also currently being exposed to crazy amounts of UV rays—and then, of course, there's the reflective snow situation.

Some people look younger than they are, some look older. Even those with easy access to BOTOX and personal trainers. Can you guess the age of these celebrities?

Did anyone else hear wedding bells on the Oscars red carpet last night?

Then after the show, er, Oscars, it's the after party. Then after the party, it's the... Best Dressed List, of course. Nikki already picked her tops for the Academy Awards red carpet (did you vote yet?), so now it's time to see what the stars wore to the post-celebrations.

As I continue my personal campaign to swap out E!'s mani cam with a back-of-updo cam (and as a service to all the hardworking hairstylists who spent so much time creating beautiful hair looks for the 2014 Oscars), I'd like to point out that we miss a lot of gorgeous detail when we don't get the back view of a star's hair.

The bold new trend on the Oscars red carpet.

Trying new hairstyles is fun (have you picked up Allure Hair: The Ultimate How-To Hair Guide yet?).

When someone says "Julia Roberts," you think teeth. You think hair. But while you may not immediately think fashion, she has had a pretty consistent—and consistently pretty—style since her Mystic Pizza days: clean, classic, menswear-inspired looks that let her natural beauty—and rightly famous smile—take center stage. Here's how she has elevated that look over the years.

Lupita Nyong'o shows off the power of the pixie on the Oscars red carpet.

Walk a mile in a pair of SJP's stilettos? Well yes, we'd love to; thank you for asking.

Anti-aging doesn't have to take over your life. Here, expert tweaks to slow the clock.

We're at the tail end of a jam-packed awards season, with the grand finale—the Oscars, duh—just a few days away. We can't wait to see what our favorite nominees wear—we already know Jennifer Lawrence will step out in a breathtaking Dior, while we hope to see Lupita Nyong'o pick another brilliantly bold monochromatic gown. As for which designer she'll select—Gucci? Ralph Lauren?—that's anyone's guess.