Would you wear eyelash jewelry?
Etsy designer makes bling for your lashes.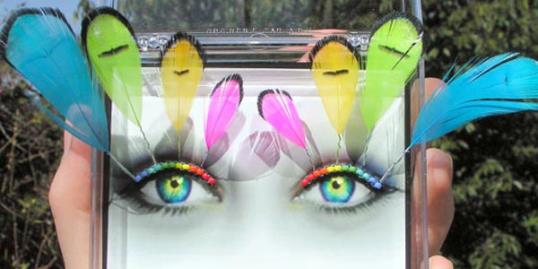 These days, there seems to be an obsession with bringing attention to the eyelashes. In the midst of a growing trend geared towards longer, more luscious lashes via eyelash extensions and the use of lash-enhancing products like Latisse, there's a lot of options out there for getting notice-me eyes. But this option may top the rest.

Etsy seller Natalie Russo is making a line of jewelry for your eyelashes—and it will definitely turn heads. The eyelash jewelry comes in a variety of themes, including neon rainbow feathers, snowflakes, and even googly-eye varieties. There's also a design called the "bubble bath," featuring a mini rubber ducky.

More from Living: The craziest nail designs of all time

According to the seller's Etsy site, the jewelry is created by hand-weaving tiny glass beads onto ultra thin wire to create a super light band that shapes to your eye. To apply these intricate designs, just bend your "jewelry" into the correct shape, apply eyelash glue and adhere the piece to your eyelid, just like you would for any other false eyelashes. 

"The beads used in this shop are primarily Japanese Toho brand seed beads. Their smooth shape provides maximum flexibility and comfort," says the designer on her web site. "Japanese Delica brand seed beads are also used for their superior shine and smaller size. Some designs also include 2mm Swarovski crystals and genuine gem stone beads." 

More from Living: Best & worst style & beauty trends of the year

Something about the concept of applying wire to our eyelids seems terrifying, but never fear, this isn't just any old wire. "The wire used is 34 gauge jewelry wire consisting of either silver or copper. This wire is so extremely thin and light, a single strand of it can be difficult to see."

With lashes like these, we won't even have to work at batting them—they definitely get attention all on their own. Check out more pics of the lashes below. 
Fish in the Sea Lashes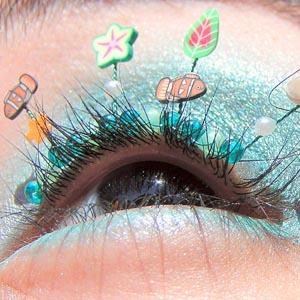 Cupcake Lashes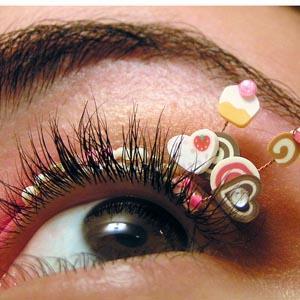 Snowflake Lashes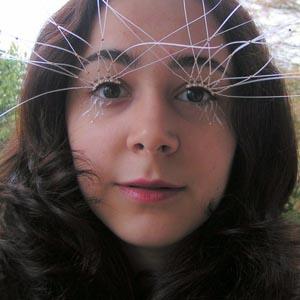 Tell us: Would you wear jewelry on your eyelashes?
beauty tips and style advice
You know that classic nightmare where you walk into school or work completely naked? That's how I feel when I'm having a bad hair day. Like I don't want anyone to look at me and it takes everything I have not to immediately turn around and run back home.

Victoria Beckham will share her fashion story and give inside access to her brand via The Skype Collaboration Project in January 2014.

Just when we thought Pamela Anderson's sleek pixie marked her biggest hair makeover this year, the star ditched her trademark blonde hue.

Yes! Lupita Nyong'O shows us how.

Take the health of your hair up a notch with these natural treatments

Nope, it's not your resume.

This is why a short wedding dress makes sense.

The Queen is a handbag trendsetter, apparently.

You know winter is here when you pull off your clothes and find the insides lined with a thin coating of tiny dry skin particles. (Am I alone here, or do I have more serious dry skin issues than I thought?)

Yesterday I popped by the Clear Clinic, a dedicated acne treatment center that a lot of people (including a Glamour beauty blogger or two) swear have helped cure them of the dreaded spots.

The first thing I noticed about this photo of Keira Knightley at a London gala last night was her 90s-chic makeup, featuring matte pale foundation and lots of black eyeliner.

It's the stuff of pinups, old Hollywood glamour, and even science study after study says guys really go for it. But that classic Rita Hayworth red doesn't necessarily flatter every complexion. We rounded up the absolute best reds for every skin tone, so you can breeze through the sea of cherries, raspberries, and any other scarlet fruit.