Would you wear eyelash jewelry?
Etsy designer makes bling for your lashes.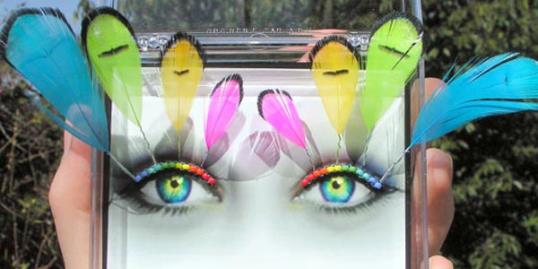 These days, there seems to be an obsession with bringing attention to the eyelashes. In the midst of a growing trend geared towards longer, more luscious lashes via eyelash extensions and the use of lash-enhancing products like Latisse, there's a lot of options out there for getting notice-me eyes. But this option may top the rest.

Etsy seller Natalie Russo is making a line of jewelry for your eyelashes—and it will definitely turn heads. The eyelash jewelry comes in a variety of themes, including neon rainbow feathers, snowflakes, and even googly-eye varieties. There's also a design called the "bubble bath," featuring a mini rubber ducky.

More from Living: The craziest nail designs of all time

According to the seller's Etsy site, the jewelry is created by hand-weaving tiny glass beads onto ultra thin wire to create a super light band that shapes to your eye. To apply these intricate designs, just bend your "jewelry" into the correct shape, apply eyelash glue and adhere the piece to your eyelid, just like you would for any other false eyelashes. 

"The beads used in this shop are primarily Japanese Toho brand seed beads. Their smooth shape provides maximum flexibility and comfort," says the designer on her web site. "Japanese Delica brand seed beads are also used for their superior shine and smaller size. Some designs also include 2mm Swarovski crystals and genuine gem stone beads." 

More from Living: Best & worst style & beauty trends of the year

Something about the concept of applying wire to our eyelids seems terrifying, but never fear, this isn't just any old wire. "The wire used is 34 gauge jewelry wire consisting of either silver or copper. This wire is so extremely thin and light, a single strand of it can be difficult to see."

With lashes like these, we won't even have to work at batting them—they definitely get attention all on their own. Check out more pics of the lashes below. 
Fish in the Sea Lashes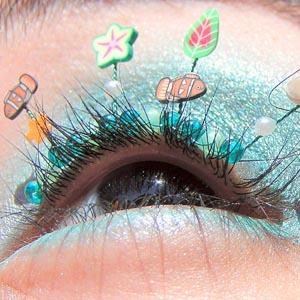 Cupcake Lashes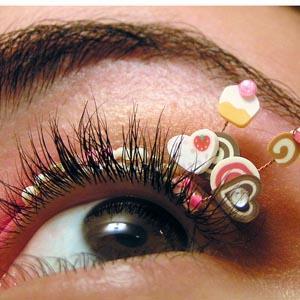 Snowflake Lashes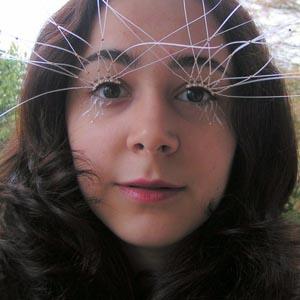 Tell us: Would you wear jewelry on your eyelashes?
beauty tips and style advice
Once the summer heat kicks in, it's all we can do not to slip into the breeziest beach dresses and flip-flops for the morning commute. So trust us when we say we understand that the humidity can have a powerful effect on your wardrobe — still, there are some things you just can't wear to your place of employment, no matter how hot it gets.

Wrinkle no blouse, tangle no jewelry, leave no beauty product behind, and still have room to spare.

Hue-changing dos we absolutely love.

Why your jean size varies from store to store.

Wait a month between waxing visits? Check. Pop a preappointment Advil? Duh. We all know the basics, but here are the tricks you don't know.

What to always—and never, ever—do to keep hair in top shape.

Get inspired to try these sweet and summery looks.

Stunning wedding styles that create a statement.

I attended the Abercrombie and Fitch holiday-season press preview yesterday, and in between checking out the cute gear that will hit stores this November, I picked up a little nugget of information I just have to share.

How to wear this cool-weather staple in the summer.

See how Miranda Kerr made a pair of Birkenstocks chic.

We love how a new nail polish has the ability to instantly change your look and your mood with a simple swipe. While happy lime greens and aquas are ruling the five million #nailpolish Instagrams this summer, there are a variety of great colors to choose from—whether you want an office-appropriate neutral or a fun going-out shade that'll give your LBD a punch of color.