High heels make women look more attractive, study finds
Stilettos may hurt your feet, but hey, you really do look good wearing them.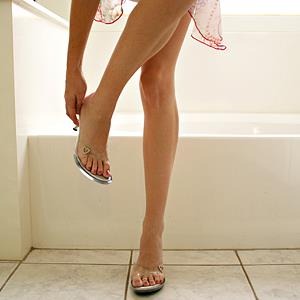 As women, we are constantly squeezing our feet into uncomfortable heels, leading to blisters, arch pain and a host of other issues (ehem, like tripping down stairs in shoes we can't walk in or getting our heels stuck in a subway grate, for example).

But yet we won't give up our stilettos. At least now we can feel better about the fact that we are hobbling down the street in pain. Why? Because new research confirms that everything about the concept of wearing high heels makes us more attractive (just as we always suspected).

According to The Independent, researchers at the University of Portsmouth say heels change the way the entire body moves, including the pelvis, hips, legs, knees, feet and even the shoulders, to emphasize femininity. Therefore, if a woman is wearing a pair of heels, she's instantly given a higher score than her flat-wearing friend when it comes to her level of attractiveness. Not that this is shocking news—we hoped we were wearing them for a reason.

More from Living: 2013's most-wanted makeup colors

But the study, published in scientific journal Evolution and Human Behavior, explains why. "Evolution may partly explain the continuing popularity of high heels as an article of the female wardrobe. If wearing high heels emphasizes some sex-specific aspects of the female form they may make women more attractive, and one motivation, which may be conscious or unconscious, for wearing heels is that it is part of mate selection."

More from Living: 10 fashion resolutions to actually follow this year

The study goes on to explain why some gender-specific trends tend to stay popular, decade after decade. "Fashions by their very nature are ephemeral, but fashions that endure, such as high heels, may emphasize sex-specific aspects of the body."
Tell us: Would you ever give up your high heels?

Bing: What makes women feel beautiful?


Photo: With Love Photography/Getty Images
More from Simply Chic:

Latest trend for guys: Man tights
The biggest internet beauty trends of 2012
Three-year-old model walks the runway
beauty tips and style advice
The wedding dresses on the spring 2015 runways were beautiful, breezy, and fresh—just like a breath of warm spring air. No matter where or when you'll say your vows (or how big or small your budget is), your dream wedding dress is just a few clicks away.

The results were crazy awesome.

There are no bad bodies, just bad jeans! Consider your denim problem areas solved (thanks to our 50-pair editor try-on).

Mascara wands are getting fatter, but that may not help your lashes. There's a better way to gain weight.

Three summers ago, I bought a pair of soft, white-calfskin Chanel loafers. I spent months trying to keep them pristine, but it wasn't long before a July thunderstorm left them and me soaked. I began steeling myself for what I thought was inevitable: a solemn drop in the trash. But once the loafers dried, I found the shoes' stained stitching—now storm-cloud gray—was lovely and a few new wrinkles in the leather were charming, like smile lines for shoes. I started to wear them freely—taking on puddles and tossing them onto the sand at the beach—and before long, they transformed. The roughened toe-tops reminded me of a welcoming, worn armchair, and a wet-and-hot summer had molded the material perfectly to my feet.

When the clock's ticking, digging though every compact in your bathroom is an exercise in frustration. What you need is one simple bag with a selection of products that help you pull yourself together as quickly as possible, at home or on the road. In it:

You know the freshly scrubbed, athletic look that defines American beauty? Turns out it's been centuries in the making.

According to Hollywood's top hairstylists, celebrity clients get sticky fingers when it comes to these no-fail products.

The American company that helped to popularize the shapewear trend has moved into the world of denim with a new jeans collection.

What to wear and what to avoid the next time you attend a wedding.

Want the most gorgeous hair of your life for your wedding day? Of course you do. Hairstylist Jen Atkin shares the top mistakes brides make that are getting in the way of that picture-perfect bridal hairstyle

So there are fashion mishaps. And then, there is the catastrophe known as....camel toe.