Some Brands Are Just Enigmas
L.A.M.B.'s latest offerings may leave you puzzled.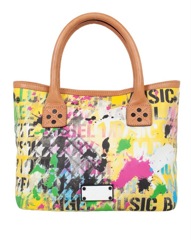 DISCLAIMER: I have never thought Gwen Stefani a great vocal talent.
Nor I have ever considered her sartorial style something worth emulating -- or really even paying attention to.
So when I see her latest wares -- those stiff, quasi-formal handbags or the insufferably stacked heels -- I'm like, huh? I've been trying to wrap my head around the crooner's accessories line since it first appeared in 2003, but I think I'm finally giving up.
A well-articulated brand evokes a distinct image -- one that appeals to you or doesn't but that never leaves you guessing who you'd be if you wore it.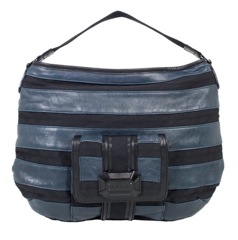 I have little clue who I'd be if I were a L.A.M.B. lover. Maybe one of her high-priced handbags (totes can cost more than $500 and some bags have been priced at about twice that) would make me feel like I should change my name to Kazarina, buy a few teacup poodles and start talking about black market deals, all in some mysterious, indistinguishable foreign accent. Perhaps I'd have to dye my brown hair a sallow yellow. Maybe I'd feel the need to start chewing more gum so I could click it constantly.
Whatever. I'll just take a pass.
And yet, Neiman Marcus, Saks, Nordstrom and Bloomingdale's all have carried her products at some time. Perhaps the line, an acronym for Love.Angel.Music.Baby. (the name of Stefani's solo album), speak to Ladies Who Lunch who feel the need to drop some of their Chanel for something they think is more hip and youthful. Maybe Stefani's vision appeals to people who lap up her pop music videos, with all their shellacked appeal.
But the rest of us out here are wondering what in the world the world saw in her stuff in the first place.
Handbags pictured are from L.A.M.B.'s upcoming holiday collection '09.
Email Kathryn at kathrynwexler@hotmail.com.  
beauty tips and style advice
What to wear and what to avoid the next time you attend a wedding.

Want the most gorgeous hair of your life for your wedding day? Of course you do. Hairstylist Jen Atkin shares the top mistakes brides make that are getting in the way of that picture-perfect bridal hairstyle

So there are fashion mishaps. And then, there is the catastrophe known as....camel toe.

The top tips I've picked up thanks to my obsession with blowouts, highlights, and my favorite hairstylist.

Something happens to your head when you have a kid — not to mention your body completely changes, and you can barely recognize yourself through bleary eyes, a fog of tiredness, and matted hair from sleepless nights. Sounds sexy, right? But, when that glimmering light at the end of the tunnel is in the near distance and the kid actually starts to act like a human and sleep normal hours, just like magic, you start to look like your old self again.

Ever slip into the latest summer fashion trend and then realize it's not exactly traditionally attractive? So what? Today we're speaking out on behalf of our favorite awkward fashion trends, whether they're bulky, strangely proportioned, or just at the opposite end of sexy. If there's still something magnetic about its pull on you, we say go for it. It's all in the name of fashion.

One shopper's tweet of the emaciated-looking figure forced the store to take action.

Once the summer heat kicks in, it's all we can do not to slip into the breeziest beach dresses and flip-flops for the morning commute. So trust us when we say we understand that the humidity can have a powerful effect on your wardrobe — still, there are some things you just can't wear to your place of employment, no matter how hot it gets.

Wrinkle no blouse, tangle no jewelry, leave no beauty product behind, and still have room to spare.

Hue-changing dos we absolutely love.

Why your jean size varies from store to store.

Wait a month between waxing visits? Check. Pop a preappointment Advil? Duh. We all know the basics, but here are the tricks you don't know.