Some Brands Are Just Enigmas
L.A.M.B.'s latest offerings may leave you puzzled.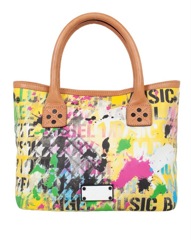 DISCLAIMER: I have never thought Gwen Stefani a great vocal talent.
Nor I have ever considered her sartorial style something worth emulating -- or really even paying attention to.
So when I see her latest wares -- those stiff, quasi-formal handbags or the insufferably stacked heels -- I'm like, huh? I've been trying to wrap my head around the crooner's accessories line since it first appeared in 2003, but I think I'm finally giving up.
A well-articulated brand evokes a distinct image -- one that appeals to you or doesn't but that never leaves you guessing who you'd be if you wore it.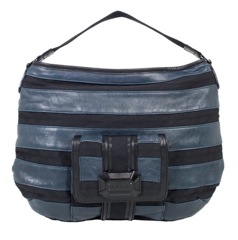 I have little clue who I'd be if I were a L.A.M.B. lover. Maybe one of her high-priced handbags (totes can cost more than $500 and some bags have been priced at about twice that) would make me feel like I should change my name to Kazarina, buy a few teacup poodles and start talking about black market deals, all in some mysterious, indistinguishable foreign accent. Perhaps I'd have to dye my brown hair a sallow yellow. Maybe I'd feel the need to start chewing more gum so I could click it constantly.
Whatever. I'll just take a pass.
And yet, Neiman Marcus, Saks, Nordstrom and Bloomingdale's all have carried her products at some time. Perhaps the line, an acronym for Love.Angel.Music.Baby. (the name of Stefani's solo album), speak to Ladies Who Lunch who feel the need to drop some of their Chanel for something they think is more hip and youthful. Maybe Stefani's vision appeals to people who lap up her pop music videos, with all their shellacked appeal.
But the rest of us out here are wondering what in the world the world saw in her stuff in the first place.
Handbags pictured are from L.A.M.B.'s upcoming holiday collection '09.
Email Kathryn at kathrynwexler@hotmail.com.  
beauty tips and style advice
OK, you're pushing 30 . . . don't panic! Even if you were a complete antiaging recluse in your 20s, there is still time to enter the next decade with endless grace and fewer wrinkles. And who better to steal skin care secrets from than the actresses who remain looking forever young? These Hollywood starlets may be in their 30s, but there's nary a dark spot in sight. Their beauty favorites range from drugstore classics to cult luxury elixirs and even a DIY recipe. With this shopping list under your belt, you can celebrate your 30s without a worry line in sight.

Instead of just slapping on five creams—then washing your face because, seriously, that stuff is heavy—follow the lead of the pros.

Forget about simple straightening--the flat iron is so much more versatile than that.

Assuming that you've had tons of practice doing your own makeup on a daily basis, attempting to do it yourself on your wedding day actually isn't that much more difficult. After all, no one knows your face better than you do, and chances are you have many of the tools and products that you need for the big day right at your fingertips—you just need to know how to use them.

There's a particular episode of 30 Rock ("Black Light Attack!", for all the fellow 30 Rock historians out there) in which Jane Krakowski's youth-obsessed character Jenna goes on a Gossip Girl audition. She thinks it's for the role of an Upper East Side high schooler, but as she learns in the middle of the tryout, it's for that of her mother instead. While Tina Fey's brilliant Liz Lemon later tries to talk Jenna off the cliff, she says, "You can try to fight getting older. You can be like Madonna, and cling to youth with your Gollum arms. Or you can be like Meryl Streep and embrace your age with elegance."

Save money and look great.