Some Brands Are Just Enigmas
L.A.M.B.'s latest offerings may leave you puzzled.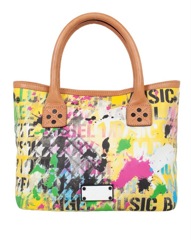 DISCLAIMER: I have never thought Gwen Stefani a great vocal talent.
Nor I have ever considered her sartorial style something worth emulating -- or really even paying attention to.
So when I see her latest wares -- those stiff, quasi-formal handbags or the insufferably stacked heels -- I'm like, huh? I've been trying to wrap my head around the crooner's accessories line since it first appeared in 2003, but I think I'm finally giving up.
A well-articulated brand evokes a distinct image -- one that appeals to you or doesn't but that never leaves you guessing who you'd be if you wore it.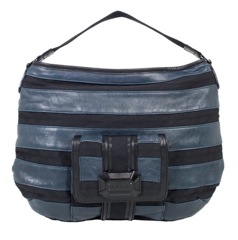 I have little clue who I'd be if I were a L.A.M.B. lover. Maybe one of her high-priced handbags (totes can cost more than $500 and some bags have been priced at about twice that) would make me feel like I should change my name to Kazarina, buy a few teacup poodles and start talking about black market deals, all in some mysterious, indistinguishable foreign accent. Perhaps I'd have to dye my brown hair a sallow yellow. Maybe I'd feel the need to start chewing more gum so I could click it constantly.
Whatever. I'll just take a pass.
And yet, Neiman Marcus, Saks, Nordstrom and Bloomingdale's all have carried her products at some time. Perhaps the line, an acronym for Love.Angel.Music.Baby. (the name of Stefani's solo album), speak to Ladies Who Lunch who feel the need to drop some of their Chanel for something they think is more hip and youthful. Maybe Stefani's vision appeals to people who lap up her pop music videos, with all their shellacked appeal.
But the rest of us out here are wondering what in the world the world saw in her stuff in the first place.
Handbags pictured are from L.A.M.B.'s upcoming holiday collection '09.
Email Kathryn at kathrynwexler@hotmail.com.  
beauty tips and style advice
I can't tell you how many times one ill-timed sneeze ruined all of my hard work with a mascara wand. #allergyproblems.

While we're not averse to shelling out upwards of $30 for an amazing lipstick, many of our standby lip colors cost a whole lot less than that. The drugstore is full of high-quality, long-lasting lipsticks in gorgeous shades that—wait for it!—ring in under $10. Click through above to shop our favorites!

What's the perfect add-on to your beauty look? A hair accessory, of course! Just when you think you've seen it all, every year there seems to be a new "it" hair piece that rules the moment. In the '50s, a dainty bow-tied head scarf was perfectly housewife-chic. In the '60s and '70s, real flower crowns officially became the epitome of boho style—your outfit simply wasn't complete without a daisy topper. Fast-forward to the '90s and you had a bevy of creative hair charms and baubles, including butterfly clips, hair wraps and those infamous bra strap headbands (shudder).

The right blush can warm up your complexion, create the illusion of cheekbones, and even make you look younger. (Yes, really!) Here, the most flattering shades for fair, medium, olive, and dark skin.

Think you can't put a price on looking younger? Well, we did—and it's $25. We challenged dermatologists to find great products that don't cost even one cent over that amount.

You want to dress in a way that's young and cool but that doesn't suggest you're on your way to a One Direction concert. "The trick to looking younger is adding one fashionable piece to a classic outfit," says stylist Cher Coulter. Here's how to nail it.