Some Brands Are Just Enigmas
L.A.M.B.'s latest offerings may leave you puzzled.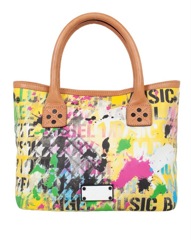 DISCLAIMER: I have never thought Gwen Stefani a great vocal talent.
Nor I have ever considered her sartorial style something worth emulating -- or really even paying attention to.
So when I see her latest wares -- those stiff, quasi-formal handbags or the insufferably stacked heels -- I'm like, huh? I've been trying to wrap my head around the crooner's accessories line since it first appeared in 2003, but I think I'm finally giving up.
A well-articulated brand evokes a distinct image -- one that appeals to you or doesn't but that never leaves you guessing who you'd be if you wore it.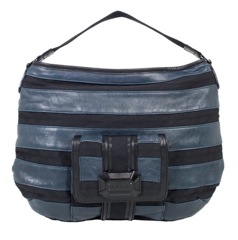 I have little clue who I'd be if I were a L.A.M.B. lover. Maybe one of her high-priced handbags (totes can cost more than $500 and some bags have been priced at about twice that) would make me feel like I should change my name to Kazarina, buy a few teacup poodles and start talking about black market deals, all in some mysterious, indistinguishable foreign accent. Perhaps I'd have to dye my brown hair a sallow yellow. Maybe I'd feel the need to start chewing more gum so I could click it constantly.
Whatever. I'll just take a pass.
And yet, Neiman Marcus, Saks, Nordstrom and Bloomingdale's all have carried her products at some time. Perhaps the line, an acronym for Love.Angel.Music.Baby. (the name of Stefani's solo album), speak to Ladies Who Lunch who feel the need to drop some of their Chanel for something they think is more hip and youthful. Maybe Stefani's vision appeals to people who lap up her pop music videos, with all their shellacked appeal.
But the rest of us out here are wondering what in the world the world saw in her stuff in the first place.
Handbags pictured are from L.A.M.B.'s upcoming holiday collection '09.
Email Kathryn at kathrynwexler@hotmail.com.  
beauty tips and style advice
Lupita Nyong'o shows off the power of the pixie on the Oscars red carpet.

Walk a mile in a pair of SJP's stilettos? Well yes, we'd love to; thank you for asking.

Anti-aging doesn't have to take over your life. Here, expert tweaks to slow the clock.

We're at the tail end of a jam-packed awards season, with the grand finale—the Oscars, duh—just a few days away. We can't wait to see what our favorite nominees wear—we already know Jennifer Lawrence will step out in a breathtaking Dior, while we hope to see Lupita Nyong'o pick another brilliantly bold monochromatic gown. As for which designer she'll select—Gucci? Ralph Lauren?—that's anyone's guess.

No one will ever accuse Blanchett of being boring. Gorgeous, yes. We can always count on her to wear—and say—something interesting. Here, we trace this risk taker's style evolution over the past 16 years.

Famous brides may have access to elite designers that most of us can only dream of, but we can all delight in the statements they make on their big days. In honor of the pending nuptials of Kim Kardashian and Kanye West, let's take a look at some recent and past famous gorgeous gowns.