Some Brands Are Just Enigmas
L.A.M.B.'s latest offerings may leave you puzzled.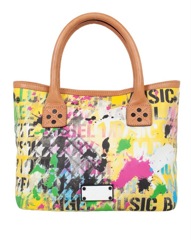 DISCLAIMER: I have never thought Gwen Stefani a great vocal talent.
Nor I have ever considered her sartorial style something worth emulating -- or really even paying attention to.
So when I see her latest wares -- those stiff, quasi-formal handbags or the insufferably stacked heels -- I'm like, huh? I've been trying to wrap my head around the crooner's accessories line since it first appeared in 2003, but I think I'm finally giving up.
A well-articulated brand evokes a distinct image -- one that appeals to you or doesn't but that never leaves you guessing who you'd be if you wore it.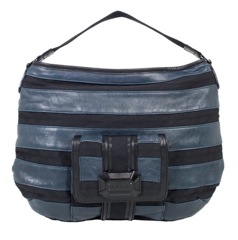 I have little clue who I'd be if I were a L.A.M.B. lover. Maybe one of her high-priced handbags (totes can cost more than $500 and some bags have been priced at about twice that) would make me feel like I should change my name to Kazarina, buy a few teacup poodles and start talking about black market deals, all in some mysterious, indistinguishable foreign accent. Perhaps I'd have to dye my brown hair a sallow yellow. Maybe I'd feel the need to start chewing more gum so I could click it constantly.
Whatever. I'll just take a pass.
And yet, Neiman Marcus, Saks, Nordstrom and Bloomingdale's all have carried her products at some time. Perhaps the line, an acronym for Love.Angel.Music.Baby. (the name of Stefani's solo album), speak to Ladies Who Lunch who feel the need to drop some of their Chanel for something they think is more hip and youthful. Maybe Stefani's vision appeals to people who lap up her pop music videos, with all their shellacked appeal.
But the rest of us out here are wondering what in the world the world saw in her stuff in the first place.
Handbags pictured are from L.A.M.B.'s upcoming holiday collection '09.
Email Kathryn at kathrynwexler@hotmail.com.  
beauty tips and style advice
Controversial.... Or empowering?

These jeans aren't just distressed; they're destroyed — and all the cooler for it. They're also the perfect way to make a basic T-shirt feel totally wild.

Good news for your feet: Sneakers are everywhere this fall. Fashion insiders and celebs alike are sporting athletic shoes with their chicest outfits, making them an essential fall fashion trend. With an abundance of styles in stores right now, it might seem daunting to find the pair that's right for you. We handpicked the 35 best sneaker styles to try.

We're just going to say it: Ankle boots might be are our favorite type of boots. They're tough like classic motos when paired with skinny jeans or leather pants. But they also work in place of fussy heels with a flared skirt or cocktail dress for an unexpected downtown-cool vibe. And, let's be honest, the ankle height just feels more relaxed and comfortable. Never mind that booties take up way less room in your closet too. Wait. Do you know what that means? You can buy more than just one pair this fall—especially since ankle boots come in so many styles, shapes, colors, heel heights, and price points. So check out these 20 booties for fall.

Fall just gives us the warm fuzzies—and not because of the turning of the leaves, football games, or the excuse to eat pumpkin-flavored everything. We can finally wear our very best coats incorporating the newest fashion trends (and there are so many options out there). So make the most of this wonderful time—before the puffy-jacket-required winter rears its blustery head—with these 15 coat and jacket picks for all budgets.

As beauty editors, we thought we had heard (and made!) every hairstyling mistake out there. We no longer use uncoated elastics or rough up our hair with a towel when we get out of the shower, and we even fully embrace the benefits of hair masks. But during a visit with Herbal Essences celebrity stylist Charles Baker Strahan, we learned some new, seriously next-level tips. Read on for better hair days ahead.