Some Brands Are Just Enigmas
L.A.M.B.'s latest offerings may leave you puzzled.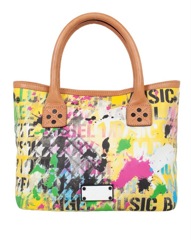 DISCLAIMER: I have never thought Gwen Stefani a great vocal talent.
Nor I have ever considered her sartorial style something worth emulating -- or really even paying attention to.
So when I see her latest wares -- those stiff, quasi-formal handbags or the insufferably stacked heels -- I'm like, huh? I've been trying to wrap my head around the crooner's accessories line since it first appeared in 2003, but I think I'm finally giving up.
A well-articulated brand evokes a distinct image -- one that appeals to you or doesn't but that never leaves you guessing who you'd be if you wore it.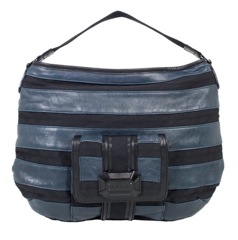 I have little clue who I'd be if I were a L.A.M.B. lover. Maybe one of her high-priced handbags (totes can cost more than $500 and some bags have been priced at about twice that) would make me feel like I should change my name to Kazarina, buy a few teacup poodles and start talking about black market deals, all in some mysterious, indistinguishable foreign accent. Perhaps I'd have to dye my brown hair a sallow yellow. Maybe I'd feel the need to start chewing more gum so I could click it constantly.
Whatever. I'll just take a pass.
And yet, Neiman Marcus, Saks, Nordstrom and Bloomingdale's all have carried her products at some time. Perhaps the line, an acronym for Love.Angel.Music.Baby. (the name of Stefani's solo album), speak to Ladies Who Lunch who feel the need to drop some of their Chanel for something they think is more hip and youthful. Maybe Stefani's vision appeals to people who lap up her pop music videos, with all their shellacked appeal.
But the rest of us out here are wondering what in the world the world saw in her stuff in the first place.
Handbags pictured are from L.A.M.B.'s upcoming holiday collection '09.
Email Kathryn at kathrynwexler@hotmail.com.  
beauty tips and style advice
While you were sleeping, fast retail chain H&M H&M announced that its next designer collaboration is with Alexander Wang.

Formal, beachy, country club-chic or gorgeously rustic whatever the setting calls for, we've found a bevy of beautiful dresses to wear to a wedding this season.

Puffy, tired, weary no more. These tips take years off and create that "I slept great, thanks!" effect.

Top dermatologists, cosmetic chemists, makeup artists, and hairstylists reveal quick tips and tricks that can peel back years in a matter of seconds

We're all for sartorial freedom, but there are certain once-on-trend items that, when worn today, appear anything but current. Consider this your official out list.

If you're a practitioner of reselling your clothes—a good way to clear out some space in your wardrobe and make a few extra bucks—you might already be familiar with San Francisco-based thredUP.

A picture may be worth a thousand words, but emoji must be worth at least a million. Here we show you how to channel your favorites: Go ahead, express yourself!

11 earth-friendly beauty products we love.

The secret to effortlessly beautiful hair? Embracing what you're born with! Twenty celebs show you how to do it.

Last year's beauty buzz may have been all about J. Law's cropped cut, M'Obama's bangs and Miley Cyrus' pixie, but we're not even halfway through 2014 and we're pretty sure we've already topped 2013. From Margot Robbie's glossy brunette dye-job to Katie Holmes' irresistible set of bangs, we're obsessed with all these recent celebrity transformations—all of which are perfect inspiration for a new spring hairstyle. Click through above to see a round-up of our favorites!

The green coat is pretty much as Middleton as it gets.

Monday's New Zealand itinerary brought Kate and William to the cricket field.