Easy hairstyles for the holidays
Get hair like Kate Middleton's without heading to the salon.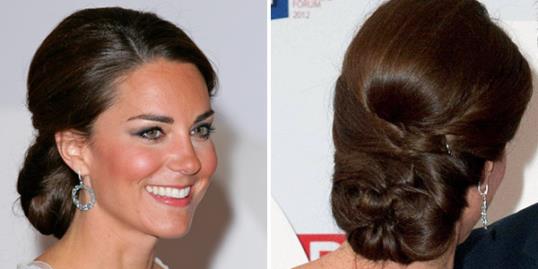 With the holidays in full swing, 'tis the season for a seemingly endless array of parties, gatherings and occasions that require a little dazzle. 

More from Living: 10 Ways to Look and Feel More Polished

Unfortunately, all the celebrations also mean a lack of time to get everything accomplished. That's why we were excited to learn how to achieve a pretty holiday hairstyle without investing a ton of time. To channel a princess-worthy holiday up-do like Kate Middleton's, follow these simple steps:

"This look is elegant, charming and surprisingly easy to achieve," says Edward Tricomi, a co-owner of Warren-Tricomi Salons.

How to create Kate's up-do: 

1. Begin by parting your hair where it would naturally fall.

2. This look is started with a very basic French braid at the back of the neck. Be sure to braid very loosely, this will keep the look modern and effortless.

3. Once your braid reaches the top of your back begin to twist it into a bun. The bun should be more oval in shape as opposed to round and should sit right at the base of your neck. Secure with hair pins.

"Kate has mirror-like shine which makes her color look extremely rich. I would recommend using a hair glaze to really bring out the shine and richness in color," Tricomi says.

More from Living: 10 Celebrities Who Refuse to Fix Their "Flaws"

If you prefer a half-up look, that's also easy to achieve. "Lady Kate kills it with this, taking a look that is sophisticated yet surprisingly simple to create," Tricomi says. "The off-center pin curls are unexpected, innovative and original."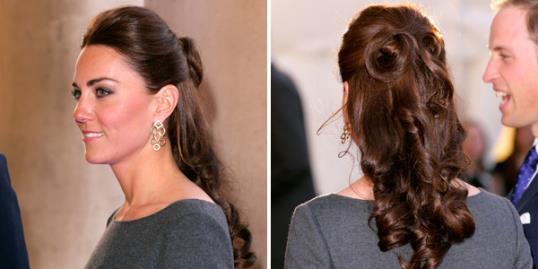 How to create Kate's half-up, half-down style

1. Start by setting your hair with a curling iron in large sections until your entire head is curled. This will give it a soft bounce.

2.  Divide your hair into two sections from ear to ear across the back of your head.

3. Brush the top section straight back (this look is achieved with no parting)

4. Take hair from your temple and pull it away from your face, twirling it into a pin curl and securing it with pins at the crown of your head, repeat with the remaining side.
Tell us: What's your go-to hairstyle for the holidays?

Bing: Duchess Kate Middleton fashion

Photos: Indigo/Getty images,  Reimschuessel /Splash News/Corbis; Indigo/Getty Images

More from Simply Chic:
Illamasqua makeup ad creates blackface controversy
What your shoes say about you
Store mannequins spy on shoppers
beauty tips and style advice
These travel-sized beauty products will do double-duty while you're on the road.

Neatly sidestepping high fashion, the smiling, cheerful Kate Middleton is fast becoming the Duchess of Normcore.

This December, New Yorkers might notice something missing in the Christmas air.

When Madonna posted an image of herself wearing a full on Game of Thrones Khaleesi costume on Instagram last week we weren't exactly surprised—this is the woman who rolled into the Grammy Awards wearing a tuxedo and a grill earlier this winter, so why not celebrate the Jewish holiday of Purim with a leather corset and a pair of tiny dragons? Still, we were hypnotized by her white-blonde, braided Daenerys Targaryen hair. Functioning as a bleached out cultural weather vane of sorts, it tapped into multiple obsessions at once—the return of "Game of Thrones" to HBO, spring's new extreme hair lengths and, most notably, fashion's current platinum mania. Our own love of ice-blonde hair—which transforms any look from everyday to extraordinary—has been well documented of late, but last night's Game of Thrones premiere sent our platinum fever into overdrive. In celebration of fashion's favorite hair color, a look at the best platinum moments in history.

While you were sleeping, fast retail chain H&M H&M announced that its next designer collaboration is with Alexander Wang.

Formal, beachy, country club-chic or gorgeously rustic whatever the setting calls for, we've found a bevy of beautiful dresses to wear to a wedding this season.

Puffy, tired, weary no more. These tips take years off and create that "I slept great, thanks!" effect.

Top dermatologists, cosmetic chemists, makeup artists, and hairstylists reveal quick tips and tricks that can peel back years in a matter of seconds

We're all for sartorial freedom, but there are certain once-on-trend items that, when worn today, appear anything but current. Consider this your official out list.

If you're a practitioner of reselling your clothes—a good way to clear out some space in your wardrobe and make a few extra bucks—you might already be familiar with San Francisco-based thredUP.

A picture may be worth a thousand words, but emoji must be worth at least a million. Here we show you how to channel your favorites: Go ahead, express yourself!

11 earth-friendly beauty products we love.