Easy hairstyles for the holidays
Get hair like Kate Middleton's without heading to the salon.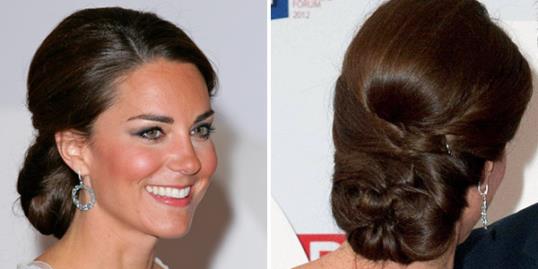 With the holidays in full swing, 'tis the season for a seemingly endless array of parties, gatherings and occasions that require a little dazzle. 

More from Living: 10 Ways to Look and Feel More Polished

Unfortunately, all the celebrations also mean a lack of time to get everything accomplished. That's why we were excited to learn how to achieve a pretty holiday hairstyle without investing a ton of time. To channel a princess-worthy holiday up-do like Kate Middleton's, follow these simple steps:

"This look is elegant, charming and surprisingly easy to achieve," says Edward Tricomi, a co-owner of Warren-Tricomi Salons.

How to create Kate's up-do: 

1. Begin by parting your hair where it would naturally fall.

2. This look is started with a very basic French braid at the back of the neck. Be sure to braid very loosely, this will keep the look modern and effortless.

3. Once your braid reaches the top of your back begin to twist it into a bun. The bun should be more oval in shape as opposed to round and should sit right at the base of your neck. Secure with hair pins.

"Kate has mirror-like shine which makes her color look extremely rich. I would recommend using a hair glaze to really bring out the shine and richness in color," Tricomi says.

More from Living: 10 Celebrities Who Refuse to Fix Their "Flaws"

If you prefer a half-up look, that's also easy to achieve. "Lady Kate kills it with this, taking a look that is sophisticated yet surprisingly simple to create," Tricomi says. "The off-center pin curls are unexpected, innovative and original."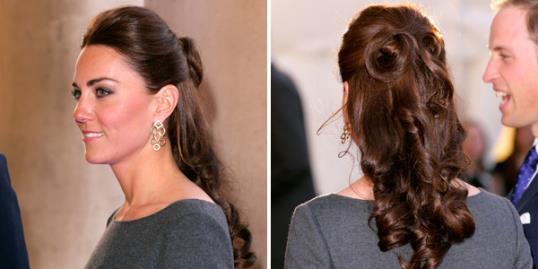 How to create Kate's half-up, half-down style

1. Start by setting your hair with a curling iron in large sections until your entire head is curled. This will give it a soft bounce.

2.  Divide your hair into two sections from ear to ear across the back of your head.

3. Brush the top section straight back (this look is achieved with no parting)

4. Take hair from your temple and pull it away from your face, twirling it into a pin curl and securing it with pins at the crown of your head, repeat with the remaining side.
Tell us: What's your go-to hairstyle for the holidays?

Bing: Duchess Kate Middleton fashion

Photos: Indigo/Getty images,  Reimschuessel /Splash News/Corbis; Indigo/Getty Images

More from Simply Chic:
Illamasqua makeup ad creates blackface controversy
What your shoes say about you
Store mannequins spy on shoppers
beauty tips and style advice
Once the summer heat kicks in, it's all we can do not to slip into the breeziest beach dresses and flip-flops for the morning commute. So trust us when we say we understand that the humidity can have a powerful effect on your wardrobe — still, there are some things you just can't wear to your place of employment, no matter how hot it gets.

Wrinkle no blouse, tangle no jewelry, leave no beauty product behind, and still have room to spare.

Hue-changing dos we absolutely love.

Why your jean size varies from store to store.

Wait a month between waxing visits? Check. Pop a preappointment Advil? Duh. We all know the basics, but here are the tricks you don't know.

What to always—and never, ever—do to keep hair in top shape.

Get inspired to try these sweet and summery looks.

Stunning wedding styles that create a statement.

I attended the Abercrombie and Fitch holiday-season press preview yesterday, and in between checking out the cute gear that will hit stores this November, I picked up a little nugget of information I just have to share.

How to wear this cool-weather staple in the summer.

See how Miranda Kerr made a pair of Birkenstocks chic.

We love how a new nail polish has the ability to instantly change your look and your mood with a simple swipe. While happy lime greens and aquas are ruling the five million #nailpolish Instagrams this summer, there are a variety of great colors to choose from—whether you want an office-appropriate neutral or a fun going-out shade that'll give your LBD a punch of color.