Store mannequins spy on shoppers
Ever get the creepy feeling that department store mannequins are watching you? You just may be right.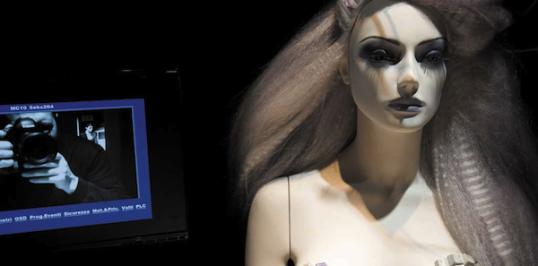 Sure, it's way past Halloween, but we've got a brand new report from Bloomberg that puts a slight chill in our holiday shopping sales jaunts. Mannequins are no longer simply mute witnesses to the sea of passing humanity, but active participants in information gathering and consumer profiling. (The Daily Mail has video of them in action here.)
Related: Fall fashion modern mannequins (and fashionistas) crave
We assumed these stylish spies sport an embedded camera behind one eye to help with loss prevention (aka shoplifting), but the main purpose, according to Italian manufacturer Almax, is to send images back to closed-circuit TVs for retail buying trend analysis. Through the mannequin's fixed gaze, people are monitored as they browse and choose items. Facial recognition software then specifies the age, gender and race of shoppers. While this sounds way too much like that Twilight Zone episode that freaked us out as kids, the "Eye See" mannequin is already parked in five companies in the U.S. and Europe, and more orders arrive all the time at a whopping five grand a piece. The next update involves tweaking the mannequins so they can hear folks' chatter. Color us creeped out.
Related: Browse party gowns from the privacy of home
Tell us: What do you think of these new spy mannequins? Cool or creepy?
Photo: Courtesy of Almax

fashion: trends & must-haves for your wardrobe
When morning talk shows and local newspapers dole out their seasonal swimsuit shopping advice, I'm usually pretty disappointed by the lack of body types represented. What about the women who don't resemble fruit? (Or aren't boy-shaped—the third "one of these things is not like the other" category I've never quite understood. Couldn't they say "banana?" Or is that somehow more offensive than "apple" and "pear" shapes?)

Ready to refresh your hair and makeup for spring? Well, look no further for your latest batch of inspiration. These ladies are bringing the beauty brilliance with megawatt lipstick shades, sleek haircuts, and must-try hair colors. Get ready to play copycat.

Long, layered, medium or wavy – we're sharing our favorite hairstyles of 2013 with a new 'do each day. Stuck in a hair rut? Check back daily for snappy new looks that are sure to give your locks some beauty inspiration.

Step into spring with style in June Ambrose's new shoe line for HSN.

Revamp your corporate look with graphic prints and bold color.

If you have only five makeup tools in your kit, make sure these are them. They do much more than just look cute on your vanity!

Think all it can do is shellac everything down, helmet-head style? So wrong! A can of whatever's in your cabinet is your secret beauty weapon. Try it like this.

You may not get wrinkles on your hair, but it ages all the same. Grays, dullness, thinning strands, and frizz are all (unfortunately) part of the hair's aging process, which starts happening in your 30s. The good news is that you don't need Botox to fix these problems. Here are six tips for hair that's shiny, bouncy, healthy—and, yes, younger looking.

Our fashion-savvy FLOTUS shows us she is truly a master at mixing high- and low-end designs.

Get ready for summer with these cute and easy to DIY nail art designs.

Brides, it's your big day and you want to look special. Please, whatever you do, don't wear one of these wedding dresses. These are truly the worst.

Even if you're the best friend of all time, no bridesmaid should ever have to wear these worst-ever bridesmaid dresses. Lace, ruffles and satin overload!