Store mannequins spy on shoppers
Ever get the creepy feeling that department store mannequins are watching you? You just may be right.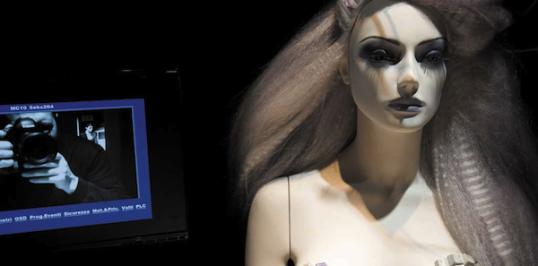 Sure, it's way past Halloween, but we've got a brand new report from Bloomberg that puts a slight chill in our holiday shopping sales jaunts. Mannequins are no longer simply mute witnesses to the sea of passing humanity, but active participants in information gathering and consumer profiling. (The Daily Mail has video of them in action here.)
Related: Fall fashion modern mannequins (and fashionistas) crave
We assumed these stylish spies sport an embedded camera behind one eye to help with loss prevention (aka shoplifting), but the main purpose, according to Italian manufacturer Almax, is to send images back to closed-circuit TVs for retail buying trend analysis. Through the mannequin's fixed gaze, people are monitored as they browse and choose items. Facial recognition software then specifies the age, gender and race of shoppers. While this sounds way too much like that Twilight Zone episode that freaked us out as kids, the "Eye See" mannequin is already parked in five companies in the U.S. and Europe, and more orders arrive all the time at a whopping five grand a piece. The next update involves tweaking the mannequins so they can hear folks' chatter. Color us creeped out.
Related: Browse party gowns from the privacy of home
Tell us: What do you think of these new spy mannequins? Cool or creepy?
Photo: Courtesy of Almax

beauty tips and style advice
And before you ask, sorry, the $325 dress is SOLD OUT on Matches.com and DVF.com—you snooze, you loose.

Click through the slideshow to shop some of our spring favorites.

French braid? Been there. Fishtail? Done that. The newest styles are all about unexpected texture, major volume, and one man's wild imagination.

Long hair, don't care? Think again…

She dishes on the routine that keeps her looking polished, even when she's pulling up to the <i>Mad Men</i> set at 5 a.m. Plus, the fragrance that helps Christina get her Joan on.

For inspiration, we've rounded up gorgeous (and easy to replicate) wedding makeup looks from the red carpet.

With a few insider tricks, you can enjoy short hair 365 days of the year and have a gorgeous style on your wedding day. Wedding hairstyles for short hair do exist.

I'm beyond excited to finally ditch my winter coat and heavy layers, but I'm not so eager to ditch my tights. Let's just say my legs are not as smooth and bronzed as they were the last time I showed them off many, many months ago.

After a jam-packed week in New Zealand, Kate Middleton and Prince William finally enjoyed a day off, but as of last night (or this morning..? Ah, time change!) they're back on the road again.

These travel-sized beauty products will do double-duty while you're on the road.

Neatly sidestepping high fashion, the smiling, cheerful Kate Middleton is fast becoming the Duchess of Normcore.

This December, New Yorkers might notice something missing in the Christmas air.