Store mannequins spy on shoppers
Ever get the creepy feeling that department store mannequins are watching you? You just may be right.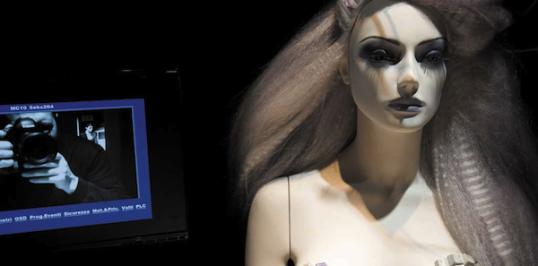 Sure, it's way past Halloween, but we've got a brand new report from Bloomberg that puts a slight chill in our holiday shopping sales jaunts. Mannequins are no longer simply mute witnesses to the sea of passing humanity, but active participants in information gathering and consumer profiling. (The Daily Mail has video of them in action here.)
Related: Fall fashion modern mannequins (and fashionistas) crave
We assumed these stylish spies sport an embedded camera behind one eye to help with loss prevention (aka shoplifting), but the main purpose, according to Italian manufacturer Almax, is to send images back to closed-circuit TVs for retail buying trend analysis. Through the mannequin's fixed gaze, people are monitored as they browse and choose items. Facial recognition software then specifies the age, gender and race of shoppers. While this sounds way too much like that Twilight Zone episode that freaked us out as kids, the "Eye See" mannequin is already parked in five companies in the U.S. and Europe, and more orders arrive all the time at a whopping five grand a piece. The next update involves tweaking the mannequins so they can hear folks' chatter. Color us creeped out.
Related: Browse party gowns from the privacy of home
Tell us: What do you think of these new spy mannequins? Cool or creepy?
Photo: Courtesy of Almax

beauty tips and style advice
Click to see 10 must-have hair tools to streamline your beauty routine.

See 9 of the prettiest holiday hair accessories for the holidays.

Here's how to choose the neckline style that looks best on you.

This season, let your nails be as merry—and bright—as your mood.

Sure, a little black dress or le smoking is always on par for the party scene, but who says holiday dressing has to be so cut and dry? We have 15 ideas for switching it up this season—getting festive just got a whole lot more fun.

Super-fast (and easy) hair, makeup, and nail ideas that'll make you party-ready in minutes. Sorry, no more last-minute bailing because you're running late.

From straight and sleek to intricate braids and sky high topknots, some celebs just know how to do party hair

From a structured blazer to that awe-inducing statement clutch, Rachel Zoe shares her picks for December dressing with InStyle.com exclusively.

Simple style tricks to help your hair look better in an instant.

7 hairstyles to try this holiday season.

You know that classic nightmare where you walk into school or work completely naked? That's how I feel when I'm having a bad hair day. Like I don't want anyone to look at me and it takes everything I have not to immediately turn around and run back home.

Victoria Beckham will share her fashion story and give inside access to her brand via The Skype Collaboration Project in January 2014.