How to get Jennifer Lopez's ultra-glam Golden Globes waves
Recreate her romantic waves with a step-by-step guide from her hairstylist.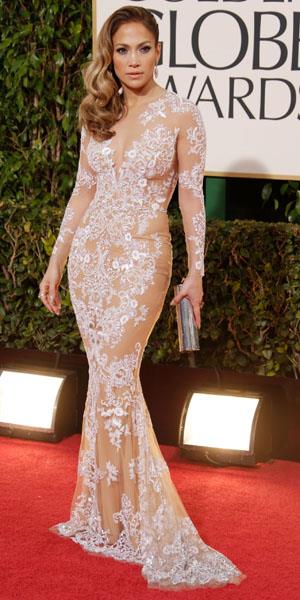 Last night at the Golden Globe Awards, all eyes were on Jennifer Lopez and her barely there nude silk and lace embroidered gown—but it wasn't only the sexy dress that was getting the attention—so was her hair.

Her ultra glam waves gave a classic, sophisticated spin to her look. Hairstylist Lorenzo Martin was inspired by old Hollywood look to create a look that work well with Lopez' Zuhair Murad gown. Lorenzo turned to a deep side part to modernize the old Hollywood look of the romantic waves.

Want to recreate J. Lo's waves? Here's how Lorenzo did it:

STEP 1: Lorenzo prepped Jennifer's hair with the L'Oréal Paris Advanced Haircare Triple Resist Shampoo and Conditioner ($4.99 each). Then while hair was wet, he used the L'Oréal Paris Advanced Haircare Triple Resist Ultimate Strength Solution ($6.99) to reinforce the hair prior to styling.

STEP 2: Lorenzo applied a quarter-size amount of L'Oréal Paris EverCurl Sculpt & Hold Cream-Gel ($8.99) to condition the hair and prep it for being curled.

STEP 3: He curled the hair using a 1 inch curling iron, then gently sprayed L'Oréal Paris EverStyle Texture Series Beach Spray ($6.99) to each section, which helped hold the curl and add texture.

STEP 4: Lorenzo pinned each curl to the scalp using a bobby pin. When all curls were created, Lorenzo sprayed L'Oréal Paris Elnett Satin Strong Hold ($14.99) approximately six inches from the scalp. He let the curls set for 15 minutes, then released.

STEP 5: Once the curls were released, Lorenzo took a medium round brush and brushed out the curls to create volume.

STEP 6: He created a deep side part and used bobby pins to hold hair in place. 

STEP 7:  To finish the look, Lorenzo sprayed the L'Oréal Paris EverStyle Strong Hold Styling Spray ($6.99) to add shine and set the curls.
Tell us: Do you like J. Lo's hair?

Bing: Golden Globes 2013 beauty


Photo: Jeff Vespa/WireImage
beauty tips and style advice
What to wear and what to avoid the next time you attend a wedding.

Want the most gorgeous hair of your life for your wedding day? Of course you do. Hairstylist Jen Atkin shares the top mistakes brides make that are getting in the way of that picture-perfect bridal hairstyle

So there are fashion mishaps. And then, there is the catastrophe known as....camel toe.

The top tips I've picked up thanks to my obsession with blowouts, highlights, and my favorite hairstylist.

Something happens to your head when you have a kid — not to mention your body completely changes, and you can barely recognize yourself through bleary eyes, a fog of tiredness, and matted hair from sleepless nights. Sounds sexy, right? But, when that glimmering light at the end of the tunnel is in the near distance and the kid actually starts to act like a human and sleep normal hours, just like magic, you start to look like your old self again.

Ever slip into the latest summer fashion trend and then realize it's not exactly traditionally attractive? So what? Today we're speaking out on behalf of our favorite awkward fashion trends, whether they're bulky, strangely proportioned, or just at the opposite end of sexy. If there's still something magnetic about its pull on you, we say go for it. It's all in the name of fashion.

One shopper's tweet of the emaciated-looking figure forced the store to take action.

Once the summer heat kicks in, it's all we can do not to slip into the breeziest beach dresses and flip-flops for the morning commute. So trust us when we say we understand that the humidity can have a powerful effect on your wardrobe — still, there are some things you just can't wear to your place of employment, no matter how hot it gets.

Wrinkle no blouse, tangle no jewelry, leave no beauty product behind, and still have room to spare.

Hue-changing dos we absolutely love.

Why your jean size varies from store to store.

Wait a month between waxing visits? Check. Pop a preappointment Advil? Duh. We all know the basics, but here are the tricks you don't know.