Does makeup help or hurt a woman's self-esteem?
According to this study, wearing makeup increases a woman's likeability.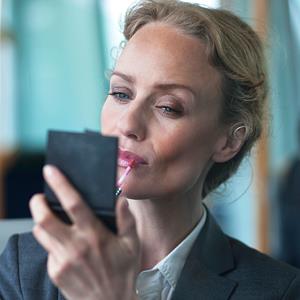 When it comes to leaving the house without lipstick on, many of us just can't bear to do it. Whether we're going to run errands or heading to the office, some women feel strongly about puckering up and applying their go-to shade to feel their best. But is applying makeup before you head into the office good for your career? Perhaps.

More from Living: The craziest nail designs of all time

The debate on the subject is out. According to the New York Times, it could go either way. Some argue that a simple tube of lipstick makes a woman appear more competent, especially in regards to the workplace. A recent survey is confirming that to be the case, with findings that reveal wearing makeup increases a woman's likeability and competence in the workplace.  

More from Living: The country's coolest mobile fashion trucks

Others insist that it should be a choice, not a requirement. "If makeup enhances women's self- confidence, they should by all means wear it," Deborah Rhode a law professor at Stanford and the author of "The Beauty Bias," tells the Times. "But it should be a choice, not a requirement imposed on employees where it is not essential to job performance. The world would be a better place if women were judged more on competence and less on appearance."
Tell us: Do you think lipstick makes or breaks a woman's self esteem?

Bing: Most inspiring women

Photo: Thomas Tolstrup/Getty Images

More from Simply Chic:
The weirdest runway fashions of 2012
Red carpet moments of 2012
Hall of shame: Celeb fashion fails of 2012
beauty tips and style advice
One shopper's tweet of the emaciated-looking figure forced the store to take action.

Once the summer heat kicks in, it's all we can do not to slip into the breeziest beach dresses and flip-flops for the morning commute. So trust us when we say we understand that the humidity can have a powerful effect on your wardrobe — still, there are some things you just can't wear to your place of employment, no matter how hot it gets.

Wrinkle no blouse, tangle no jewelry, leave no beauty product behind, and still have room to spare.

Hue-changing dos we absolutely love.

Why your jean size varies from store to store.

Wait a month between waxing visits? Check. Pop a preappointment Advil? Duh. We all know the basics, but here are the tricks you don't know.

What to always—and never, ever—do to keep hair in top shape.

Get inspired to try these sweet and summery looks.

Stunning wedding styles that create a statement.

I attended the Abercrombie and Fitch holiday-season press preview yesterday, and in between checking out the cute gear that will hit stores this November, I picked up a little nugget of information I just have to share.

How to wear this cool-weather staple in the summer.

See how Miranda Kerr made a pair of Birkenstocks chic.