Would you ever rent nail polish?
Now, you can with Lacquerous.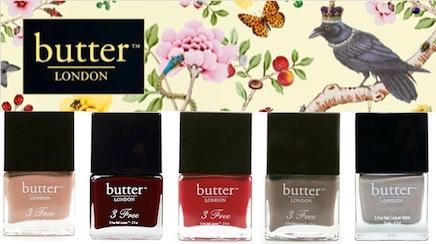 by
Nikki Ogunnaike
,
Glamour Magazine
Have you ever wanted to try a nail polish color from a high-end brand like Chanel, Dolce & Gabbana, Tom Ford or NARS, but don't want to splurge on a whole bottle? Now, you can with Lacquerous, an online service that lets you rent nail polish bottles for a monthly fee.

Related: 60 Winter Nail Polish Ideas

Here's how it works: Log in and pick your favorites to add to your Lust List. For $18 per month you'll receive your choice of three colors.
Related: 11 Fall Hair and Makeup Looks You'll Love

Use the polish for three applications throughout the month and once your time is up, send them back to Lacquerous with the prepaid return packaging label. Sounds a bit like a Rent the Runway for nails, right? What do you guys think? Will you give Lacquerous a try? Let me know in the comments!

Bing: News about Lacquerous

Photos: Courtesy of Glamour

More from Glamour:
Cute Boots for Every Budget
What to Wear to Work This Fall
30 November Outfit Ideas


As someone who's worked in the beauty industry (hey, don't judge!, cutting hair is a great way to work through college)... that would be an unequivocal, NO!  I would NEVER rent nail polish or any other cosmetic!
They say, "The practice is identical to what most people experience in a traditional nail salon, where the staff shares polish among clients who are getting manicures and pedicures."
But --beside the fact that most people I know actually buy the (NEW) bottle of polish that's used for their service-- in a salon setting, the communal polish is applied IMMEDIATELY following a sanitizing footbath or hand soak, by a knowledgeable technician who keeps control of the bottle.  Not so with the rented polish!
And then they say, "Bacteria can't live for long in a bottle of nail polish. You are probably more likely to get an infection in the salon itself," and the article adds "Many nail polishes contain toluene and formaldehyde, which will do a number on germs inside a bottle." 
But, the high end polishes they are dealing with are 'Big Three Free' polishes, meaning they are free of the harmful chemicals tolulene, formaldehyde and dibutyl phthalate. So, yes, many polishes contain tolulene and formaldehyde... but not the brands of polish they are renting out.
When you want to test polish at the store, they usually bring out a piece of cello tape to brush some on... there is a reason for this!
Besides, for $18 a month you can start building up your very own collection (to keep!), at a considerable discount, from reputable sites and sellers on the internet.  Then, get some Seche Restore nail polish restorer, and your collection of polishes will last for years and years.
Are you sure you want to delete this comment?
fashion: trends & must-haves for your wardrobe
Ready to refresh your hair and makeup for spring? Well, look no further for your latest batch of inspiration. These ladies are bringing the beauty brilliance with megawatt lipstick shades, sleek haircuts, and must-try hair colors. Get ready to play copycat.

Long, layered, medium or wavy – we're sharing our favorite hairstyles of 2013 with a new 'do each day. Stuck in a hair rut? Check back daily for snappy new looks that are sure to give your locks some beauty inspiration.

Step into spring with style in June Ambrose's new shoe line for HSN.

Revamp your corporate look with graphic prints and bold color.

If you have only five makeup tools in your kit, make sure these are them. They do much more than just look cute on your vanity!

Think all it can do is shellac everything down, helmet-head style? So wrong! A can of whatever's in your cabinet is your secret beauty weapon. Try it like this.

You may not get wrinkles on your hair, but it ages all the same. Grays, dullness, thinning strands, and frizz are all (unfortunately) part of the hair's aging process, which starts happening in your 30s. The good news is that you don't need Botox to fix these problems. Here are six tips for hair that's shiny, bouncy, healthy—and, yes, younger looking.

Our fashion-savvy FLOTUS shows us she is truly a master at mixing high- and low-end designs.

Get ready for summer with these cute and easy to DIY nail art designs.

Brides, it's your big day and you want to look special. Please, whatever you do, don't wear one of these wedding dresses. These are truly the worst.

Even if you're the best friend of all time, no bridesmaid should ever have to wear these worst-ever bridesmaid dresses. Lace, ruffles and satin overload!

As your face changes, so should your hair—the right cut can shave years from your appearance. And while there's no such thing as an age-appropriate length, there are age-appropriate styles. Here, the 30 most gorgeous hairstyles for every age, as seen on Mila Kunis, Jessica Biel, Jennifer Aniston, Diane Keaton, and more.