Would you ever rent nail polish?
Now, you can with Lacquerous.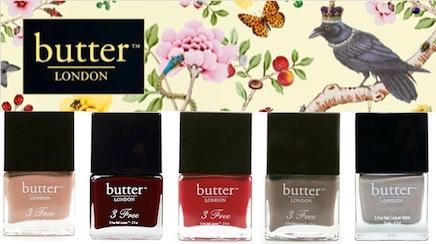 by
Nikki Ogunnaike
,
Glamour Magazine
Have you ever wanted to try a nail polish color from a high-end brand like Chanel, Dolce & Gabbana, Tom Ford or NARS, but don't want to splurge on a whole bottle? Now, you can with Lacquerous, an online service that lets you rent nail polish bottles for a monthly fee.

Related: 60 Winter Nail Polish Ideas

Here's how it works: Log in and pick your favorites to add to your Lust List. For $18 per month you'll receive your choice of three colors.
Related: 11 Fall Hair and Makeup Looks You'll Love

Use the polish for three applications throughout the month and once your time is up, send them back to Lacquerous with the prepaid return packaging label. Sounds a bit like a Rent the Runway for nails, right? What do you guys think? Will you give Lacquerous a try? Let me know in the comments!

Bing: News about Lacquerous

Photos: Courtesy of Glamour

More from Glamour:
Cute Boots for Every Budget
What to Wear to Work This Fall
30 November Outfit Ideas


As someone who's worked in the beauty industry (hey, don't judge!, cutting hair is a great way to work through college)... that would be an unequivocal, NO!  I would NEVER rent nail polish or any other cosmetic!
They say, "The practice is identical to what most people experience in a traditional nail salon, where the staff shares polish among clients who are getting manicures and pedicures."
But --beside the fact that most people I know actually buy the (NEW) bottle of polish that's used for their service-- in a salon setting, the communal polish is applied IMMEDIATELY following a sanitizing footbath or hand soak, by a knowledgeable technician who keeps control of the bottle.  Not so with the rented polish!
And then they say, "Bacteria can't live for long in a bottle of nail polish. You are probably more likely to get an infection in the salon itself," and the article adds "Many nail polishes contain toluene and formaldehyde, which will do a number on germs inside a bottle." 
But, the high end polishes they are dealing with are 'Big Three Free' polishes, meaning they are free of the harmful chemicals tolulene, formaldehyde and dibutyl phthalate. So, yes, many polishes contain tolulene and formaldehyde... but not the brands of polish they are renting out.
When you want to test polish at the store, they usually bring out a piece of cello tape to brush some on... there is a reason for this!
Besides, for $18 a month you can start building up your very own collection (to keep!), at a considerable discount, from reputable sites and sellers on the internet.  Then, get some Seche Restore nail polish restorer, and your collection of polishes will last for years and years.
Are you sure you want to delete this comment?
beauty tips and style advice
The wedding dresses on the spring 2015 runways were beautiful, breezy, and fresh—just like a breath of warm spring air. No matter where or when you'll say your vows (or how big or small your budget is), your dream wedding dress is just a few clicks away.

The results were crazy awesome.

There are no bad bodies, just bad jeans! Consider your denim problem areas solved (thanks to our 50-pair editor try-on).

Mascara wands are getting fatter, but that may not help your lashes. There's a better way to gain weight.

Three summers ago, I bought a pair of soft, white-calfskin Chanel loafers. I spent months trying to keep them pristine, but it wasn't long before a July thunderstorm left them and me soaked. I began steeling myself for what I thought was inevitable: a solemn drop in the trash. But once the loafers dried, I found the shoes' stained stitching—now storm-cloud gray—was lovely and a few new wrinkles in the leather were charming, like smile lines for shoes. I started to wear them freely—taking on puddles and tossing them onto the sand at the beach—and before long, they transformed. The roughened toe-tops reminded me of a welcoming, worn armchair, and a wet-and-hot summer had molded the material perfectly to my feet.

When the clock's ticking, digging though every compact in your bathroom is an exercise in frustration. What you need is one simple bag with a selection of products that help you pull yourself together as quickly as possible, at home or on the road. In it:

You know the freshly scrubbed, athletic look that defines American beauty? Turns out it's been centuries in the making.

According to Hollywood's top hairstylists, celebrity clients get sticky fingers when it comes to these no-fail products.

The American company that helped to popularize the shapewear trend has moved into the world of denim with a new jeans collection.

What to wear and what to avoid the next time you attend a wedding.

Want the most gorgeous hair of your life for your wedding day? Of course you do. Hairstylist Jen Atkin shares the top mistakes brides make that are getting in the way of that picture-perfect bridal hairstyle

So there are fashion mishaps. And then, there is the catastrophe known as....camel toe.