Would you ever rent nail polish?
Now, you can with Lacquerous.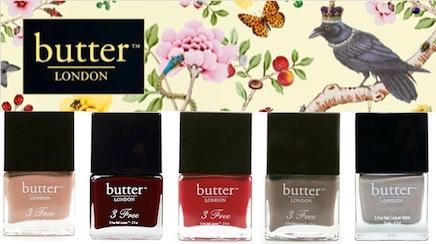 by
Nikki Ogunnaike
,
Glamour Magazine
Have you ever wanted to try a nail polish color from a high-end brand like Chanel, Dolce & Gabbana, Tom Ford or NARS, but don't want to splurge on a whole bottle? Now, you can with Lacquerous, an online service that lets you rent nail polish bottles for a monthly fee.

Related: 60 Winter Nail Polish Ideas

Here's how it works: Log in and pick your favorites to add to your Lust List. For $18 per month you'll receive your choice of three colors.
Related: 11 Fall Hair and Makeup Looks You'll Love

Use the polish for three applications throughout the month and once your time is up, send them back to Lacquerous with the prepaid return packaging label. Sounds a bit like a Rent the Runway for nails, right? What do you guys think? Will you give Lacquerous a try? Let me know in the comments!

Bing: News about Lacquerous

Photos: Courtesy of Glamour

More from Glamour:
Cute Boots for Every Budget
What to Wear to Work This Fall
30 November Outfit Ideas


As someone who's worked in the beauty industry (hey, don't judge!, cutting hair is a great way to work through college)... that would be an unequivocal, NO!  I would NEVER rent nail polish or any other cosmetic!
They say, "The practice is identical to what most people experience in a traditional nail salon, where the staff shares polish among clients who are getting manicures and pedicures."
But --beside the fact that most people I know actually buy the (NEW) bottle of polish that's used for their service-- in a salon setting, the communal polish is applied IMMEDIATELY following a sanitizing footbath or hand soak, by a knowledgeable technician who keeps control of the bottle.  Not so with the rented polish!
And then they say, "Bacteria can't live for long in a bottle of nail polish. You are probably more likely to get an infection in the salon itself," and the article adds "Many nail polishes contain toluene and formaldehyde, which will do a number on germs inside a bottle." 
But, the high end polishes they are dealing with are 'Big Three Free' polishes, meaning they are free of the harmful chemicals tolulene, formaldehyde and dibutyl phthalate. So, yes, many polishes contain tolulene and formaldehyde... but not the brands of polish they are renting out.
When you want to test polish at the store, they usually bring out a piece of cello tape to brush some on... there is a reason for this!
Besides, for $18 a month you can start building up your very own collection (to keep!), at a considerable discount, from reputable sites and sellers on the internet.  Then, get some Seche Restore nail polish restorer, and your collection of polishes will last for years and years.
Are you sure you want to delete this comment?
beauty tips and style advice
Even if everyone at school will be rocking their most festive shades of emerald on March 17, you don't want to end up looking like a Leprechaun in head-to-toe green.

How to dress your baby bump.

Things we learned backstage at the fall 2014 runway shows: Bold brows aren't going anywhere, bright green can actually look subtle, and glitter is amazing almost anywhere (within reason). Here, our favorite makeup looks of the season so far.

The fall runways showcased a broad range of hairstyles—braids, buns, ponytails, and even wigs. But there were unifying themes, too: A pervasive sense of ease; experimentation with texture; and an apparent belief that anything goes.

It's not always about the ladies of style. Check out these fashion icons.

Do you hear that? It's the sound of hundreds of cover bands beginning to tune their guitars and trying to remember the lyrics to "Shout." Ladies and gentlemen (but mostly ladies), it's nearly wedding season.

So, it hasn't snowed in nearly a week—does that mean it's summer yet? Well, almost. But alas, just because you're confident setting aside your trusty Sorel boots unfortunately doesn't mean you get to hop right into an itsy-bitsy-teenie-weenie yellow polka dot bikini just yet. Unless, of course, you're headed somewhere tropical in the next few weeks (lucky you!) and really do need to stock up on sexy swimsuits right now.

Getting away from it all for a bit? Your vacation wardrobe should be just like your plans: laid-back but totally fabulous. Take a cue from these celebrities, whose low-effort, high-style outfit ideas are officially on our must-copy list.

These fun and flattering vintage-style suits blend the best of the old with the best of the new.

Although it's not officially spring yet—the best time to start shopping for warm-weather clothes is now, while stores still have a good selection. Waiting until it's actually balmy enough to go bare-legged and short-sleeved leaves far too many factors to chance: what if your size sells out? Or the wrong color is left? And let's not forget about gross makeup stains from 10 other people trying it on!

From patriotic bikinis to retro two pieces, these celebs' stylish swimsuits will have you counting down to beach season! Check out your favorite stars rocking the hottest swim trends!

Neutral tones and beautiful metallics were a huge trend on the Oscars red carpet. And we saw so many dresses that would be exceptionally beautiful walking down the aisle. Here are our favorites!