Would you ever rent nail polish?
Now, you can with Lacquerous.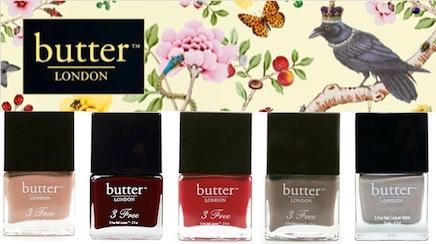 by
Nikki Ogunnaike
,
Glamour Magazine
Have you ever wanted to try a nail polish color from a high-end brand like Chanel, Dolce & Gabbana, Tom Ford or NARS, but don't want to splurge on a whole bottle? Now, you can with Lacquerous, an online service that lets you rent nail polish bottles for a monthly fee.

Related: 60 Winter Nail Polish Ideas

Here's how it works: Log in and pick your favorites to add to your Lust List. For $18 per month you'll receive your choice of three colors.
Related: 11 Fall Hair and Makeup Looks You'll Love

Use the polish for three applications throughout the month and once your time is up, send them back to Lacquerous with the prepaid return packaging label. Sounds a bit like a Rent the Runway for nails, right? What do you guys think? Will you give Lacquerous a try? Let me know in the comments!

Bing: News about Lacquerous

Photos: Courtesy of Glamour

More from Glamour:
Cute Boots for Every Budget
What to Wear to Work This Fall
30 November Outfit Ideas


As someone who's worked in the beauty industry (hey, don't judge!, cutting hair is a great way to work through college)... that would be an unequivocal, NO!  I would NEVER rent nail polish or any other cosmetic!
They say, "The practice is identical to what most people experience in a traditional nail salon, where the staff shares polish among clients who are getting manicures and pedicures."
But --beside the fact that most people I know actually buy the (NEW) bottle of polish that's used for their service-- in a salon setting, the communal polish is applied IMMEDIATELY following a sanitizing footbath or hand soak, by a knowledgeable technician who keeps control of the bottle.  Not so with the rented polish!
And then they say, "Bacteria can't live for long in a bottle of nail polish. You are probably more likely to get an infection in the salon itself," and the article adds "Many nail polishes contain toluene and formaldehyde, which will do a number on germs inside a bottle." 
But, the high end polishes they are dealing with are 'Big Three Free' polishes, meaning they are free of the harmful chemicals tolulene, formaldehyde and dibutyl phthalate. So, yes, many polishes contain tolulene and formaldehyde... but not the brands of polish they are renting out.
When you want to test polish at the store, they usually bring out a piece of cello tape to brush some on... there is a reason for this!
Besides, for $18 a month you can start building up your very own collection (to keep!), at a considerable discount, from reputable sites and sellers on the internet.  Then, get some Seche Restore nail polish restorer, and your collection of polishes will last for years and years.
Are you sure you want to delete this comment?
beauty tips and style advice
We caught up with the new mommy to find out the trick to keeping her makeup on point—even when she's not in front of the cameras.

Kristen Stewart is known for her casual style, both on and off the red carpet

You can rent a couture dress or a designer bag, but would you rent hair extensions?

To get the scoop on quick office party beauty tricks, we turned to Landy Dean, celebrity makeup artist at Marie Robinson salon. His simple tutorial requires only a handful of products, starting with the darkest, inkiest eyeliner you can find. Dean swears by the Nars Larger Than Life liners smudged over the waterline and lashline, topped off with a few coats of Maybelline The Falsies mascara. Before you dash off to apply product, there's one small step that involves removing makeup. "If your foundation and concealer have caked or creased, I recommend a quick removal with a cleansing towelette and a redo to avoid heavy looking skin," he cautions. For those who would prefer to go the easy route, apply a hydrating moisturizer using a stippling motion and a sponge. Finish the look with a dusting of BareMinerals Mineral Veil—"this will even out discolorations and give a reflective finish that still looks natural"—swap your work bag for a chic clutch, and get ready to ring in the season.

Here's something to brighten up your Tuesday afternoon: The brilliant minds at Moschino have always been masters at combining fashion and whimsical, quirky humor—and this season, they've gone and outdone themselves.

It's looking to be a winter wonderland out there today and that means extreme sweater weather.

Check out these mind-blowing runway photos.

Click to see 10 must-have hair tools to streamline your beauty routine.

See 9 of the prettiest holiday hair accessories for the holidays.

Here's how to choose the neckline style that looks best on you.

This season, let your nails be as merry—and bright—as your mood.

Sure, a little black dress or le smoking is always on par for the party scene, but who says holiday dressing has to be so cut and dry? We have 15 ideas for switching it up this season—getting festive just got a whole lot more fun.