Miley Cyrus says she learned everything she knows about fashion from Marc Jacobs
As controversial as her image currently is, Miley Cyrus isn't messing around when it comes to fashion and style.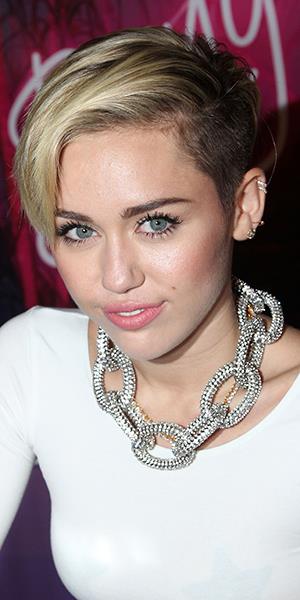 Believe it or not, Cyrus credits the evolution of her post-Hannah Montana look to none other than Marc Jacobs.

"I work a lot with Marc Jacobs," she tells Hunger TV. "He kind of brought me into fashion like when I was 16; that was when I started being around him and just learning from him. He kind of let me inspire some of his pieces, and now I feel like it's just having the right people around you."
More from Glamour: 25 celebrity hairstyles that make you want bangs

In fact, Cyrus draws an analogy between Jacobs' independent spirit and her controversial "Wrecking Ball" music video.
"There are parts of it that of course are for a mature audience, but there's something kind of immature about it because the party's so ridiculous," she explains.
"It has to be sexy and strong and that's what I feel like with fashion; I feel like Marc does that so well."

As for juxtaposing soft and sweet against licking machinery, Cyrus says that people shouldn't take things so literally—or seriously.
"There's definitely something amazing about being so ladylike yet being so punk and that's kind of more of what I am, even if I'm wearing things that aren't," she says. "I like having this punk feel about it even if it's, like, Louboutin. You've got to find the right designers that know how to mix."

More from Glamour: 8 hair color ideas to try this fall
Guess what other designers Cyrus has recently worked with: the Opening Ceremony crew at Kenzo!
"When I was in Paris working with Kenzo, that's something that they do really well there too," she says. "Like fashion and everything else, it doesn't need to be so serious. People take it too seriously; it's supposed to be self-expression and how you want people to see you.
"I read that 80 percent of what people think about you is made off the first 10 seconds they meet you and you look at someone and you say, 'are they competent, are they this, are they that?'" she says. "And for me if that's what people are looking at for the first 30 seconds they see me, they're going to think they know who I am—so I want you to take in everything and I want everything to be representing who I am."
More from Glamour:
10 wardrobe essentials every woman should own 
8 workout moves for a toned body in two weeks 
10 prettiest hair, nail and makeup looks for fall 2013 
10 things he's thinking when you're naked

What do you think about Miley Cyrus' fashion choices? How have you seen Marc Jacobs' and Kenzo's influences play out in her style evolution over the past year? Tell us in the comments, please!
beauty tips and style advice
Once the summer heat kicks in, it's all we can do not to slip into the breeziest beach dresses and flip-flops for the morning commute. So trust us when we say we understand that the humidity can have a powerful effect on your wardrobe — still, there are some things you just can't wear to your place of employment, no matter how hot it gets.

Wrinkle no blouse, tangle no jewelry, leave no beauty product behind, and still have room to spare.

Hue-changing dos we absolutely love.

Why your jean size varies from store to store.

Wait a month between waxing visits? Check. Pop a preappointment Advil? Duh. We all know the basics, but here are the tricks you don't know.

What to always—and never, ever—do to keep hair in top shape.

Get inspired to try these sweet and summery looks.

Stunning wedding styles that create a statement.

I attended the Abercrombie and Fitch holiday-season press preview yesterday, and in between checking out the cute gear that will hit stores this November, I picked up a little nugget of information I just have to share.

How to wear this cool-weather staple in the summer.

See how Miranda Kerr made a pair of Birkenstocks chic.

We love how a new nail polish has the ability to instantly change your look and your mood with a simple swipe. While happy lime greens and aquas are ruling the five million #nailpolish Instagrams this summer, there are a variety of great colors to choose from—whether you want an office-appropriate neutral or a fun going-out shade that'll give your LBD a punch of color.