Hot trends in wedding food
We're one week out from Sierra and Andre's wedding day -- and The Knot Dream Wedding menu is set!
I've been busy at Chandelier Events collaborating with the culinary geniuses at Celsius, our reception venue at Citi Pond at Bryant Park, on a modern winter menu that takes a cue from the snowy season. 
From frost-themed cocktails to whimsical inspirations, our cool menu will give guests a toasty experience. Following a rink-side cocktail hour featuring libations and passed hors d'oeuvres, guests will be welcomed to their seats with an Iceberg Salad featuring crisp iceberg lettuce topped with pancetta, mixed heirloom tomatoes and creamy agave mascarpone blue cheese. An enticing Winter Steak & Potato entree will include an espresso-rubbed flatiron steak served with potatoes confit and tomato fondue. And we'll cap it all off with a wedding cake by Ana Parzych Cakes and solstice-inspired sweets like s'mores and hot chocolate! (I'm getting hungry just thinking about it all -- aren't you?!) 
When considering your menu, curate it with dishes that speak to your shared passions, the location, the time of day, the season -- and, of course, your theme! Hosting a Romantic Russian-inspired gala in a ballroom? Caviar and vodka are must-haves for your menu. Getting married by the sea on a summer weekend? Fresh-caught fish grilled and served family-style would be fitting.
Here are some of the hot trends in wedding food -- will they be on your menu?
The brunch reception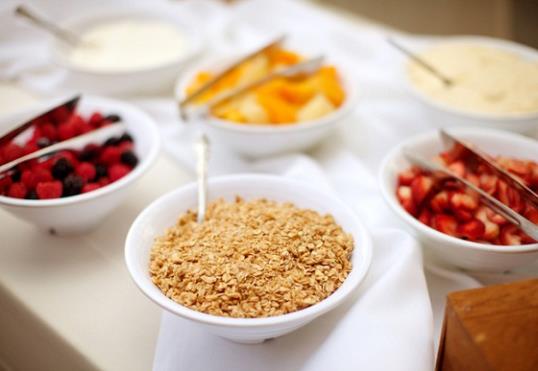 Photo: Katelyn James / The Knot 
Evening weddings have long worn the hallmark of sophistication and glamour -- but a delicious daytime fete can be just as winning. Many a celebrity has chosen an elegant wedding brunch in lieu of a traditional nighttime bash. Channel your inner laid-back sophisticate and think brunch-time bites. Serve mini frisee salads with a farm-fresh egg on a spoon, or gourmet French toast accompanied with champagne cocktails and juice blends. Guests can choose from artisanal cheese displays, scones, deluxe breads and even deviled eggs (yes, they're making a comeback too!). The trick is to have fun but keep it fancy. Bagels and lox only have a place at a wedding brunch reception if they're rethought in a stylish way (like shrunk down to the size of your thumb!).
Food pairings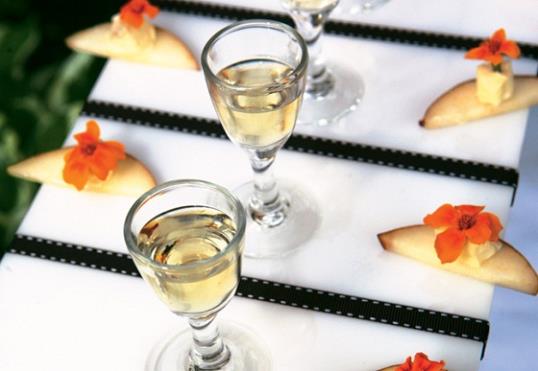 Photo: Barnaby Draper Studios  / The Knot
Some things just taste better together: mini tacos and tequila. Caviar and creme fraîche with a shot of vodka. Braised short ribs and a shot of Guinness. A mini slider and a glass bottle of Coke. A tiny baked Brie paired with a gorgeous vino. When selecting your canapes and menu items (even desserts), always consider a dish's companion spirit. Make your union memorable by working with your chef to create pairings throughout the night -- guests will find it exciting to see what you've dreamed up! 
Go local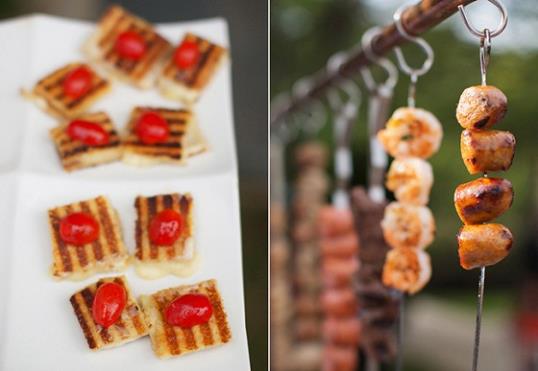 Photo: Jonathan Young Weddings / The Knot
Farm-to-fork continues to be a hot trend at weddings -- and it's no wonder! With so many fresh, local ingredients to choose from, locavores can be sure to have a divine dinner on their wedding day. I often work with local inns to cater weddings -- and even when working with a traditional wedding venue, I'm not afraid to push the envelope and ask whether the chef can use ingredients from a local farmers market to create their menu. Chefs often jump at the chance to pull fresh food from nearby locations! On the menu card (I like to have one at each place setting), include the name of the local ingredient, such as a "Stack of Lucky Farm Heirloom Tomatoes & Fresh Mozzarella" or "Union Square Farmers Market Berry Medley served with a dollop of whipped cream and fresh mint."
Serve it family-style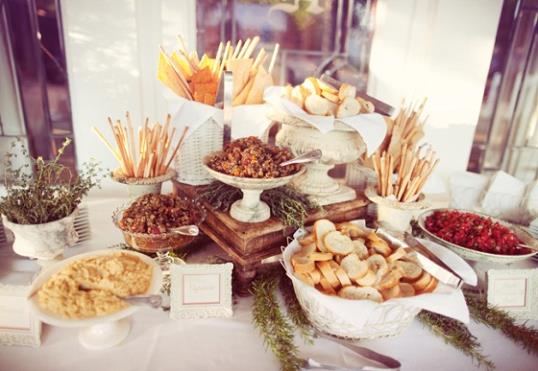 Photo: Anne Marie Photography / The Knot
Opt for food service that creates conversation! Family-style service, where larger trays and casseroles are shared amongst guests, is an amazing way to create an intimate feast. Whether you embrace the trend by serving your entire meal family-style or choose to infuse the idea into a moment, such as shared appetizers and salads when guests take their seats, this is a special way to have each and every guest feel as though they're sitting at a table in your home. Or consider having shared sides to accompany each guest's individual choice of entree -- I've served cauldrons of bubbling mac 'n' cheese, fresh summer tomatoes tossed in extra-virgin olive oil, and even pomme frites (fancy French fries!) with dipping sauces. And for dessert, do it up with platters to share. Think: mini pastries and doughnuts piped with fresh fillings like peanut butter and jelly and sea-salt caramel. Yum!
What will you be eating as you watch Sierra and Andre say "I do"? Join us during your lunch hour next Thursday, February 14, at noon EST to watch The Knot Dream Wedding. Bon appetit!
More from TheKnot.com:Secrets to a Fun Wedding Reception!
About Amy Shey Jacobs:
As the founder of Chandelier Events, celebrity wedding planner Amy Shey Jacobs has thrown one-of-a-kind celebrations for A-listers and brides alike. Known for her creative approach to planning and her relationships with top industry professionals, she's now teamed up with The Knot to help plan every detail of its ultimate dream wedding in New York City. Each week until the February 14 fete, she'll give you a behind-the-scenes look at all that goes into the planning, including insider tips and more!