6 secrets for surviving football season
Easy tips for getting through your least favorite time of the year.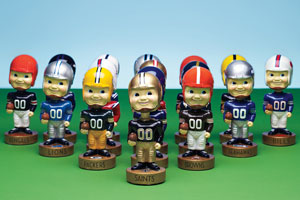 Hate football, or your partner's team? With the NFL preseason just beginning, follow our advice to make sure your relationship makes it to the
Super Bowl
.
Tackle a project
Closet need
reorganizing
? Paint chipping in the bathroom? Now's the perfect time to get started on those indoor tasks you ignored all summer when you were too "busy" bumming it poolside. Sure, it's not super-cool that you're breaking a sweat while your boyfriend yells, "HE WAS WIDE OPEN!" as he stuffs his face with Doritos, but it's better than sitting there next to him and pretending you care, right? Plus, he'll owe you a favor after he sees your handiwork (read: You can nag him about
cleaning
the gutters).
Do a coin toss
Sundays can get ugly when you've both put on your team's jerseys and are ready to watch them play, only to find out both games are on at the same time. If you want to spend the day together instead of watching in separate rooms, the only fair thing to do is flip a coin. Winner gets to watch their team's kick-off — then switch between channels every 10 minutes so you each get some game time. Another option: Alternate weeks so you each get a chance to watch some uninterrupted games.
Draw a line of scrimmage
Make a deal when Sunday or Monday rolls around: He gets the big screen in the living room if – and only if – his favorite team is playing. For all other games, he has to watch in the bedroom or the basement — wherever the TV is smaller and the sound doesn't shake your whole house. That way, you get to watch the shows you recorded during the week and get a reprieve from blasting speakers that make your pad feel like a stadium.
Call interference
How come every time your team is playing, your partner informs you that you're already booked for a brunch, lunch or dinner date with your best couple pals, but suddenly weekends are free and clear when his team is on? Play fair by running all Sunday and Monday plans by each other, or at least check both of your teams' schedules before saying yes when your friends ask you to hang out.
Enlist special teams
Here's a crazy idea: Get out of the house. Round up your girlfriends, many of whom are probably itching for some football freedom themselves, and do something fun together, like hiking at nearby trails or testing out new restaurants you've never been to before. By the time you get home, you'll be too tired to fight over the remote and, better yet, in a good mood.
Keep it clean
It's OK to fight playfully about bad calls that favored the other person's team and tease each other with every missed field goal, fumble and interception. But keep the trash talking in the living room and limit it to game time. And ladies, you can comment on the prowess of your team's tight end, but not on the hotness of Tom Brady's tight end. Got it?
More from The Nest:
How to Be a Better Spouse
Find Out if You're Ready for a Baby
Watch Other Couples Duke It Out
Photo: Levi Brown / The Nest

Better yet, marry someone who doesn't waste massive amounts of his / her time on something that has no benefit to your household.  There are far more productive ways to spend your life than being an armchair quarterback, as if all their screaming and cheering at the TV has any impact on the outcome of the game.
Are you sure you want to delete this comment?