Saddest celebrity splits of 2012
Find out which breakups (almost) led The Married Chick to tears.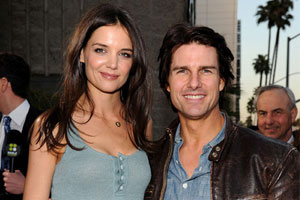 Some of my favorite Hollywood stars experienced dramatic changes in their love lives this past year, from Justin Timberlake finally saying "I do" to longtime girlfriend Jessica Biel to Brad and Angie's engagement. But despite these happy events, there were some high-profile splits that left me heartbroken. Check out this roundup from The Nest of celeb relationships they wish could have lasted. (Time to get out the tissues and a pint of Ben & Jerry's!)
Tom Cruise & Katie Holmes
Although we weren't exactly surprised when news broke of their split, we were definitely bummed -- for a while there, it seemed like TomKat would make it work!
Will Arnett & Amy Poehler
Our favorite funny couple amicably parted ways after nine years of marriage.
Peter Facinelli & Jennie Garth
Our hearts broke when we found out the Twilight star and Beverly Hills, 90210 actress were divorcing after 11 years together.
Johnny Depp & Vanessa Paradis
While Depp and Paradis weren't married, the longtime duo called it quits after nearly 14 years.
Emily Maynard & Jef Holm
Let's be honest: Is anyone really ever surprised by a Bachelorette split? Either way, we were rooting for Emily to find love again.
Danny DeVito & Rhea Perlman
After three decades together as man and wife, DeVito and Perlman called it quits in October.

Chris Harrison & Gwen Jones
You would think that the host of The Bachelor would have a strong union, but sadly, these two split after 18 years of marriage.
Zooey Deschanel & Ben Gibbard
It was a quirky match made in heaven -- until it was no more. The actress and her singer husband separated after only two years of marriage.
Adam Levine & Anne Vyalitsyna
The Maroon 5 front man was apparently blindsided when his model girlfriend of two years publicly announced their split.
Taylor Swift & Conor Kennedy
Oh, Taylor. Eighteen-year-old Conor should've been warned about the songstress from the start: She'll break your heart...and then write a song about it.
Tina & Joe Simpson
Parents to Jessica and Ashlee, Joe and Tina announced their divorce after 34 years of marriage.
Kristen Stewart & Rob Pattinson
It was the cheating scandal heard round the world. Thankfully, these two lovebirds didn't stay apart for long, reuniting just a short time later.
Dennis Quaid & Kimberly Buffington
After eight years and two children with Buffington, Quaid filed for divorce in early December
Mayim Bialik & Michael Stone
Best known for her fame on Blossom, Bialik split from her husband of nine years in November.
Kimora Lee Simmons & Djimon Hounsou
After five years together and months of rumors, Simmons and Hounsou put an end to their relationship just last month.
Jennifer Lopez & Marc Anthony
Lopez's split from Anthony marked her third divorce, yet the singer claims she still believes in happily every after.

Are there any couples that were missed?
Bing: Which TV star is recently engaged?
More from The Nest:
How to be a Better Spouse
Tips for Avoiding the Newlywed Nine
Sex Moves That'll Change Your Life