'I Love You' In the Digital Age
A new study shows that technology is dehumanizing relationships. And this is news?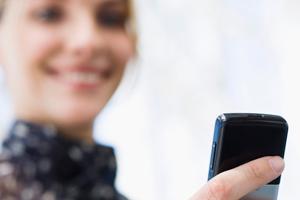 According to a report called The Psychology of SMS, women are more likely to say "I love you" via text message. I'll be the first to say that I'm addicted to texting. But when I met my husband, I didn't really text as much as I do now. So, of course, our first "I love you"s were the face-to-face kind. We argue about who said it first (it was me), but it was definitely an in-person proclamation.
When I read about this study, I wasn't surprised at all. But as a true romantic (not a hopeless one; a hopeful one!), I was saddened. Mainly because I know that digital communication is well on its way toward replacing genuine, heart-thumping, palm-sweating human love interaction. I can remember long phone calls with my high school boyfriend. I lived for nights when I'd stay up past midnight, chatting with him about everything under the sun, hanging onto his every word. My kids will probably live this experience via IMs and text messages, typed at about 200 wpm! What's the heart-thumping, adrenaline-pumping pleasure in that? I can see setting up plans or sharing gossip via text, but saying "I love you?" It can't possibly have the same impact when you're reading it for the first time on your PDA (pun intended).
What do you think about the trend toward professing your love via text: upsetting or inevitable?
More from The Nest:
Photo: Thinkstock / The Nest