8 celeb couples who should never get back together
These famous former match-ups prove that some things shouldn't last forever.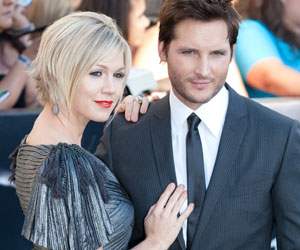 Who says royal love can't be
rekindled
? If you believe the recent buzz, Prince Andrew and Sarah Ferguson, who divorced in 1996 after a decade of marriage, may be getting back together. Here's to hoping the Duke and Duchess of York make it work, if the rumors are true –  without inspiring certain
celeb couples
to rekindle their past relationships. (Hey, there's a reason you guys split up in the first place.) See below for the worst-ever
celeb match-ups
:
Kristen Stewart and Robert Pattinson
Ah, K. Stew and R. Patz. The crabby couple. Pouting partners. Scowling soul mates. Whatever you call them, this young and in love duo looked downright miserable together.
Brad Pitt and Jennifer Aniston
OK, OK, we'll admit this breakup still brings us to tears. But if it weren't for their split, there would be no Brangelina. And everyone knows that without Brangelina, the world would come to an abrupt halt. Right?
Avril Lavigne and Brody Jenner
The quasi-Kardashian otherwise known as Brody Jenner really surprised us when he first went public with Avril Lavigne in 2010. They split two years later and Lavigne eventually married fellow Canadian rocker Chad Kroeger, yet we still cringe at what life would be like if she had joined the Kardashian clan.
Jake Gyllenhaal and Taylor Swift
The main reason we never, ever want to see these two back together? Their couple name is just plain gross. Swiftenhaal? No thanks. We'll have some Bennifer, please.
Samantha Ronson and Lindsay Lohan
Between rehab, drugs, an Oprah intervention and more rehab, the last thing LiLo needs is a relationship.
Jennifer Lawrence and Nicholas Hoult
These two recently rekindled their love while filming the "X-Men" sequel, but we can't say we approve. C'mon, JLaw. You just won an Oscar and he just starred in that
I-don't-have-to-see-​it-to-know-it's-bad
movie. What's wrong with this picture?
Ryan Phillippe and Reese Witherspoon
They were easily the best-looking couple of the '90s until their ugly split in 2006. Three words: Too. Much. Ego.
Selena Gomez and Justin Bieber
This on-and-off pair reminded us just how cute young love is. That is, until Bieber refused to grow up. We suggest Gomez take her friend T. Swift's advice by kicking Bieber to the curb. Again.
More From The Nest:
Tips to Insure Your Future
The Best-Ever Relationship Advice
How to Be a Better Spouse
Photo: Shutterstock