4 Divorce Lessons I Learned From Katie Holmes
Hopefully I'll never need them.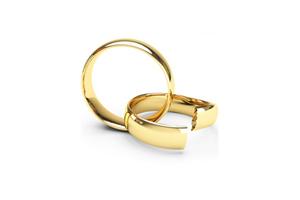 All the coverage about Katie Holmes's covert plans to make a clean break from Tom Cruise leaves me sad...but also quite impressed. Reports of swapped out cell phones, disposable laptops and a secret move to an apartment in New York City -- apparently this is what it took to escape the grips of her controlling marriage. 
It's hard enough to come to terms with the end of a marriage, but thankfully, most of us don't have to struggle to this degree. That said, if I ever do find myself in the depths of despair and desperate for a way out of my union (knock on wood, we're doing great!), here are the top four things I'll take away from Katie Holmes's separation scheme -- plus some advice from an actual lawyer, of course.
1. Knowledge is power.
"At the
first signs of discomfort in a marriage
, you should consult a divorce attorney," says Lubov Stark, founder and principal of Lubov Stark LLC. In Katie's case, it involved consulting her attorney dad and possibly recruiting a publicist and some private security to set her plan in motion. For the rest of us, one trusted attorney should do. 
2. Get your finances in order.
"The first step is awareness," says Lubov. "Collect your tax returns, 
a list of monthly expenses
and insurance bills." If I were married to a multimillionaire like Katie is, though, I'd have probably signed a prenup, which complicates things. But if I were Katie, I would also have a boatload of my own money, so it wouldn't be an issue. 
3. Don't rush the process. Lubov gives this sound advice, and it seems Katie is in accordance. Reports that she'd been planning her undercover escape while on a recent trip to China prove that the wheels had been in motion for a while. Seems Katie knows that only fools rush in -- and out! 
4. Remain calm.
"In order to stay in control, schedule a regular exercise routine, see a mental health professional and
rely on friends and family for support
," says Lubov. No word on whether Katie is following the first two bits of advice (unless
paparazzi-documented​
trips to Whole Foods count as exercise), but she seems to be spending more time with friends and family -- a departure from the isolated existence she seemed to be living prior -- and most reports say her attitude is upbeat and remarkable! 
More from The Nest: 
Photo Credit: Shutterstock