One More Reason to Put Off Being Parents
New research suggests older moms have healthier children.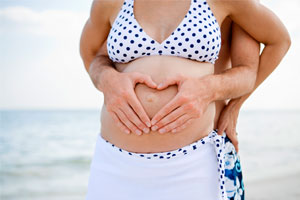 Does it seem as though you're the last of your friends to have (or even think about)
children
? If you and your husband are putting off the whole parent gig, rest assured knowing new research is in your corner.
A
recent study
says that children born to older mothers are less likely to develop diseases as they age. For the study, researchers compared the health of 18,000 adults born to women of two age ranges: 25 to 34 years old and 35 to 44 years old. After 10 years of evaluation, the researchers found that children born to mothers over 35 were just as healthy as their counterparts.
Lead researcher Mikko Myrskylä of the Max Planck Institute for Demographic Research in Germany notes that while older mothers do have a higher risk of miscarriage, they are not at higher risk for carrying diseases. I find this particularly interesting, since the older moms I know are often considered high-risk during pregnancy and worry about how their age could affect their babies. And another recent study suggested that babies born to older dads were more likely to have autism and other diseases.
"With respect to adult age, early births appear to be more dangerous for children than late ones," Myrskylä says.
Well, my ovaries just breathed a sigh of relief. Like other women, I'm well aware — and constantly reminded — of my ticking maternal clock. While I'm not currently pushing my time limits, it's nice to know that the health of my future child isn't in jeopardy if my husband and I choose to wait a few years
before having kids
. This just means that we have plenty of time to remain in our newlywed stage, without it being tainted by dirty diapers.
Several friends of mine claim they want to be mothers in their 20s in order to meet the physical demands of keeping up with a small child. I disagree, especially since my
parents
had me at 35 —  nearly 12 years after they got married. Trust me, while I excelled in my role as a screaming ball of energy, in no way was my mom wheezing in my wake.
Are you and your husband waiting to have kids? What do you think about this research?Plus more from The Nest:
Money-Saving Tips for Two
Find Out if You're Ready for a Baby
The Most Practical Relationship Advice, Ever!
Photo: Thinkstock