Did You Have the Post-Wedding Blues?
And what did you do about 'em?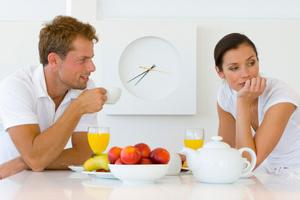 Over at The Nest, the editors were discussing post-wedding blues. You know, the come-down after the build-up of your big day. Plenty of brides feel down after a wedding. It's totally normal, and not indicative of the state of your relationship (it's hard to believe some women actually feel this way!). It's like, you're putting so many expectations, so much planning, so many resources into this one big day, and then  -- bam! – it's over. You're no longer a bride. Wa-wah.
But ladies, you're now a wife! It may not be as glamorous as being a bride. You may not prance around the kitchen in a gown or vacuum in a veil. You and your husband may not have champagne toasts and three-tier cakes at dinner each night. But this husband and wife thing – this is the real celebration! Weddings are huge, yeah, but there are so many other huge things! In fact, experts recommend a quick fix for getting over the post-wedding blues is to focus on the next big thing. A second honeymoon? The house of your dreams (and decorating it!)? Getting a dog? Getting preggers??  The milestones just keep comin'.
In the immediate future – you know, while you're saving for that next big thing – look at this as your time make up for all those fights you got into while planning the wedding (not all of you, but c'mon, a lot of you! I know we did!), and have lots of breakfasts in bed, movie nights, full-day sex sessions (you're newlyweds!) – you know, all those bonding experiences to remind you why you had a wedding in the first place.
And most of all, if you're having the post-wedding blues, don't beat yourself up over it. There's nothing wrong with you. Full disclosure: I stayed in bed for two days after my wedding, watching Netflix. I didn't even want to look at my own wedding pictures because it made me sad that the day was over. I gave myself five days tops. And then it was back to reality: I was (am) married to the man of my dreams. Yeah, he leaves his wet umbrella on the floor and doesn't change the empty toilet paper roll. But this is the thing I really dreamed about. Not the wedding – the happily ever after. Now that's cause to celebrate!
More from The Nest:
Photo: Thinkstock / The Nest