5 in-law issues solved
How to deal when you encounter a new spouse, new name, new home and – oh yeah – a new family.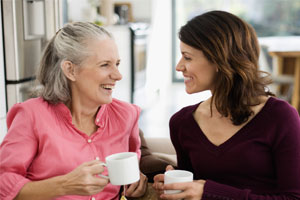 Whether they want to smother you with kindness or kick you to the curb, figuring out where
your partner's family
fits in with your life is tricky. Here's how to navigate:
1. They want to be friends – best friends
Liking you too much is better than hating you, but come on, you need some privacy.
If your mother-in-law wants to meet for lunch and you have no desire or time, suggest you all do something together; make your spouse go. too. You can't ignore her, but since it's your mate's mom, it's only fair you have a buffer.
If your sister-in-law is hoping to spend some time with you or even gab on the phone, say, "Sounds great, but I only have 30 minutes. Is that OK?"
2. They hate You
We're guessing the feeling is mutual. But if your mate wants you to try harder, or you long to have them like you and nothing can break the ice, try giving it time to melt.
Praise their parenting. Try something like, "He has been so great around the house lately. You guys did a great job teaching him how to clean a kitchen."
If only one of them is giving you the cold shoulder, focus on the others. Getting in good with a brother or aunt shows you're likable and have good intentions.
3. They want to plan a vacation together
Now that you're official, you're invited to the weeklong family gathering. Lucky you! Did they mention it's in the middle of nowhere?
Go this one time. The next time the idea gets passed around, you can safely say, "We had a great time, but we're really looking forward to own trip this year."
If you're in the same hotel, ask for rooms on different floors. Do we have to explain why? Build in "alone time" in addition to family time – and lock that door.
4. They ask for money
Whether your sister-in-law asks you to be her lease guarantor or your brother-in-law needs $5,000 for a car down payment, the whole situation can get sticky.
Before your compassion or anger kicks in, sit down with your spouse and discuss every aspect. Are you two the only option? Could it ruin your credit report? Do you need that money for yourselves?
If you agree to the loan, put the amount and the time needed to pay it back in writing. If necessary, have a lawyer look it over. Cushion it with a joke, like, "Let's get this in writing so we don't end up on Judge Judy."
5. They pop in
Or they call during sex or show up at your favorite restaurant and ruin your romantic time alone. Basically, they enter your life at really unwelcome times.
Set limits with an explanation, in case they're oblivious: "Let's chat about 'American Idol' over email tomorrow. We get really exhausted after 9 p.m."
Ask your spouse to step up to the plate with, "Of course you're welcome, but with our crazy schedules, we need advance notice when you're coming over."
More from The Nest:
How to Be a Better Spouse
Watch Other Couples Duke it Out
Survive a Weekend with the In-Laws
Photo: Thinkstock